Oceana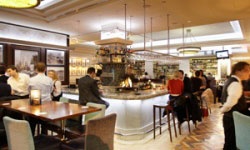 A staple of NYC's seafood-dining scene for over 20 years, located in a glittering and expansive Rockefeller Center space since 2009, Oceana offers a main dining room, three unique settings for private dining (The Wine Room, The Grand Salon, and The Chef's Table), and additional outdoor seating during the warmer months.
A pure and natural ethos characterizes Executive Chef Ben Pollinger's cooking style. Through his innovative compositions, traditional preparations of whole fish and other offerings are transformed into superb global cuisine. He works with nothing short of the best seasonally available whole fish, fillets, and shellfish and prepares them with flavor profiles you may not have experienced before — such as fish with robust Indian spices, a light and Mediterranean-inspired preparation, or an all-American iconic dish like the lobster roll.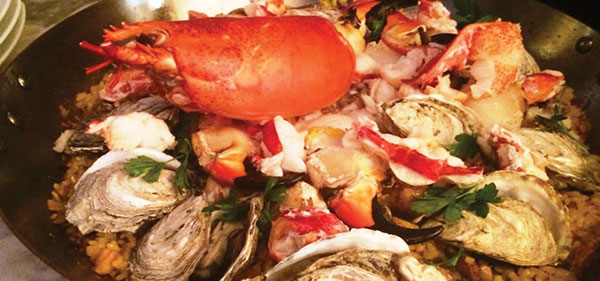 During the holidays, their one-of-a-kind Grand Paella includes three pounds of lobster, two pounds of stone crab, one dozen oysters, foie gras, chicken confit, bluefoot mushrooms, truffled eggs, and one ounce of white truffles. This decadent meal from Chef Pollinger serves four and is a holiday treat like no other. The dish serves four and is available for $1,000. Available each evening from 5pm. Click here for more information.
---
Although any restaurateur or chef will tell you that the greatest reward is getting a positive response from patrons, Oceana has sustained quite a few more tangible ones as well. In his three-star review, former Times critic Frank Bruni wrote, "The fish was excellent, and superbly cooked. More than that, it was a vessel for an exhilarating voyage around the world, through culinary traditions as disparate as Italian and Indian." On top of it all, Wine Director Pedro Goncalves curates a wine list that features over 1000 selections and a "Just Gin" list with over 40 different varieties.
---

HAPPY HOLIDAYS FROM THE LIVANOS FAMILY!
Give the gift of good cheer to friends and loved ones this holiday season with a Livanos Restaurant Group gift card, and be rewarded with one of your own.
Up to $300 in gift cards, receive your own $25 gift card

Up to $500 in gift cards, receive your own $50 gift card

Up to $1000 in gift cards, receive your own $125 gift card
Their gift cards can be used at any of their restaurants: Oceana, Molyvos, Abboccato Italian Kitchen, Moderne Barn, and both of their City Limits Diner locations.
Contact the restaurant of your choice to purchase.
Offer not available through the online system.
*Purchase offer valid until 12/31/14