Circle Line Downtown
Pier 16, South Street Seaport
866-987-2542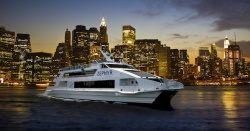 Circle Line Dowtown is now ZEPHYR! Click HERE to learn more about ZEPHYR.
Enjoy a narrated harbor tour including views of the Statue of Liberty, Empire State Building and more on board the luxurious ZEPHYR. With three decks (two climate-controlled and one outdoor), ZEPHYR offers city sights with panoramic views no matter what the weather brings. The Statue of Liberty Express departs daily from South Street Seaport Pier 16. Other seasonal cruises include Happy Hour, House on the Hudson, Saturday Night Dance Cruise, 4th of July and New Year's.
Beginning in May and running through the summer months, The heart-pounding, white-knuckle 30-minute Shark Speedboat Thrill Ride captures the excitement and energy of the city as it roars around the harbor in a shower of waves! A great trip for thrill-seeking students, corporate groups and those with the need for speed! This thrill-ride is a full-fledged adventure featuring music, a guided tour, and plenty of excitement.
Circle Line Downtown on Facebook
Follow Circle Line Downtown on Twitter
Reviews
"Loved seeing Lady Liberty and Ellis Island up close and comfortable. The tour guide provided a non stop description of the view as we passed by. We were able to take some memorable photos."-ginnabob, Houston, Texas on TripAdvisor
"We were in the City for only a weekend and wanted to see as much as we could in a few hours. This is a great way to see a lot in a little time. I'd highly recommend!"-Jenny J, Conway, N. Carolina, on TripAdvisor
Video