Spirit Cruises
Chelsea Piers, 23rd St. and the Hudson River
866-483-3866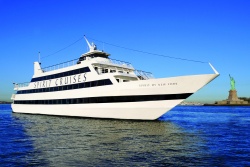 Inside Scoop: Spirit Cruises
Spirit Cruises is New York City's most vibrant and entertaining dining vessel. Its bountiful buffets, stunning skyline and Statue of Liberty views, and non-stop DJ music provide a one-of-a-kind New York experience. Cruising the Hudson River year-round, Spirit has a variety of lunch, dinner, moonlight and holiday cruises, plus dozens of themed cruises, to choose from. Our ships depart from Chelsea Piers in New York and Lincoln Harbor in Weehawken, NJ.
Be among the first to cruise the newly renovated Spirit of New York and an all-new menu by Chopped champion Chef Eric LeVine. The renovations include vibrant lighting and decor, fresh carpeting and chairs, a newly constructed outdoor bar and rejuvenated interior bars, interactive dance floors and DJ booths with customizable lighting, and more.
Light up your night aboard Spirit Cruises and Bateaux New York with front row seats to the city's fireworks extravaganza. As part of "NYC's Chinese New Year" festival, we invite you to witness the world-class display right on the Hudson River! Dine, dance and delight in our creative cuisine, live entertainment and explosive skyline views of the Statue of Liberty, One World Trade Center, Brooklyn Bridge & more!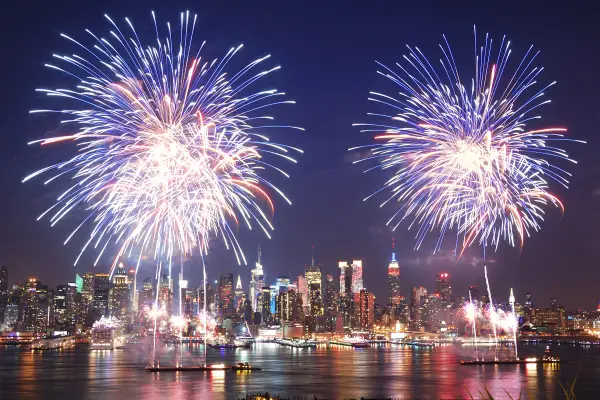 Spirit Cruises Upcoming Rides
Spirit Cruises Video
Meet the Entertainment Cruises New York fleet in this short video.
Also, check out Spirit Cruises for catering and special events on video here.

Spirit Cruises in the News



1. Manhattan Digest – Locals seeking unique experiences in Manhattan for Father's Day http://www.manhattandigest.com/2016/05/20/great-fathers-day-locations-around-manhattan/

2. Manhattan Digest – Locals seeking unique experiences in Manhattan for Fleet Week http://www.manhattandigest.com/2016/05/20/celebrate-fleet-week-on-the-hudson-with-bateaux-spirit-of-new-york/

3. amNewYork Online – highlighted Spirit of New York as the ultimate summer experience in NYC http://www.amny.com/eat-and-drink/boat-restaurants-nyc-where-to-drink-and-dine-on-the-water-1.10496119.

4. Mommy Poppins - highlighting Bateaux New York as the ideal way to celebrate mom in a roundup of tasty Mother's Day brunch spots in the city http://mommypoppins.com/newyorkcitykids/8-places-to-brunch-in-manhattan-for-mothers-day.

5. Examiner – included the Fleet Week Cruises in a roundup of top outdoor events in NYC http://www.examiner.com/article/top-outdoor-events-and-springtime-festivals-nyc

6. Living Aurora – a Brazilian travel blogger reviewed Bateaux New York after cruising with us http://livingaurora.com/bateaux-2/

7. Thrillist - included the vessel in a roundup of top places in the city to drink on a boat! https://www1.thrillist.com/drink/new-york/booze-cruise-nyc-every-boat-you-can-party-drink-on

8. Manhattan Digest – featured Spirit of New York and Bateaux New York in its story on '5 Essentials to Visiting Manhattan For the First Time.' http://www.manhattandigest.com/2016/05/09/5-essentials-to-visiting-manhattan-for-the-first-time/

9. WISH-TV – Mother's Day roundup http://wishtv.com/2016/05/04/get-mom-a-getaway-for-mothers-day/

10. Go To Travel Gal – Mother's Day getaway http://www.gototravelgal.com/top-5-getaways-for-mom/

11. New York Lifestyles Magazine – highlighting Bateaux New York Mother's Day Brunch Cruises New York Lifestyles Magazine<http://www.newyorklifestylesmagazine.com/
Check out the Spirit Cruises blog here, and Spirit Cruises on Instagram here.

Looking for Group Tickets of 12 or More?
Got a group headed to New York? City Guide provides free expert planning assistance and buying services-just complete the quick form below.