Post Feedback | Printer-Friendly | Send Article to a Friend
October 26, 2012 - by CG News Desk
Featured Listings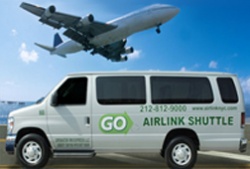 Go Airlink NYC· Direct, door-to-door transportation between Manhattan and JF...

SuperShuttle· Need a lift? Let SuperShuttle pick you up from your home, o...

MetroCard· The fastest and least expensive way to see all the famous pl...
The New York Comedy Festival takes place Nov. 7-11! Grab a friend or a date for an evening of raucous laughter!
11/07/12
KEY & PEELE Comedy Central presents Keegan-Michael Key and Jordan Peele in their new half hour sketch comedy show, "Key & Peele." Best known for their impressive ability to do improv and conjuring up original characters and celebrity impressions, Key & Peele have created a show that provides a satirical take on race, pop culture and politics. NYU Skirball Center, 566 LaGuardia Place at Washington Square South, NY newyorkcomedyfestival.com
A CONVERSATION WITH RICKY GERVAIS Ricky Gervais, the creator and star of The Office, the most successful British comedy of all time, is considered the most influential British comedian since Charlie Chaplin. Gervais is featured in The Guinness Book of World Records for having the most downloaded internet show of all time. An award-winning stand-up, he has written, directed, produced and starred in Cemetery Junction, The Invention of Lying and starred in Ghost Town. In 2010, Gervais was asked to be the first host of the Golden Globes since 1995. He was also named as one Time magazine's 100 Most Influential People in the World. Town Hall, 123 W. 43rd Street, NY, the-townhall-nyc.org
11/08/12
SEBASTIAN MANISCALCO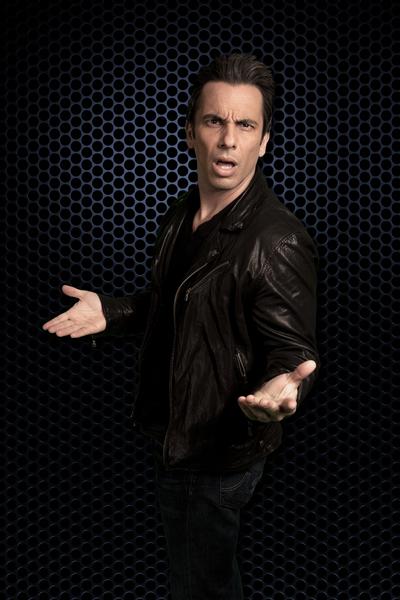 In What's Wrong With People? Sebastian brings his witheringly sarcastic and exasperated take on modern behavior and decorum, trying to bridge the gap between the Italian-American Old World he grew up in and the contemporary frenetic world we all live in today. The result is an original, highly relatable stand-up comedy tour-de-force that has Sebastian performing sold-out concerts worldwide. His self-deprecating comedy reminds fans of a young Jerry Seinfeld who constantly challenges his audience to recognize the absurdities of everyday life. Through Nov. 11. Gotham Comedy Club, 208 W. 23rd St. (7-8 Aves.), NY, 212-367-9000, gothamcomedyclub.com
ARTIE LANGE, TOO FAT TO DIE Comedian, actor, writer, producer, entrepreneur, and radio personality, Artie Lange continues his rise in the entertainment industry. One of the most sought after comedians and talk show guests, Lange has won legions of fans with his hilarious stand-up routines and numerous film and TV appearances. Chronicling it all in his book Too Fat To Fish, the indestructible Artie Lange has been there and back. Town Hall, 123 West 43rd Street, NY , 212-997-1929, the-townhall-nyc.org
SHAWN & MARLON WAYANS Shawn and Marlon Wayans have left an indelible impression on comedy starting with their debut in the landmark sketch series In Living Color, created by their brothers, Keenen and Damon Wayans. They then moved onto write, produce, direct and act in their own hit TV-comedy series, The Wayans Bros., on the WB Network. Since then, they have continued to be two of Hollywood's hottest commodities, collaborating on a string of hilarious comedic movies, including Don't Be Menace to South Central, White Chicks, Dance Flick, and the popular Scary Movie series. Second show at 10pm. Through Nov. 11. Carolines on Broadway, 1626 Broadway (btwn 49th/50th), NY, 212-757-4100, carolines.com
STAND UP FOR HEROES: A BENEFIT FOR THE BOB WOODRUFF FOUNDATION With Bruce Springsteen, Ricky Gervais, Jon Stewart, Robin Williams, Patton Oswalt, Mike Birbiglia. 8pm. Beacon Theatre, 2124 Broadway (74th -75th Sts.) , NY beacontheatrenyc.com, remind.org
11/09/12
PATTON OSWALT This multi-talented "Comedian of Comedy" has won rave reviews and critical acclaim for his recent performances in the films Big Fan and Young Adult, and over the years he's won legions of his own big fans with his smart, sharp and cutting edge brand of comedy. Town Hall, 123 W. 43rd Street, NY, 212-840-2824, the-townhall-nyc.org
BRIAN REGAN Brian Regan has distinguished himself as one of the premier comedians in the country, with a perfect balance of sophisticated writing and physiciality. Beacon Theatre, 2124 Broadway, (74th-75th Sts.), NY, beacontheatrenyc.com
DENIS LEARY'S MERRY F#%$IN' CHRISTMAS

Denis Leary, author, comedian and star of FX's long-running hit Rescue Me, stops by The Paley Center for Media to discuss his newest book, Merry F#%$in' Christmas. Leary's in-your-face Christmas song and album has been transformed into a holiday picture book for adults. Paley Center for Media, 25 W. 52nd St. (btw. 5th & 6th Aves.), 212-621-6600, paleycenter.org
AZIZ ANSARI: BURIED ALIVE! Aziz Ansari portrays the character "Tom Haverford" on NBC's Emmy-nominated Parks & Recreation. He is developing films for Judd Apatow and Universal with director Jason Woliner, a collaboration that began on Funny People where Ansari created the popular stand-up virtuoso "Raaaaaaaandy." Apollo Theater, 253 W. 125th St., NY 212-531-5300, apollotheater.org
11/10/12
ADAM CAROLLA'S NOT TACO BELL MATERIAL Best selling author Adam Carolla's wildly popular podcast, The Adam Carolla Show, is internet's most downloaded daily broadband show since its March 2009 debut. Town Hall, 123 W. 43rd Street, Times Square NY, the-townhall-nyc.org
JIM GAFFIGAN: THE AMERICAN TOUR Jim has had an unprecedented number of appearances on Late Show with David Letterman and Conan. He has appeared in comedies and dramas, from HBO's Flight of the Concords and Bored to Death to dramatic roles in all three Law & Order versions. Jim is a mainstay on the big screen with roles in Going the Distance, Away We Go and It's Kind of a Funny Story. Further broadening his career, Jim starred in his first Broadway production, That Championship Season. Again at 10:15pm. 253 W. 125th St., Harlem, NY 212-531-5300, apollotheater.org
AZIZ ANSARI: BURIED ALIVE! Carnegie Hall, 881 W. Seventh Avenue, NY, 212-247-7800 carnegiehall.org
ODDLY FAMILIAR: A BEN STILLER SHOW REUNION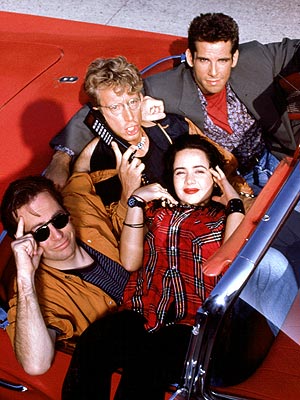 It's been 20 years since the gang from The Ben Stiller Show have all been in the same room. Join Ben Stiller, Janeane Garofolo, Judd Apatow, Andy Dick, Rob Cohen, Jeff Kahn and Bob Odenkirk at The Paley Center for Media for a discussion of the production, reception, and influence of the show. Paley Center for Media, 25 W. 52nd St. (btw. 5th & 6th Aves.) NY, 212-621-6600, paleycenter.org
BILL MAHER Bill Maher has won America's heart with his witty combination of politics and humor. Bill Maher has pushed and created new boundaries in American television starting with Politically Incorrect from 1993-2002. Over the last 18 years, Maher and gathered an impressive twenty-three Emmy nominations. Beacon Theatre, 2124 Broadway, NY, beacontheatre.com
KEVIN HART Kevin has been on the scene for more than 10 years now, and has taken over America with his many talents: acting, producing, and most notably-his outstanding comedy career. Hart's comedy acts are derived from real-life experiences, and stating the blatant truth. He has an impressive 16 movies under his belt, is the executive producer of two documentaries, and continues to sell out shows all over the country. Again at 10:15pm. Madison Square Garden, 4 Pennsylvania Plaza, NY 212-465-5894, thegarden.com
11/11/12
THE NEW YORK COMEDY FESTIVAL: DAVID STERNBERG & ROBIN WILLIAMS TALKING ABOUT NOTHING THAT IMPORTANT 92nd Street Y, 92nd Street at Lexington Avenue, NY 212-415-5500, 92Y.org
For additional details, visit newyorkcomedyfestival.com
Archives:
Related Articles
Most Popular Articles on CGNY