Abracadabra--Your Halloween Superstore
October 27, 2008 - by Ellis Whitman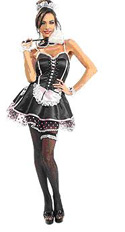 If you're looking to pick up a Halloween outfit while they're in the city there's only one place to go—the
Abracadabra Superstore
. From the moment you walk in the door, the variety of merchandise available will astonish you. Whether you want a sexy costume, such as "Devil's Mistress" or something from the Playboy line of costumes, or fancy yourself a Marvel superhero like the Hulk or Spider-man, they've got an outfit for you.
If you're the kind of partier who just wants to pull on a mask and head out the door, Abracadabra's latex masks run the gamut from Obama to Lucy from
Peanuts
. And it doesn't stop at costumes and masks; they also have a comprehensive selection of accessories—including jewelry, fake noses, prop guns, moustaches and beards, and hats. While you are there, encourage them to complete the transformation by indulging in a makeover from the store's staff of make-up artists, or they can pick up the right greasepaint to put the final polish on their illusion. Celebrities even shop at Abracadabra, including Robert De Niro, Michael Jackson and Al Pacino. Featured on CNN, Fox News, the Today show, and in the Times.
19 W. 21st St. (5-6 Aves.), 212-627-5194; abracadabrasuperstore.com
RESTAURANTS

Baseball fans and steak connoisseurs unite in midtown Manhat...

THEATER

A newly imagined meditation on narcissism, talented tykes an...

SHOPPING

DataVision is redefining retail with their new, fully intera...

SIGHTSEEING

Bike rentals and tours. See Central Park, the Hudson River G...
Reader Feedback