Angelo's Pizza Dining Review
July 11, 2013 - by Richard Jay Scholem
Angelo's Pizza is much bigger and better than it looks from street level. Nestled into the ground floor of the Broadway Theater building that houses "The Late Show with David Letterman," pedestrians passing by see a pizza oven and a few tables. But Angelo's is no garden-variety pizza parlor serving pie by the piece. Instead, it is one of the city's elite pizza emporiums serving classic New York City pizza, featuring crisp, charred, slightly smoky pies cooked very quickly in an oven fueled by coal (not wood) that generates extreme heat.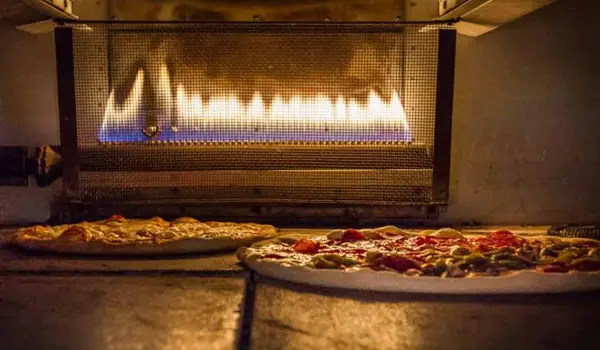 That storefront view of Angelo's available from curbside is quite deceptive, and it certainly doesn't give this excellent Italian restaurant its due. Most patrons mount the staircase to find an expansive, handsome dining room with Art Deco mirrors, lighting fixtures, columns, ceiling beams, bare tables, and pictures of old New York's buildings, bridges, celebrities, and of course, Lucy spinning a pizza.

Angelo's Pizza has a typically New York City story. There really was an Angelo. He came to this country in the late 1930s and worked in pizza parlors before he opened his own place on Fulton Street in Brooklyn. He was a pizza purist insisting, "The crust has to be blackened and crisp! Only fresh Mozzarella and tomatoes!"

The current Angelo's, the newest of three spots, is owned by Nick Angelis, who runs Nick's Pizzas in Forest Hills and Rockville Centre, and Nick Tsoulos, his brother-in-law who also operates the Patsy's pizzas in Manhattan.

Angelo's is about much more than just thin-crusted, crisp pizza—good as that is. Its menu also offers appetizers, calzones, salads, soups, pastas (15 of them), desserts, and seven dinner specials—all of which can be ordered family style for three or individually.

Chewy rolls and olive oil precede pizzas that can be ordered as table-wide appetizers or entrées. Although our waiter advised ordering a large pie as a starter for four, we opted for a small one for three and had two or three slices left over. Topped with onions and mushrooms and featuring creamy mozzarella and a sturdy, glistening golden crust, it was everything a pizza should be.

The homemade mozzarella in the insalata carpese was first rate, as was the fresh basil and virgin olive oil, while the tomatoes were pink rather than summertime red. A stack of potato-thin fried zucchini and eggplant with garlic yogurt dip were light, crisp, tasty wonders, and a green grocer-fresh arugula salad covered with gossamer-shaved Parmesan cheese is highly recommended.

So, too, are two of the menu's hearty pastas: gemeilli in red sauce with hefty shards of chicken and rigatoni featuring sweet Italian sausage and a garlicky wine sauce. A gnocchi Romana special offers juicy mellow chicken over a cake-like semolina gnocchi.

Angelo's Pizza: 117 W. 57th St. btw. Sixth & Seventh Aves. & 1043 Second Ave. at 55th St.
Richard Jay Scholem was a restaurant critic for the New York Times Long Island Section for 14 years. His A La Carte column appeared from 1990 to 2004.
Looking for Free Group Planning Services?
Get free advice on planning your group's trip to New York.
RESTAURANTS

The handsome, 12,000 square foot Times Square location offer...

THEATER

Gaston Leroux's famous period thriller is now one of Broadwa...

SHOPPING

Find the right gear for your workout. ...

SIGHTSEEING

Enjoy the best prices for deluxe double decker, hop-on, hop-...