Post Feedback | Printer-Friendly | Send Article to a Friend
June 1, 2010 - by Richard Jay Scholem
Featured Listings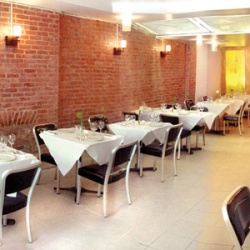 Bangkok House· Delicious Thai food to die for at extremely reasonable price...
Manhattan's Restaurant Row -- on West 46th Street between 8th and 9th Avenues -- offers a multitude of choices. Italian, French, Spanish, American and steak house spots line both sides of the street. Yet there's only one Thai eating place: Bangkok House. It's a modest, unpretentious walk down with limited frontage. Although it's relatively easy to walk by, it would be a mistake to do so for diners seeking authentic, tasty food, very modest prices and a sweet, obliging waitstaff.

There are many main course possibilities, with noodles, fried rice, vegetarian dishes and chicken, beef, tofu and pork entrees priced just under $10, a rarity in the often high-priced Theater District. There's also a multi-course, fixed-price dinner that costs less than $16.

Bangkok House has more than fair, budget pricing to recommend it -- this little restaurant, with its discrete, down-to-earth surroundings, is honest beyond offering good value for the money. Its menu accurately indicates the heat or spiciness of every dish; that's not a given at every Thai restaurant. At Bangkok House, not only do those stars indicating hot and spicy mean something, but diners are also asked if they want their food mild, medium, hot, spicy or even extra spicy -- and their requests are honored.

Every dish came out of the kitchen precisely as we asked for it. Among the recommended dishes sampled were a spicy shrimp soup harboring a couple of plump shrimp and mushrooms in a snappy lemongrass and shrimp broth and a crystal noodle vegetable soup (cabbage, scallion, tofu). A fried soft shell and mango salad generated mild-to-medium heat and desirable textural contrasts. A traditional Yum beef, or steak salad, with its array of grilled, marinated meat, chili, red onions, cucumbers and tomatoes topped with shrimp paste, lime juice and lively fish sauce, produced substantial heat and admirably diverse flavors.

Pad Thai, Thailand's signature thin rice noodle dish on a bed of crushed peanuts, offered plenty of chicken, sautéed egg, turnips, scallions, bean sprouts, tofu and taste. A mix of seafood, bell peppers, onions, basil and string beans enmeshed in linguini made the Drunken Man a good spicy pick, while the crisp, tender, sizzling duck in a get-up-and-go Thai chili sauce, alive with bell peppers, onions and oyster sauce, packed the punch sought by diners that enjoy truly hot and spicy preparations.
360 W. 46th St. (Eighth-Ninth Aves.), 212-541-5943; bangkokhouseny.com
Richard Jay Scholem was a restaurant critic for the New York Times Long Island Section for 14 years. His A La Carte Column appeared from 1990 to 2004. For more "Taste of the Town" reviews, click here.
Archives:
Related Articles
Most Popular Articles on CGNY