Post Feedback | Printer-Friendly | Send Article to a Friend
January 24, 2012 - by Elliott Richards
Featured Listings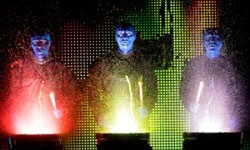 Blue Man Group· The trio of "post-modern clowns" present their outrageous in...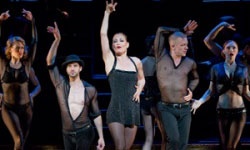 Chicago· Kander and Ebb's "musical vaudeville" in which Roxie Hart ga...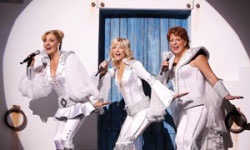 Mamma Mia!· This hit musical incorporates 22 ABBA songs into a story abo...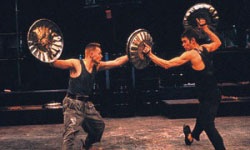 Stomp· The world-renowned eclectic theatre of percussion...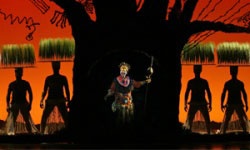 The Lion King· The stage version of Disney's celebrated animated feature....
It is the early 1950s and Huey Calhoun, a white department store clerk in Memphis, is seduced by "race music," or rhythm and blues. The seduction is completed when he walks into a black honky-tonk called Delray's and hears Felicia sing.

It matters not to Huey, a hillbilly rebel (played by Adam Pascal (pictured below), who stepped into the role late last October) that he is odd-man-out in a club filled with people who regard him as an intruder. Only the music -- and Felicia (an incandescent Montego Glover) -- matter.

Thus begins 2010's Tony-winning Best Musical Memphis, a show tracking both the early days of rock n' roll and an interracial romance in a segregated society.

Huey parlays his passion for R&B into a disc jockey job at a Memphis radio station where he vows to advance Felicia's career. As their love for each other grows, so does Huey's stardom, hosting a popular local TV show where he hopes to showcase Felicia. Eventually, they must decide whether to flee the racist strictures of Memphis for New York, where a biracial couple can marry, and where she can pursue a recording career.

As compelling as the story onstage is the back story of the show's collaborative roots between Joe DiPietro, a stage veteran best known for his long-running Off-Broadway show I Love You, You're Perfect, Now Change, and David Bryan, the keyboardist for Bon Jovi whose rising rock stardom kept him so distanced from the world of musical theatre that the only musical he recalls seeing growing up was Fiddler on the Roof.

As DiPietro tells it, he had laid out the story for Memphis -- based very loosely on the life of Memphis DJ Dewey Phillips (the first to play an Elvis Presley song) -- when he began looking for a partner capable of writing rock music.

Meanwhile, Bryan, frustrated that he could not find singers for his non-Bon Jovi output, found himself listening to his music publisher, who suggested pursing musicals. Recalls Bryan, "And I said, 'What are they?' and he said, 'I can get you 20 songs covered eight times a week.'"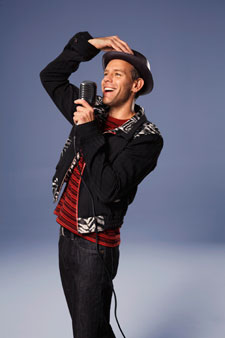 He was in. When he received DiPietro's script, he picked the opening song, "Music of My Soul," and worked over a single day to prove that he could master the musical form. "I put my drum machine on, played piano, organ and bass, and sang lead," Bryan says. "I burned a CD and sent it to Joe by FedEx."

According to DiPietro, who expected to hear from Bryan weeks later as opposed to overnight, "David captured it. He wrote a great song that can play theatrically. He's one of those people who have music coming out of him. He's like a music encyclopedia."

"We wanted to tell a traditional narrative in a Rodgers and Hammerstein vein but with a real rock n' roll score," he continues. "For Broadway to thrive, you can't keep doing revivals of musicals that sound like '40s and '50s music."

Bryan says that he believed he transferred his passion as a rock musician to the Memphis cast. "I respect the stage like a madman," he says, adding that during rehearsals he offered counsel to J. Bernard Calloway, who plays Delray, the honky-tonk owner who is also Felicia's overprotective brother.

Recalls Bryan: "At the end of 'She's My Sister' I said to him, 'Just do a rock star ending,'" at which point he (Bryan) demonstrated by letting loose with a rocker's loud, raucous roar. "J. Bernard said, 'Uh, I'm not a rock star.'" Eventually, though, the actor was swayed and said "O.K."

"I think the beauty of being a performer is that I can relate to another performer, so I can sing rock n' roll the way I want to hear it," says Bryan, whose unlikely partnership with DiPietro brought them -- and Memphis -- the Tony Award for Best Original Score... as well as enthusiastic standing ovations at every performance.

Memphis is currently playing at the Shubert Theatre (225 W. 45th St.). For tickets, call 212-239-6200 or click here.
Archives:
Related Articles
Most Popular Articles on CGNY