Post Feedback | Printer-Friendly | Send Article to a Friend
March 2, 2011 - by CG News Desk
Featured Listings
Bangkok House· For Thai near Times Square, enter Bangkok House...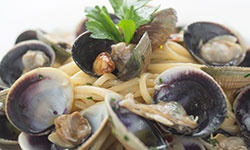 Da Marcella· A Mediterranean taverna in the Theater District...
In addition to their regular dinner menu, on St. Patrick's Day, Wednesday, March 17th, Brendan's Bar & Grill will be offering a special St. Patrick's Day menu. 42 W. 35th St. (5-6 Aves.), 212-564-5405; www.brendansbar.com.
Guinness and Onion Soup $6
with a Garlic Parmesan Crouton

St. Patrick's Spinach Salad $14
Mustard Vinaigrette, Corned Beef , Shaved Gruyere Swiss & Green Onion

Smoked Salmon Platter $18
Crisp Greens, Balsamic Vinaigrette, Hard Boiled Egg, Minced Onion, Capers and Brown Bread

Corned Beef & Swiss on Rye $15
Thick Cut Soft Rye, Spicy Deli Mustard & French Fries

Corned Beef & Cabbage $18
Boiled Potatoes & Carrots

Irish Sausage & Mashed Potato $16
Pan Gravy, Mashed Potato & Vegetables

Irish Lamb Stew $16
With a Flaky Puff Pastry

Cedar Roasted Atlantic Salmon $23
Citrus Herb Garlic Butter, Saffron Rice & Sautéed Spinach

Char-Broiled Prime Rib Steak $29
Buttered Yukon Gold Potatoes, Irish Whiskey Peppercorn Gravy & Grilled Asparagus
Archives:
Related Articles
Most Popular Articles on CGNY