Close Encounters of the Romantic Kind - A Month of Theatrical Valentines
January 30, 2013 - by Griffin Miller
Interesting month, February; it plays fast and loose with its own closing date (Leap Year/No Leap Year) and runs amok in the hearts-and-flowers department thanks to mid-month Valentine's Day. As for theatre, it stands out as one of NYC's quieter times, sandwiched as it is between January's traditional mass exodus of shows and Broadway's version of March Madness (marked by a tsunami of previews and openings as the first wave of plays and musicals queue up for the spring season).
Since the lure of romance is responsible for much of February's mystique, I say why not zero in on a few productions that are currently reverberating with passion both on and offthe Great White Way.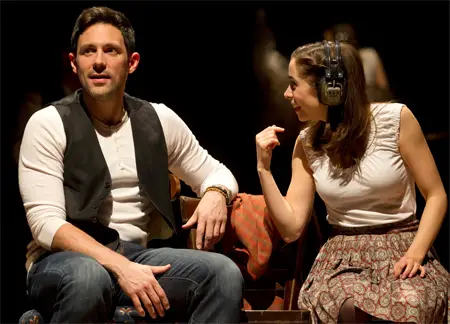 Heading the list is last year's Tony-winning musical, Once, with its breakthrough leads Steve Kazee and Cristin Milioti (above). Custom-made for theatregoers who like their love stories deftly crafted, bittersweet and original, this unconventional love story is equally unconventional in its simplicity and musical numbers—with the fearless company not only merging vocally in an earthy, life-affirming style, but also spotlighting their instrumental prowess on the cello, accordion, mandolin, piano and fiddles and guitars.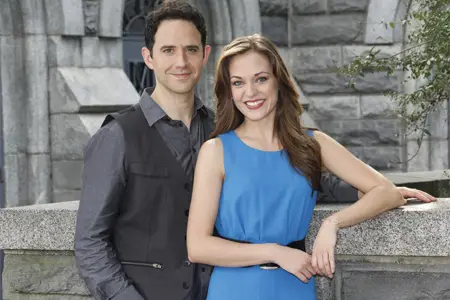 By contrast, the newly arrived Rodgers & Hammerstein's Cinderella (making its Broadway debut, having been originally written for television) is a full-blown fairy tale rich with eye-candy costumes and sets, and a happily-ever-after ending. Gilding the must-see lily are Tony winners Victoria Clark (Light in the Piazza) and Harriet Harris (Thoroughly Modern Millie; Frasier) and, in the title role, Tony nominee Laura Osnes (Bonnie & Clyde), pictured above with her Prince, Santino Fontana.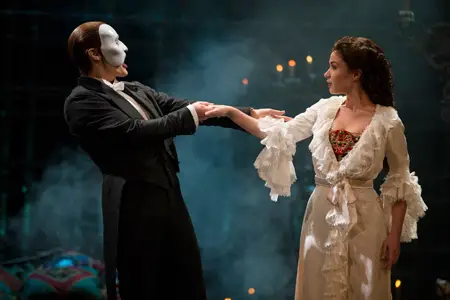 Meanwhile, when it comes to Valentine's Day amour, a first or second visit is always recommended for the hauntingly beautiful Phantom of the Opera, which just celebrated its 25th anniversary on Broadway. And for those who prefer their courtship storylines to veer retro (and more or less madcap), I suggest you go ABBA with Mamma Mia! and/or '80s with Rock of Ages.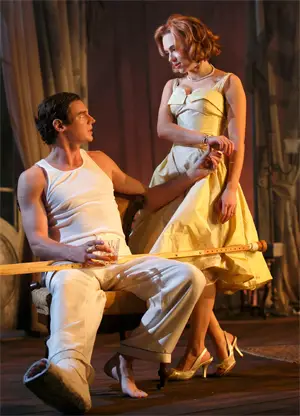 On the flip side of the romantic fireworks coin, I strongly urge fans of first-rate drama to join George and Martha (Tracy Letts and Amy Morton) on their vitriolic long night's journey into morning in Edward Albee's Who's Afraid of Virginia Woolf? at the Booth Theatre and/or Tennessee Williams's Maggie and Brick (Scarlett Johansson and Benjamin Walker, pictured at right) in Cat on a Hot Tin Roof at the Richard Rodgers. Mind-blowing mountings of classic stage works.

OFF-BROADWAY'S STAR-CHARGED FEBRUARY
The Madrid: Starting February 5, this new play by Liz Flahive "about motherhood, freedom, and trying to see the people in your family as they really are," stars four-time Emmy winner and Tony nominee Edie Falco (Nurse Jackie; The Sopranos); two-time Tony winner Frances Sternhagen (Driving Miss Daisy; The Closer); Tony nominee John Ellison Conlee (The Full Monty); and Heidi Schreck (Circle Mirror Transformation). manhattantheatreclub.com
A day later, The Revisionist, written by and starring Jesse Eisenberg—alongside Vanessa Redgrave, no less—begins its limited run at the Cherry Lane Theatre. In it, Eisenberg plays Redgrave's drastically younger second cousin who travels to Poland to meet her while in the throes of severe writers block. therevisionistplay.com
Previewing February 8 at Roundabout Theatre Company's Harold and Miriam Steinberg Center for Theatre is the latest revival of Lanford Wilson's Pulitzer Prize-winning comedy Talley's Folly, returning in a joyful and moving new production starring Tony nominee Danny Burstein (Golden Boy, Follies) and Emmy and Golden Globe nominee Sarah Paulson (American Horror Story, Roundabout's Crimes of the Heart). roundabouttheatre.org
And finally, on February 12, Tony winner Bill Irwin reunites with fellow clown David Shiner for The Bill Irwin and David Shiner Project, a new work incorporating music, technology, slapstick and magic intended to bring their mutually distinctive hilarity to a new generation. Note: This marks the first time they've collaborated since Fool Moon, their hit Broadway show of 1995. signaturetheatre.org
Reader Feedback