Holiday Stages, Big Apple-Style - Theatres Citywide Are Aglow With a Fa-La-La of Fan "Fare"
November 30, 2012 - by Griffin Miller
Lights galore? Check. Nip in the air? Check. Awesome store window displays? Check. Trees, Menorahs, sumptuous treats? Check. And for theatregoers of all generations, the greatest thrill of all: a happy and hearty Santa-sized list of New York holiday shows to savor and share! Click on the show title for tickets and more info.

#1: A TRIO OF BROADWAY SHOWSTOPPERS…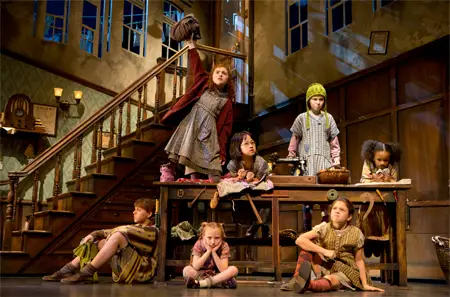 Annie - The beloved, redheaded moppet has returned to Broadway just in time to boost spirits today—and "Tomorrow"—in a sparkling new revival starring a mini-Bernadette Peters, Lilla Crawford, in the title role. Her costars—Anthony Warlow as gruff-but-nice billionaire Oliver "Daddy" Warbucks, and two-time Tony winner Katie Finneran as the extremely naughty Miss Hannigan (orphanage proprietress)—are pitch-perfect in their roles. In fact, the entire cast, from the tiniest orphan to the biggest bigwig of all, FDR—in the throes of the Great Depression (the musical is set in December, 1933)—is terrific. And don't get me started on Annie's companion canine, Sandy!
A Christmas Story, The Musical - This is it: the Broadway debut that fans of the 1983 cult film have been waiting for! And it doesn't disappoint, arriving dressed in bunny pajamas and carrying "A Major Award" leg lamp! The hero, of course, is young Ralphie Parker (Johnny Rabe), a 1940s "everykid" who longs to find a Red Ryder BB gun under the family Christmas tree. In fact, I triple-dog-dare you to miss this heartfelt musical starring Dan Lauria (the Dad on The Wonder Years) as onstage narrator, and a wonderfully manic John Bolton as The Old Man. (And, as with Annie, the stealth scene-stealers are authentic, four-legged barkers.) (Thru 12/30)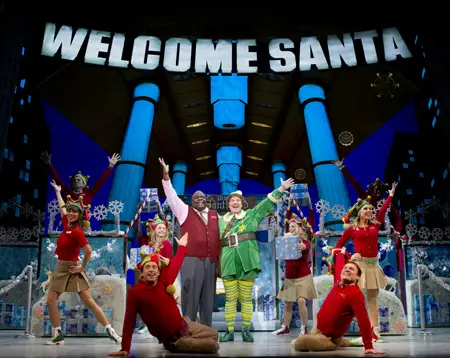 ELF the Musical - The return to Broadway of the "Sparklejollytwinklejingley" show that first charmed holiday audiences in two Christmases ago. And while Will Ferrell clearly started it all with his 2003 film, the tale of Buddy (Jordan Gelber), a human baby who grew up at the North Pole believing himself an elf, has been claimed as a first-rate asset by musical theatre fans and fans-to-be. As the story goes, Santa (played by Seinfeld's Newman, aka Wayne Knight) gives Buddy permission to travel to NYC to find his birth father, Walter (Mark Jacoby), where he causes havoc, finds love (Jovie, played by Leslie Kritzer), and helps Santa save Christmas. (Thru 1/6)

#2: OFF-BROADWAY FESTIVITIES…

Angelina Ballerina: The Very Merry Holiday Musical - Author Katharine Holabird and illustrator Helen Craig's adorable mouse heroine and her friends celebrate the season at Vital Theatre, where they sing, dance, and discover that the true spirit of season isn't about the gifts you give, but the cheer you spread to others. (Thru 1/13)
The Apollo Theater's Christmas & Kwanzaa Festivities - December 15: Coca-Cola Holiday Special, 3-7 pm (free to all, with Santa, giveaways, and choir performances); Amateur Night Holiday Special, 7:30pm (young musicians, singers, and dancers ranging in age from 11-18 take the stage); December 20: The acclaimed female a cappella group Sweet Honey in the Rock sings about all things holiday, 8pm; December 28: Kwanzaa Celebration - Regeneration Night, 7:30pm (The Apollo pulls out all the stops with an evening of dance and music honoring Kwanzaa's principles of family, community and culture).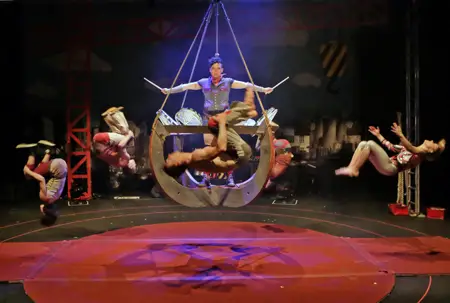 Circus Oz - The awesome Aussies of return to the New Victory with their bold, bodacious brand of big top zaniness. Starring jaunty jugglers, astounding acrobats, teasing trapeze artists and sassy ringleaders who manage the madcap mob, this saucy, new show delivers downright Down Under fun perfect for the holidays! (11/30-12/30)
Dr. Seuss' How the Grinch Stole Christmas The Musical - That infamous Seussian villain known as the Grinch is making his third NYC appearance since he and his unwilling sidekick, Max the Dog, first appeared on Broadway in 2006. This time around, the furry green one is hatching his evil plot to hijack Whoville's favorite holiday at the Theater at Madison Square Garden. Keep your ears pealed for songs from the classic animated version "You're a Mean One, Mr. Grinch" and "Welcome Christmas." (12/13-30)
Mummenschanz: NYC Holiday Engagement - Celebrating 40 years of imagination and visual magic, this world-renowned troupe returns to NYC with a show highlighting both their well-known witty and weird creations plus a number of "playful, colorful creatures that have rarely been performed in the USA and Canada." (12/1-1/6)
Radio City Christmas Spectacular - The 2012 edition of this cherished holiday production is unique in that it commemorates 85 years of the Radio City Rockettes in New York, which means that in addition to such annual traditions as the Rockettes' famous "March of the Wooden Soldiers" number, The Nutcracker scene, and the Living Nativity, this year also boasts a Rockette costume retrospective celebrating the precision dancers' many unique looks throughout the decades. (Thru 12/30)
Reader Feedback