Post Feedback | Printer-Friendly | Send Article to a Friend
January 13, 2010 - by Richard Jay Scholem
Featured Listings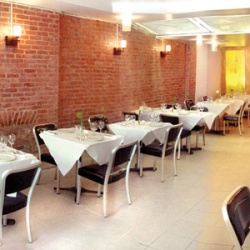 Bangkok House· Delicious Thai food to die for at extremely reasonable price...
Barbecue is America's soul food, but until relatively recently it was a non-starter in New York City. Then a few years ago New Yorkers began to understand the glories of slow food, and barbecue that is smoked for many hours over hickory wood is the ultimate slow food. As barbecue popularity grew in Manhattan so too did Brother Jimmy's BBQ, multiplying from one to six spots. The newest and largest of which is a rollicking eating place on the corner of 31st and Lexington.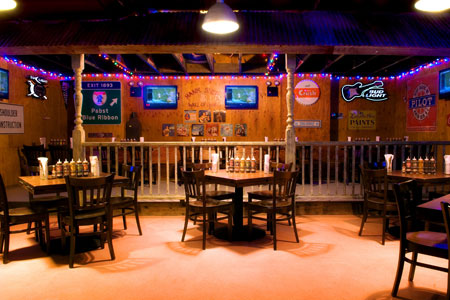 Jimmy's makes no bones about what it is. Much more a "scene" than "serene," Southern cookin' is the name of the game in this venue decorated with Southern license plates, Esso signs, hanging tires, TVs, a Duke basketball banner and toilets with signs that read "Chicks" and "Roosters" on the doors. There are five barbecue sauces on the tables that range from blazing' to original, plus a bottle of hot sauce. The drinks run from "Swamp Water" to Carolina coolers. The desserts are homemade and the fetching female waitresses add to the joviality. The prices are low, the portions are huge, and the food is robust rather than refined. Order onion straws for $7.50 and receive a bucket -- nearly a vat of them, in fact -- that four hungry diners couldn't come close to finishing. The nachos are properly labeled as "humungous" on the menu, layered with a guacamole, cheese, chili, beans, salsa and sour cream concoction. Fried green tomatoes with a spicy aioli are also not a dish for the dainty; the six or seven tomato slices are blanketed with a hefty, crisp crust. And those are just the appetizers.

Ribs are always the stars of a barbecue joint, and the ones at Jimmy's are no exception. They are smoked from five to twelve hours and served with cornbread, pickles and two side dishes of your choice. The Southern or Memphis-style ribs are Fred Flintstone size, tender and moist. The Northern half rack is both smoked and grilled and enhanced by Jimmy's original barbecue sauce. The Carolina pulled pork is made with Jimmy's Carolina sauce from pork shoulder that's slowly smoked and then shredded. Sometimes barbecued chicken tastes like any other chicken, but not here as it's smoked, grilled and basted in Brother Jimmy's original barbecue sauce. The result is moist, white meat with a tangy flavor.

The price level for all of this is moderate. All dinners and sandwiches, other than the ribs, cost less than $20. And even they are in the low $20's.

416 Eighth Ave. (31 St.), 212-967-7603; 181 Lexington Ave. (31 St.), 212-779-7427; 1485 Second Ave. (77-78 Sts.), 212-545-7427; 428 Amsterdam Ave. (80-81 Sts.), 212-501-7515; 1644 Third Ave. (92 St.), 212-426-2020; www.brotherjimmys.com
---
Richard Jay Scholem was a restaurant critic for the New York Times Long Island Section for 14 years. His A La Carte Column appeared from 1990 to 2004. For more "Taste of the Town" reviews, click here.
Archives:
Related Articles
Most Popular Articles on CGNY