Custom-Made for Radio City Music Hall & The Summer of 2011 - Cirque du Soleil's ZARKANA!
June 7, 2011 - by Ellis Nassour
The summer of 2011 is guaranteed to be filled with sunshine -- of a most extraordinary Canadian kind -- along with awesome thrills and colorfully stunning costumes. The internationally renowned Cirque du Soleil (Circus of the Sun) returns to New York on June 9 to introduce its $50-million epic Zarkana, with a storyline that centers on the phantasmagorical world of a lovelorn magician named Zark.
Specially created for famed landmark Radio City Music Hall, Zarkana plunges audiences into a sublime and suspenseful universe of bizarrely beautiful and surreal creatures, brought to life via 71 incredibly agile artists and clowns hailing from 14 countries.
The show's title is a fusion of the words "bizarre" and "arcana" ("mystery" or "secret"), with Zarkana referencing "the irresistibly odd and delightfully strange aura of this strange destination and its inhabitants."
Presented by iShares with sponsors American Express and Infiniti, this latest acrobatic spectacle was conceived by Cirque's veteran Director of Creation, Line (pronounced Lynn) Tremblay, and written and directed by acclaimed film/theater director François Girard (The Red Violin, Silk).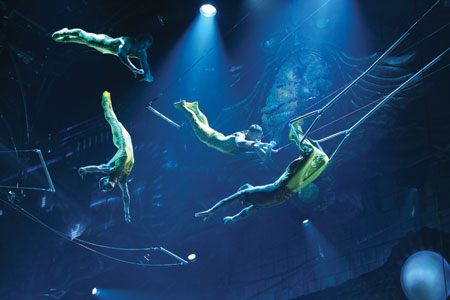 "In all the ways Cirque du Soleil is famous for, Zarkana will transport audiences on a journey into a world where the boundaries between the real and imaginary are blurred," says Tremblay. "For two years, it has been a challenge to create a show especially and exclusively for the legendary Music Hall. For me, it's been...a real labor of love."
Tremblay goes on to explain how the show is a marriage of Cirque's singular creative and physical attributes and the Music Hall's technical capabilities. "We're transforming the grandest stage in the world into a world of unreality as only Cirque du Soleil can imagine. It's totally unique from anything we've done before."
As expected with any Cirque show, there will be jaw-dropping feats from on high: move over, Mary Poppins and Spider-Man -- skilled aerialists will be flying over audiences' heads, their awesome acrobatic pyrotechnics heightened by live music and interactive multimedia.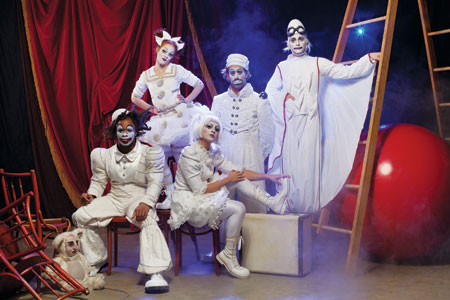 Tremblay, who has been with Cirque since its origin in the mid-1980s, reveals that Zarkana won't be stage bound. "Elements will flow through the theatre to get in touch, be more intimate, with audiences."
Meanwhile, Girard, recognized for the hybrid worlds he creates in which music plays a predominant role, homes in the musical aspects of the show, describing it as "an acrobatic rock opera." (Notably, Zarkana marks his second creation for Cirque du Soleil, following ZED, currently the dazzling resident stage production at Tokyo Disneyland.)
At the moment, however, both Tremblay and Girard are concentrating their considerable talents on bringing Zarkana's daring acrobatic acts -- including the "Russian Bars," in which a trio of international acrobats perform on 16-foot vault poles less than four inches wide -- to ecstatic New York audiences.
Zarkana is playing at Radio City Music Hall, Sixth Ave. & 50th St. For tickets, call 866-858-0008 or click here.
Looking for Free Group Planning Services?
Get free advice on planning your group's trip to New York.
RESTAURANTS

Guy's American Kitchen & Bar is a dynamic restaurant introdu...

THEATER

Gaston Leroux's famous period thriller is now one of Broadwa...

SHOPPING

Specializing in the great vineyards of California, France, A...

SIGHTSEEING

Hop aboard these environmentally friendly twin-hulled catama...