Before the Curtain Rises, and After: Theater District and Times Square Dining
January 6, 2014 - by CG News Desk
New York City's Theater District is a microcosm of the variety of dining experiences in the city. If you're going to a show, you can grab a great meal from one of the many pre-theatre menus available. If you don't have a curtain to catch, wait to dine until the theatregoers disperse (around 8pm), or head over to one of the many restaurants that are a destination unto themselves. After a show, you can still dine in style at many of the neighborhood's eateries.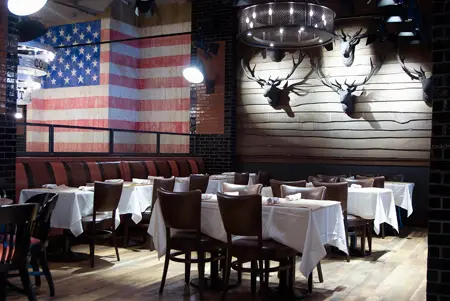 When it opened in Fall 2012 in the New York Times Building, Guy's American Kitchen & Bar (review) introduced the Guy Fieri style of dining to Times Square. From the crave-worthy menu to the buzzing bar scene, the dynamic restaurant spotlights Guy's signature style of cooking—big on flavor and short on boundaries. 220 W. 44th St. (Broadway), 646-532-4897; guysamerican.com
Dine among the stars and immerse yourself in Hollywood history at Times Square's Planet Hollywood. Be sure to stroll around the restaurant and check out the massive movie memorabilia collection before diving into a menu with an eclectic mix of favorites, including pastas, salads, sandwiches, and award-winning burgers. Food is not an afterthought here—a kitchen crew of about 60 churns out the dishes offered on a voluminous menu dominated by huge portions of unique appetizers, unusual pastas and salads, sandwiches, burgers, and more. 1540 Broadway at 45th St., 212-333-7827; planethollywoodintl.com
The Marshal is a Hell's Kitchen favorite offering seasonal New American ingredients, natural preparation, and a knack for making farm-to-table dining casual, interesting, and fun. Popular entrees include Braised Beef Short Ribs, Wood Oven Roasted Meatloaf, Braised Lamb Shank, Bourbon Planked Seafood & much more. 628 10th Ave., 212-582-6300; www.the-marshal.com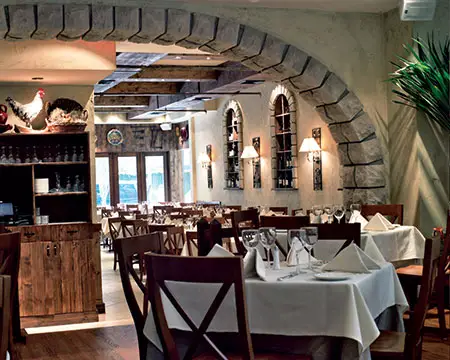 "A farmhouse in the middle of Manhattan," La Masseria offers classic Italian dishes from the Puglia region of Italy, utilizing the freshest natural ingredients for simple, authentic pastas, risottos, and meat and fish dishes. The warm, inviting decor blends rural Italian style, nostalgia & charm, complementing exceptional cuisine & wine list. 235 W. 48th St.,
212-582-2111; lamasserianyc.com
Located a few blocks from Times Square and the Theater District, McCormick & Schmick's takes great pride in being one of the nation's premier seafood dining establishments. The menu reflects seafood from the Pacific Rim, Atlantic Ocean, and Gulf of Mexico. 1285 Sixth Ave. (51st St.), 212-459-1222; mccormickandschmicks.com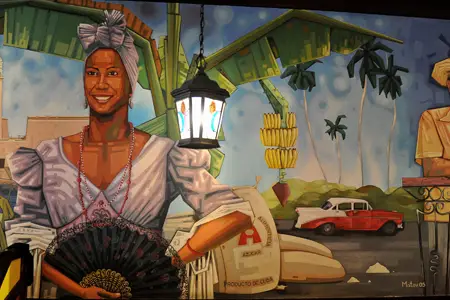 If Cuban cuisine, Latin dance, and live entertainment are up your alley, get yourself to Guantanamera (review). Be swept away by their Cuban specialties, signature mojitos, and carafes of sangria. A must for Latin lovers, and those who love them. 939 Eighth Ave. (55th-56th Sts.), 212-262-5354; guantanamerany.com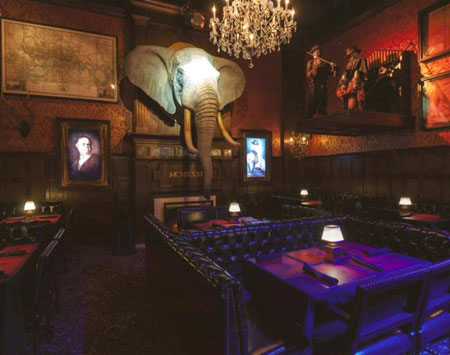 The world-famous (and famously haunted) Jekyll and Hyde Club (review) offers one of the most singular dining experiences in Times Square — a neighborhood that has no shortage of singular experiences. Even with all the live entertainment, special effects, and animated memorabilia, the food isn't secondary, with a big American menu. 216 W. 44th St., 212-869-4933; jekyllandhydeclub.com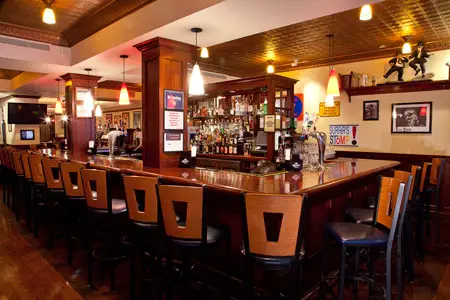 T.G.I Friday's (review), a very successful nationwide chain with special appeal for twenty- and thirtysomething's, has opened just off Times Square on 46th Street. On a recent Sunday evening, the place was packed by 7:30pm. The frenetic, upbeat premises were alive with happy chatter, upbeat music, prominent televisions, a bustling open kitchen, scurrying red-and-white-clad servers toting fancy drinks and gargantuan portions, and patrons perusing multi-page, bed-sheet-size menus. 147 W. 46th St., 212-944-7352; www.rieserestaurants.com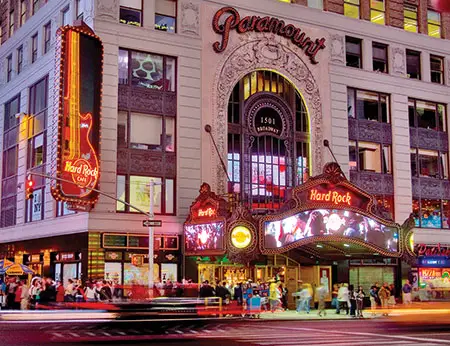 Rock your senses with tantalizing food and drinks and an awe-inspiring rock memorabilia collection at the Hard Rock Cafe's Times Square location. Boasting a unique outdoor space above the building's historic marquee that hosts private parties, the building that Hard Rock occupies—the Paramount Theater—is rich with history. 1501 Broadway (43rd-44th Sts.), 212-343-3355; hardrock.com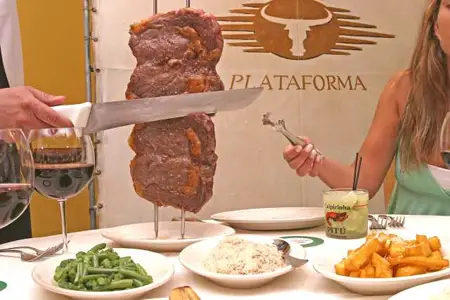 Churrascaria Plataforma (review) has long been a magnet for politicos, celebrities, locals, and visitors. It takes all Brazilian cuisine quite seriously, but it takes the rodízio style of dining to the nth degree. After a trip to the gourmet salad bar, waiters arrive at your table with an eye-popping feast of huge skewers right off the cooking spit: succulent cuts of beef, pork loin and ribs, leg of lamb, chicken, and sausage. All are roasted to perfection, and carved to your desire. Sides include broccoli, potatoes, rice and beans, and fried bananas. Should you make it to dessert, passion fruit mousse is delicioso! 316 W. 49th St., 212-245-0505; 221 West Broadway, 212-925-6969; churrascariaplataforma.com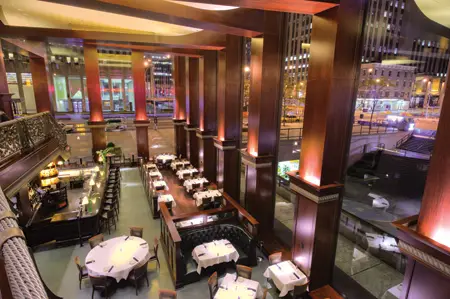 The expansive Del Frisco's Double Eagle Steak House (review) reflects the rhythm and energy of midtown, and Broadway's theaters are just a block or two away. The menu features fresh, aged prime beef shipped from the Midwest twice a week, and magnificent cold-water lobster tails and specialties such as combination shrimp platters and crab cakes. 49th St. & Sixth Ave., 212-575-5129; delfriscos.com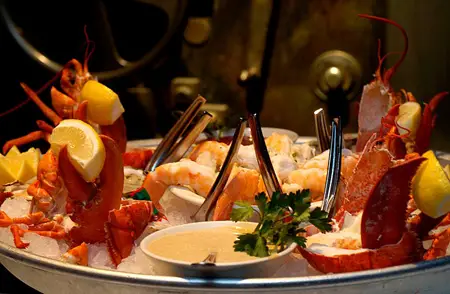 Established in 1969, Bobby Van's (review) now boasts 8 locations throughout the Northeast with five in Manhattan, including one on 50th Street, serving only the finest USDA dry-aged prime beef, select seafood, and lobsters starting at 3lbs. 135 W. 50th St., 212-957-5050; bobbyvans.com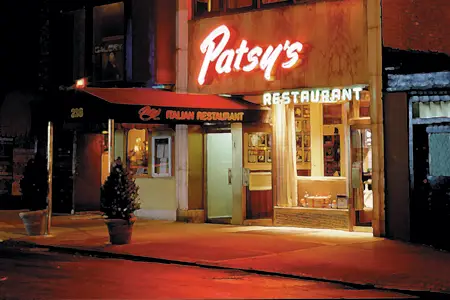 Patsy's Italian Restaurant (review) is more than a restaurant—it's a warm, welcoming, convivial, white-tablecloth spot with a long, familiar menu of traditional Italian dishes. A Theatre District staple since 1944 celebrities, theatergoers, couples, and families fill the tables, the pasta is homemade, and the waiters wear sharp formal jackets with gold epaulets. 236 W. 56th St. btw. Broadway & Eighth Ave., 212-247-3491; patsys.com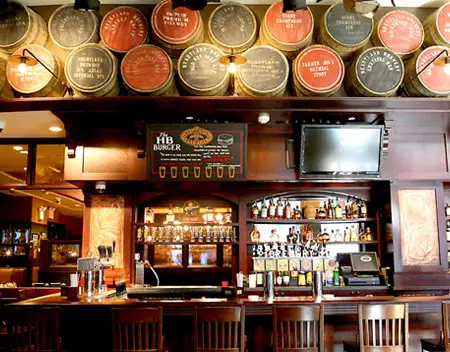 Stop into any of Heartland Brewery's locations and you'll see that it isn't just beer that's brewing at New York's first American-style brewpub. The relaxed atmosphere makes it a great place to kick back and relax, and the multiple locations make it easy to stop in and sample one of the many unique brewed beers. And located next door to the Times Square location is HB Burger, which serves nine specialty burgers and "hard shakes," which are definitely not for kids! 127 W. 43rd St. btw. Sixth and Seventh Aves., 646-366-0235; 625 Eighth Ave. at 41st St., 646-214-1000; heartlandbrewery.com
Looking to try some of that famous New York pizza? Look no further than Capizzi Pizzeria & Wine Bar (review), where an old-fashioned wood-burning oven cranks out pies featuring whole roasted garlic, roasted red peppers, portobello mushrooms & many other toppings to die for. 547 Ninth Ave. (40th-41st Sts.), 212-695-6900; capizzinyc.com
RESTAURANTS

The newest member to the Heartland Brewery family, HB Burger...

THEATER

Gaston Leroux's famous period thriller is now one of Broadwa...

SHOPPING

Swiss luxury watch manufacturer for men and women since 1853...

SIGHTSEEING

Discovery Times Square (DTS) is New York City's first large-...
Reader Feedback