Post Feedback | Printer-Friendly | Send Article to a Friend
August 7, 2014 - by CG Discounts
Featured Listings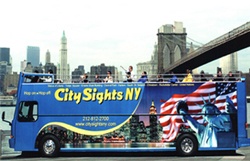 CitySights NY· Our hop-on, hop-off bus tours are operated on a fleet of new...
Click here for a coupon to "Buy More, Save More" at the HBO Shop (spend $25, save 10%; spend $50, save 15%; spend $75, save 20%). (Use code HBOCITY at store.hbo.com)

About the HBO Shop: A variety of HBO-related merchandise is now available at The HBO Shop located in midtown Manhattan, including a variety of T-shirts featuring your favorite characters from Sex and the City, Boardwalk Empire, Girls, True Blood, Game of Thrones, True Detective, Veep, and The Sopranos. The HBO Shop also offers a wide range of Sex and the City merchandise, a full line of The Sopranos memorabilia, and DVD sets, t-shirts, and more from all their other classic shows, including Eastbound and Down and Entourage. 42nd St. & Sixth Ave., 212-512-SHOP; hboshop.com.
Archives:
Related Articles
Most Popular Articles on CGNY