Post Feedback | Printer-Friendly | Send Article to a Friend
March 1, 2006 - by City Guide
FEATURED LISTINGS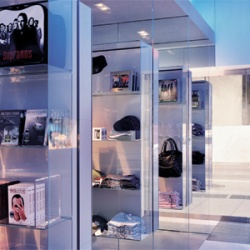 HBO Shop (sm)· An array of quality branded merchandise showcasing HBO's® aw...

The landmark Broadway Joe Steakhouse (315 W. 46th St. btw. Eighth & Ninth Aves., 212-246-6513) is a throw-back to the days of Damon Runyon. Their prime meats, fresh seafood, and friendly staff have been pleasing stars, sports celebrities, politicians and just plain old folk for over 50 years. Amid a room full of Hirschfeld caricatures, choose from New York cut sirloin, prime rib, grilled salmon, lamb and pork chops, shrimp scampi, filet of sole, bay scallops, pasta primavera, and cappelini topped with sirloin, salmon or chicken — all served with their Caesar salad bowl.

Del Frisco's Double Eagle Steak House (49th St. & Sixth Ave., 212-575-5129) is a place of glamour, excitement, red meat, and much more. This expansive steak house pulsates with the rhythm and energy of midtown Manhattan. Its soaring, two-story-high windows offer a spectacular view of Radio City Music Hall, Rockefeller Center, and the frenetic parade of pedestrians and vehicles along Sixth Avenue and Broadway's theaters are just a block or two away. The menu at this dazzling culinary fortress features fresh, not frozen, USDA aged prime beef shipped to Del Frisco's from the Midwest twice a week. Lobster, fish, lamb, osso buco, and veal chops receive equal billing with steaks that are boldly seasoned with salt and pepper and sport a perfectly charred, crusty surface.

Frankie & Johnnie's (269 W. 45th St. @ Eighth Ave., 212-997-9494) opened as a speakeasy in 1926, and it has preserved much of that feeling with old celebrity photos on the wall, red chandeliers hanging from the ceiling, velvet benches, and wooden blinds that cover the windows that overlook New York's Theatre District. Their other location (32 W. 37th St. btw. Fifth & Sixth Aves., 212-947-8940) is the one-time townhouse of John Barrymore. This classy, understated spot has candles flickering on light yellow walls trimmed with dark wood, framed mirrors, temperature-controlled, glassed-in wine racks, carpeting, shaded lighting and subdued music. Experienced, snappily dressed waiters provide smooth, knowing service. All the familiar American comfort food favorites are on the menu (shrimp cocktail, lobster bisque, french fries, creamed spinach, cheesecake and more) and the USDA Prime steaks are dry-aged for at least 21 days. Those steaks are also deeply marbled, juicy and arrive with a flask of sweetish Frankie & Johnnie's steak sauce. With juicy, flavorful sirloins, rib-eyes, T-bones and porterhouses, as well as chops, seafood and pasta dishes, Frankie and Johnnie's is a solid bet. Mention City Guide and they'll send a complimentary limo to pick you up and bring you back.

Gallagher's Steak House (228 W. 52 St. at Broadway, 212-245-5336) began life as a speakeasy during the Prohibition Era, and became the nation's first steak house in 1933. Today, the decor remains happily the same, and so does the star-studded mix of clientele: showbiz, sports, and business types. The birthplace of the New York Strip, Gallagher's is renowned for its steaks, veal loin and double-rib lamb chops – broiled over hickory logs – as well as steak au poivre. If you prefer surf to turf, you'll enjoy the raw bar. Daily, moderately priced specials include roast prime rib of beef, beef tenderloin, Yankee pot roast, Guinness beef stew, and corned beef and cabbage. Seafood entrees include scallops, Dover sole, salmon and swordfish steaks, lobster and crab cakes. Desserts range from cheesecake to apple pie to a decadent chocolate mousse cake.

A Maspeth, Queens institution since 1933, the traditional George O'Neill's (145 E. 50th St. btw. Lexington & Third Aves., 212-888-1220) recently added an offshoot in midtown. George O'Neill's high standards and exceptional quality are evident in every dish, with steaks aged a minimum of four weeks, true-cut porterhouse steaks with both filet and strip sides for two to four people, the finest-quality lamb chops, 24-ounce, center-cut veal chops, and live — never frozen — Maine lobsters. The service is another big reason why steak-lovers flock to George O'Neill's: the gracious staff is very accommodating, and bring the dishes to your table at just the right pace.
Archives:
Related Articles
Most Popular Articles on CGNY