Featured Listings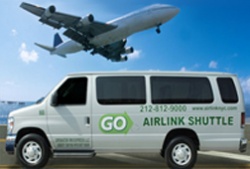 Go Airlink NYC· Direct, door-to-door transportation between Manhattan and JF...

SuperShuttle· Need a lift? Let SuperShuttle pick you up from your home, o...

MetroCard· The fastest and least expensive way to see all the famous pl...
This year's collection of nostalgic holiday shows is stirring joy and excitement in the hearts of theatregoers young and old. Reserve your tickets now for one, two (or a few!) of winter's most festive theatre stocking stuffers!
Annie open run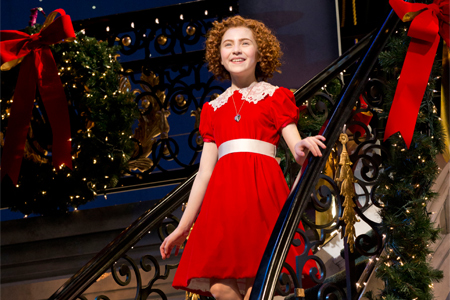 That virtuoso symbol of spunky optimism, Little Orphan Annie, is back on Broadway just in time to boost spirits today—and "Tomorrow" —as she overcomes the machinations of the evil Miss Hannigan (two-time Tony winner Katie Finneran) and her cohorts—during The Great Depression, no less—to become the adored adopted daughter of billionaire Daddy Warbucks. The grand finale takes place at the Warbucks mansion filled with holiday decorations, gifts, pint-sized guests, and smiles galore, culminating with the upbeat number "A New Deal for Christmas." (Winner of 7 Tony Awards including Best Musical, the 2012 production is directed by Tony, Drama Desk and Pulitzer Prize winner James Lapine,) anniethemusical.com
A Christmas Story, The Musical through 12/30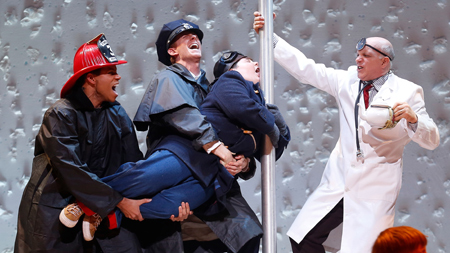 The Broadway adaptation we've been waiting for as we don our bunny pajamas and switch on our leg lamp, is here! Based on the 1983 cult film that continues to convert new generations to the yuletide universe of young Ralphie Parker—the 1940s "everykid" whose goal is to find a Red Ryder Air Rifle under the family Christmas tree—has arrived on the Great White Way wrapped in triple-dog-dare holiday flare. Directed by Tony winner John Rando, this heartfelt new show has been produced by Peter Billingsley, the film's original Ralphie, and features Dan Lauria (the Dad on The Wonder Years) as onstage narrator (voiced by Jean Shepherd in the film, whose semi-autobiographical stories it was based on). achristmasstorythemusical.com
Dr. Seuss' How the Grinch Stole Christmas! The Musical 12/13 to 12/30
That naughty-to-nice Seussian villain known as the Grinch is making his third NYC appearance since 2006, when he and his unwilling sidekick, Max the Dog, made their Broadway debut. This time around, the furry green one is hatching his evil plot to hijack Whoville's favorite holiday at the Theater at Madison Square Garden. Keep your ears peeled for songs from the classic animated version: "You're a Mean One, Mr. Grinch" and "Welcome Christmas." theateratmsg.com/grinch
Elf the Musical through 1/6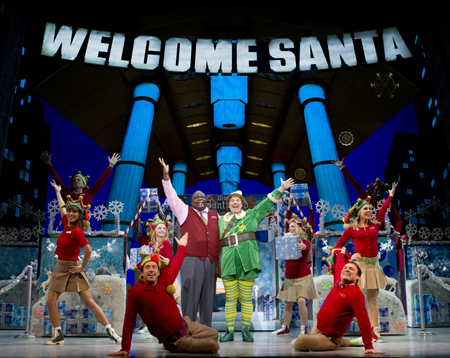 Will Ferrell may have started it all with his 2003 film, but ever since its record-breaking Broadway run in 2010, this charmer of a show about Buddy, a human baby who grew up at the North Pole believing he was an elf, has been claimed as a first-rate asset by musical theatre fans. As the story goes, Santa (now played by Seinfeld's Newman, aka Wayne Knight) gives Buddy permission to travel to NYC to find his birth father (a name on the infamous "naughty list," no less). Featuring a "Sparklejollytwinklejingley" score, Elf the Musical is packed with Tony-honored talent, including: director/choreographer Casey Nicholaw; book writers Thomas Meehan and Bob Martin; and actress Beth Leavel reprising her role of Emily. elfmusical.com
Radio City Christmas Spectacular through 12/30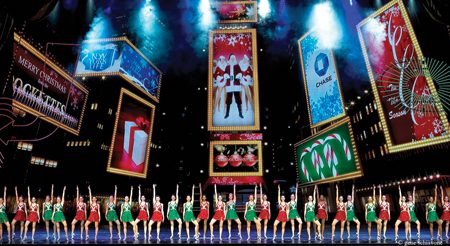 The 2012 edition of this cherished holiday production is unique in that it commemorates 85 years of the Radio City Rockettes in New York, which means that in addition to such annual traditions as Rockettes' famous March of the Wooden Soldiers number, The Nutcracker scene and the Living Nativity, this year also boasts a costume retrospective celebrating their many unique looks throughout the decades. radiocitychristmas.com/newyork
Angelina Ballerina: The Very Merry Holiday Musical through 1/13
Author Katharine Holabird and illustrator Helen Craig's beloved mouse heroine and friends return to Vital Theatre in their popular holiday production where they sing, dance, and discover the true spirit of season isn't about the gifts you give, but the cheer you spread to others.vitaltheatre.org
The Apollo Theater's Christmas & Kwanzaa Festivities 12-15 through 12/26
December 15: Coca-Cola Holiday Special, 3 to 7pm (free to all with Santa, giveaways and choir performances!); Amateur Night Holiday Special, 7:30pm (young musicians, singers, and dancers ranging in age from 11-18 take the stage); December 20: Sweet Honey in the Rock, 8pm (this female a cappella group's stunning harmonies celebrate all things holiday from faiths and religions across the globe; December 28: Kwanzaa Celebration - Regeneration Night, 7:30pm (The Apollo pulls out all the stops with this evening of dance and music honoring Kwanzaa's principles of family, community and culture). [Note: Kwanzaa officially begins 12/26] apollotheater.org
Mummenschanz: NYC Holiday Engagement 12-11 through 1/6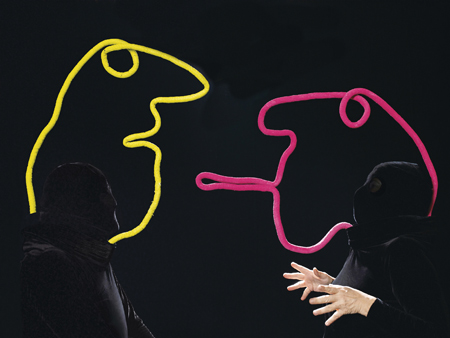 Celebrating 40 years of imagination and visual magic, this worldwide phenomenon returns to New York with a beguiling show highlighting both their well-known, witty, and weird creations along with a number of "playful, colorful creatures that have rarely been performed in the USA and Canada." mummenschanz.com
Poppy Seed Players' Judy and the Maccabees 12-9
On December 9th (the second night of Hanukkah), check out this charming re-imagining of the ancient Hanukkah story in which a feisty young girl leaves her father to help the Maccabees in their fight against King Antiochus. kaufman-center.org
*More to celebrate December, January and February
Typically quiet months when it comes to Broadway openings – are breaking with tradition this year, thanks to six starry new productions. * Prior Tony Award Winner + Prior Tony Award Nominee
CAT ON A HOT TIN ROOF previews 12/18/12; opens 1/17/13
A major revival of Tennessee Williams' Pulitzer Prize-winning classic starring Scarlett Johansson* as Maggie the Cat, Benjamin Walker as Brick, Ciaran Hinds as Big Daddy and Debra Monk* as Big Mama. catonahottinroofbroadway.com
HANDS ON HARDBODY previews 2/23/13; opens 3/21/13
Based on the 1997 documentary of the same name, this new musical about a competition at a car dealership marks the return of both Keith Carradine (The Will Rodgers Follies) and Hunter Foster +(Urinetown) to Broadway. handsonahardbody.com
MANILOW ON BROADWAY previews 1/18/13; opens 1/24/13; thru 3/2/13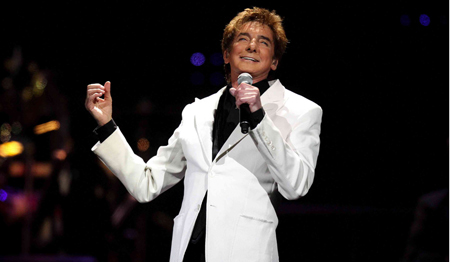 Grammy-winning pop superstar Barry Manilow returns to his hometown (he was born in Brooklyn, after all) for a limited 17-performance concert engagement. Act fast… Manilow is a major sell-out magnet! manilowonbroadway.com
THE OTHER PLACE previews 12/11/12; opens 1/10/13; thru 2/24/13
Three-time Emmy winner Laurie Metcalf stars in this Broadway premiere by Sharr White, directed by two-time Tony winner Joe Mantello and co-starring Daniel Stern. theotherplacebroadway.com
PICNIC previews 12/14/12; opens 1/13/13; thru 2/24/13
William Inge's Pulitzer Prize-winning masterpiece in its second Roundabout Theatre revival (the first was in 1994) with Ellen Burstyn*, Sebastian Stan, Maggie Grace, Reed Birney, Elizabeth Marvel and Mare Winningham in her Broadway debut. roundabouttheatre.org
Rodgers & Hammerstein's CINDERELLA previews 1/21/13; opens 2/21/13
The Broadway premiere of the sparkling musical originally written for television in 1957 by the legendary composing team of Richard Rodgers and Oscar Hammerstein II. Starring Laura Osnes in the title role, Santino Fontana as the Prince, Victoria Clark* as Cinderella's fairy godmother, and Harriet Harris* as Madame, the heroine's stepmother. cinderellaonbroadway.com
Archives:
Related Articles
Most Popular Articles on CGNY