Post Feedback | Printer-Friendly | Send Article to a Friend
July 25, 2012 - by NYC News Desk
Featured Listings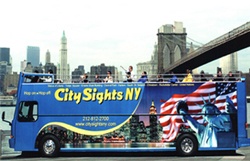 CitySights NY· Our hop-on, hop-off bus tours are operated on a fleet of new...
Kind of Like Spitting comes to the Knitting Factory Brooklyn during their 2012 tour, tonight, July 25th, 2012. Doors 7:30 pm, show starts at 8:30 pm, Knitting Factory Brooklyn, 361 Metropolitan Ave Brooklyn, NY 11211 347-529-6696. Tickets are $10 and can be purchased online at: http://bk.knittingfactory.com/event/139101/
Kind of Like Spitting is an indie rock band straight out of Portland, Oregon. They started in 1996 and have been led since by prolific singer-songwriter Ben Barnett. Kind of Like Spitting has released twelve albums in seven years gaining Barnett comparisons to Elliott Smith, Robert Pollard, and Billy Bragg. Barnett has also worked on other musical projects such as The Thermals in 2003. In 2006 Kind of Like Spitting took a hiatus from recording and performing but came back together in 2011 for a reunion set at Brootal Sun Fest in Tuscon, Arizona. Since then their fan base has been increasing and Kind of Like Spitting came back with a new lineup for their spring and summer tour in 2012.
They have also recently released a new song "11th and Hawthorne" on Barnett's Tumblr page, giving fans exactly what they were hoping for, the verification that Kind of Like Spitting is planning on releasing new music. Kind of Like Spitting's songs veer dramatically between sad acoustic bedroom pop and driving rock and the energy and emotion.
For more information, visit Knitting Factory Brooklyn: http://bk.knittingfactory.com/ or Kind of Like Spitting: http://www.hushrecords.com/?page_id=38
Archives:
Related Articles
Most Popular Articles on CGNY