Post Feedback | Printer-Friendly | Send Article to a Friend
April 19, 2010 - by CG News Desk
Featured Listings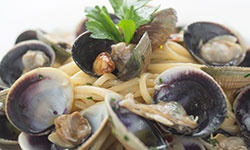 Da Marcella· A Mediterranean taverna in the Theater District...
"Life Is a Cabaret" at Juliet Supperclub (539 W. 21st St.) during their Saturday Brunch Party, beginning at 1pm. Featuring cuisine by celebrity chef Todd English, the brunch also features a DJ spinning music and burlesque dancers. For more information, call 212-929-2400 or visit www.julietsupperclub.com.

About Juliet Supperclub: Manhattan's newest supper club, Juliet Supperclub, located in Chelsea, features a gorgeous interior design and a delicious Mediterranean-inspired menu courtesy of celebrity chef Todd English. 539 W. 21st St., 212-929-2400; www.julietsupperclub.com.
Archives:
Related Articles
Most Popular Articles on CGNY