Halloween Theatrics, Gotham-Style: Strange, Provocative, Scary...Interactive
October 9, 2012 - by Griffin Miller
Transylvania may be home base for legions of mythic movie monsters, but New York City is fright (and fun) central in the weeks leading up to—and following—the Eve of All Hallows. Below are a sampling of what's in store should you have the guts to go bobbing for Big Apple thrills on the murky side of Manhattan!
KILLERS: A Nightmare Haunted House (thru 11/3) - Those with strong hearts (or hearty pacemakers) can tap into society's insatiable fascination with serial killers, both real and fictional, by visiting deviously demented director Timothy Haskell's "tormenting labyrinth" of psychopath killers. Featuring a roster of serial killer luminaries like Ted Bundy, Albert Fish, and the Zodiac killer, you'll probably want to crank up the nightlight before attempting a good night's sleep afterwards.
A Little Something Extra: Before entering serial killer hell, guests are invited to visit a gallery of personal possessions, artwork and memorabilia belonging to the killers… a uniquely humanistic exhibit (for the most part) that resonates as much as – if not more – than the ghoulish crimes themselves. Velez Cultural Center, 107 Suffolk St., hauntedhousenyc.com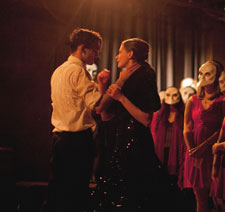 Sleep No More (ongoing) - A seductively immersive, bizarrely beautiful melding of film noir and Shakespeare's Scottish Play with art and artifacts resurrected from long-abandoned shops, mental asylums, restaurants, cemeteries, and museums. This is the McKittrick Hotel in the heart of Chelsea, circa the Jazz Age: five floors haunted by characters from Macbeth dressed in traveling suits, flapper dresses, maid and bellhop uniforms, or nightgowns, or next to nothing. We are invited to follow them, individually or in clusters, from scene to scene – or not (free will is a very big deal at the McKitterick—at least as far as the audience is concerned).
We are, however, required to wear identical white carnival masks, navigate dimly lit stairwells, and keep silent as we consume this tantalizing movable feast with few boundaries and an endless buffet of the unexpected. If you are willing to take this surreal journey to the outskirts of reality, be prepared for an experience that will live in the shadows of your imagination for a very, very long time. The McKitrick Hotel, 530 W. 27th St., sleepnomorenyc.com
The Haunting of St. Mark's Place (thru 12/30) - In 1857, an immigrant enters the haunted Hotel Hemlock on St. Marks Place—but, when she returns, it's disappeared… In 1901, a local man claims to be haunted by his late wife's spirit… On the eve of January 9, 1914, a gangland shootout occurs at the Arlington dance hall on 8th Street—its only victim still haunts 94 St. Marks Place… In 1922, Howard Lovelorn inherits 22 St. Marks Place—along with a screaming skull… April 10, 1937, at 56 St. Marks Place, a secretary is visited by a long-forgotten lover—who died on the Titanic 25 years before… Every Sunday at 3 pm, New York's acclaimed RadioTheatre troupe presents adaptations of classic tales of terror, adventure, science fiction and more, complete with a skilled cast of storytellers, an original orchestral score and a plethora of sound effects. UNDER St. Marks, 94 St. Marks Place, radiotheatrenyc.com
Reader Feedback