NYC Art and Exhibition Openings
February 3, 2012 - by CG News Desk
Please visit our cultural arts blog to keep up with all the latest art and exhibition openings and museum news.
UPDATED: 3/8/2012. New York City is home to some of the greatest museums in the world, ranging from modern art to classical art to natural history museums and more. Art openings this week include:
As part of a new series exploring the global diaspora, Kehinde Wiley / The World Stage: Israel (3/9-7/29) at the Jewish Museum features paintings, textiles, and papercuts chosen by the artist, one of the premier young painters of our time.
Byzantium and Islam - Age of Transition (3/14-7/8) at the Metropolitan Museum of Art features works developed in the Eastern Mediterranean during the 7th century.
Also opening: Exquisite Corpses: Drawing and Disfiguration at the Museum of Modern Art (3/14-7/9).
LAST WEEK'S OPENINGS
In the Company of Animals: Art, Literature, and Music at the Morgan (3/2-5/20) at The Morgan Library & Museum explores how animals have influences artists throughout time, with works by William Blake, T.S. Eliot, George Orwell, Virginia Woolf, and many others.
The latest installment in the Deutsche Bank Series at the Guggenheim Museum, Being Singular Plural (3/2-6/6), features film, video, and interactive sound-based installations by seven of the most innovative and visionary media artists and filmmakers working in India today.
Casting the Divine (3/2-7/13) at the Rubin Museum of Art features rare and important Indan and Nepalese bronze sculptures from the 7th to 12th century that influenced early Tibetan art.
Also opening: Born Out of Necessity at the Museum of Modern Art (3/2-1/28).
ONGOING
The Upper West Side's American Museum of Natural History is one of the best natural history museums in the world, with over 40 exhibition halls, highlighted by the Rose Center for Earth and Space, the Anne and Bernard Spitzer Hall of Human Origins, and the Milstein Hall of Ocean Life. There's a lot happening at AMNH this winter with exhibits like The Butterfly Conservatory: Tropical Butterflies Alive in Winter (through 5/28), and Beyond Planet Earth: The Future of Space Exploration, which features a full-size re-creation of a lunar habitat, a model of an elevator reaching up into space, a walk-through diorama of the Martian surface, and challenging interactive simulations. Central Park West at 79th St., 212-769-5100; amnh.org
Just a ten-minute walk from Grand Central, The Morgan Library & Museum began as the private library of financier Pierpont Morgan. Today, the Morgan serves as a museum, research library, musical venue, architectural landmark, and historic site. Current exhibitions include Rembrandt's World: Dutch Drawings from the Clement C. Moore Collection (through 4/29), which focuses on artists who worked in the Netherlands during the fertile period of the seventeenth century known as the Dutch Golden Age. 225 Madison Ave. (36th St.), 212-685-0008; themorgan.org
Part of Museum Mile (Fifth Ave. btw. 82nd & 105th Sts.), the Guggenheim Museum is not only one of the 20th century's most important architectural landmarks (designed by Frank Lloyd Wright) but it contains one of the world's finest collections of modern and contemporary art, including works by Monet, Pablo Picasso, and Pollock. Current special exhibitions include John Chamberlain: Choices (2/24-5/13), which includes nearly 100 works, from his earliest monochromatic welded iron-rod sculptures to the large-scale foil creations of recent years; and Being Singular Plural (3/2-6/6), featuring film, video, and interactive sound-based installations by seven of the most innovative and visionary media artists and filmmakers working in India today. 1071 Fifth Ave. at 89th St., 212-423-3500; guggenheim.org
If you're traveling without children, check out the adults-only Museum of Sex. Committed to addressing a wide range of topics and material from different cultures, time periods and media -- from ancient artifacts, drawings and paintings to photographs, film, and video -- the museum also hosts the OralFix Aphrodisiac Cafe (oralfixbar.com), with artisanal elixirs and foods specially prepared for your experimentation and pleasure. 233 Fifth Ave. at 27th St., 212-689-6337; museumofsex.com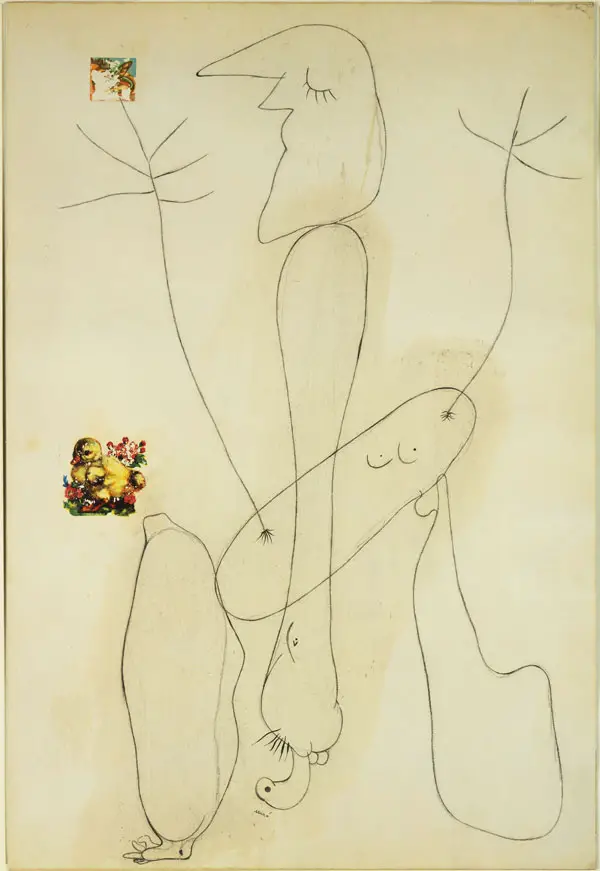 On view at the Museum of Modern Arts's Exquisite Corpses - Joan Miró (Spanish, 1893-1983). Drawing – Collage, 1936. Crayon and decals on paper. 25 1/4 x 17 1/8″ (64.0 x 43.3 cm). The Museum of Modern Art, New York. Gift of Nelson A. Rockefeller. © 2012 Successió Miró / Artists Rights Society (ARS), New York / ADAGP, Paris

Reader Feedback