Post Feedback | Printer-Friendly | Send Article to a Friend
August 31, 2012 - by Linda Sheridan
Featured Listings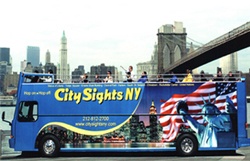 CitySights NY· Our hop-on, hop-off bus tours are operated on a fleet of new...
New York City is one of the largest natural harbors in the world. Around-the-clock water taxis, cruises, and ferries are ready to transport visitors to historical landmarks such as Ellis and Liberty Islands, as well as destinations that host some of the city's biggest music festivals, Governors Island and Randall's Island. There's also the seaport community City Island, home to some of the best seafood restaurants in town.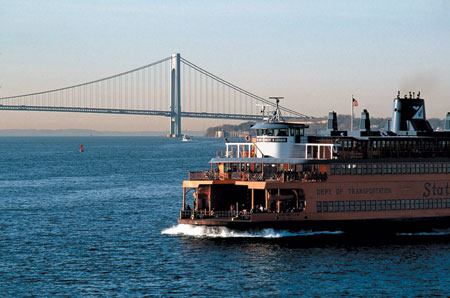 For those on a tight budget that want to catch a glimpse of the Manhattan skyline, the Staten Island Ferry leaves every half hour between 7am and 11pm, commuting between the St. George Ferry Terminal on Staten Island and the Whitehall Terminal in Lower Manhattan. It's about a 25-minute ride each way. Best of all, it is FREE.
Ferry service to Governors Island (open every Saturday, Sunday and Holiday Monday) from May 26-Sept. 30) is also FREE. Service runs between 10am and 7pm. www.govisland.com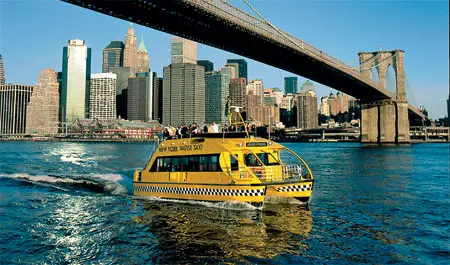 If you're short on time but want to get in as much sightseeing as possible with ease, try New York Water Taxi. For only $26, their Hop-On/Hop-Off all-day access pass includes use of both the boat and double-decker bus, stopping at many of the city's top neighborhoods and attractions, including the Intrepid and the 9/11 Memorial. Other tours include the 1-hour Statue of Liberty Express ($25) and the Statue by Night Tour (daily at 7:45pm; $26). Want to hit IKEA for a day of shopping? Their Ikea Express Shuttle runs daily from Wall Street's Pier 11. It's $5 weekdays, noon-9pm, FREE weekends, 11:20am-9pm.
NYWT now offers a special VIP All Access Tour, for $109. It includes: a private tour of the Empire State Building before it opens to the public; the chance to admire Midtown's top attractions—such as Rockefeller Center and Times Square—on an open-top bus tour; skip the line at the Intrepid Museum to see the Space Shuttle Enterprise; enjoy a walking tour of Battery Park and Lower Manhattan; visit the 9/11 Memorial with a reserved Visitor Pass; and take a Hop-On/Hop-Off cruise at your leisure for photo opportunities of the Statue of Liberty, Brooklyn Bridge, Lower Manhattan monuments and the dazzling New York City skyline. This fall, New York Water Taxi will also be launching a pilot weekend ferry service to Randall's Island. 866-987-2542, nywatertaxi.com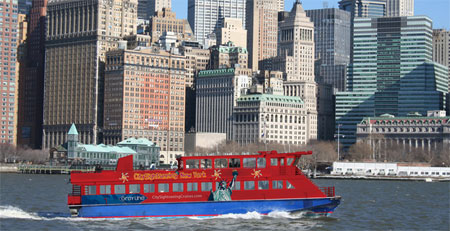 For a short, informative cruise, CitySightseeing New York offers a one-hour Gateway to America Cruise, $18 for adults, $14 for kids. Hear commentary from park rangers, historians and scientists, offering a rich and layered perspective on harbor ecology, commerce, immigration and defense. And book now for their New Year's 2013 Fireworks Cruise! The three-hour cruise includes open bar, live DJ/dancing, desserts/coffee, midnight champagne toast. 212-445-7599, citysightseeingcruises.com
For those that want to visit monuments, Statue Cruises provides exclusive water tour service to the Statue of Liberty National Monument and Ellis Island. Their boats depart from Battery Park City and Liberty State Park, providing memorable tours to these icons of American culture. First stop is Liberty Island, the 12-acre home of the Statue of Liberty. Next stop is Ellis Island, home to the Ellis Island Immigration Museum. The ferry ride and island grounds are a favorite destination for family vacations and reunions, school and group trips, and Ellis Island also provides a clear view of both the New York City and New Jersey skylines. 877-523-9849; statuecruises.com
On a three-hour Circle Line Full Island tour, circumnavigate Manhattan Island and see it all: three rivers, seven major bridges, five boroughs, and more than 25 world-famous landmarks, including a close-up of the Statue of Liberty. For a shorter tour, jump onboard their two-hour Harbor Lights Cruise, and bask in the glow of the setting sun. Beverages, food, and souvenirs are available on board. Pier 83, 42nd St. & the Hudson River, 212-563-3200; circleline42.com
Cruises not only provide great sightseeing opportunities; they enable their guests to free their mind of the daily grind, connect with others, have a drink, perhaps dinner, enjoy live entertainment, and create lasting memories. The following choices offer a little something extra.
With Circle Line Downtown, enjoy a narrated harbor tour including views of the Statue of Liberty, Empire State Building and more on board the triple decker ZEPHYR (two climate-controlled, one outdoor.) On Sept. 21, ZEPHYR is launching themed Ladies Night Out cruises. From $50-$140, enjoy drinks, manicures, mini massages, DJ music and a good laugh with friends. Cruise from 9:30pm-12:30am. 866-987-2542; circlelinedowntown.com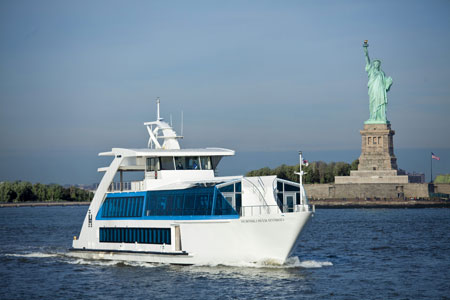 Hornblower Cruises boasts a coveted fleet including the 210-foot Hornblower Infinity, a one-of-a-kind venue, as well as the new, highly-anticipated and eco-friendly Hornblower Hybrid. Try one of their three-hour Starlight Dinner Cruises on Thursdays and Saturdays, or a two-hour Skyline Brunch on Sundays. This Thanksgiving Day, invite the family for a special celebration cruise, $99 per person. Departs at 3pm. 888-467-6256; hornblower.com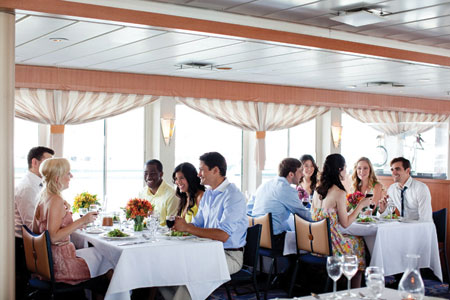 Spirit Cruises offer an entertaining and unique combination of dining, dancing, entertainment and spectacular views. Cruising year-round from Chelsea Piers, the Spirit of New York offers lunch, brunch, cocktail, and dinner cruises. For the past 15 summers, their Smooth Cruises have been bringing guests the hottest sounds in live jazz. 888-957-2321; spiritofnewyork.com
Archives:
Related Articles
Most Popular Articles on CGNY