Post Feedback | Printer-Friendly | Send Article to a Friend
January 22, 2014 - by CG News Desk
Featured Listings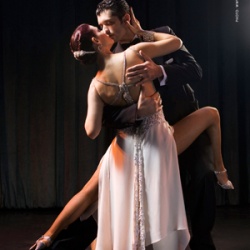 Tango House· The best of Argentine tango Off Broadway...
Forty Eight· An upscale cocktail lounge that restores an air of understat...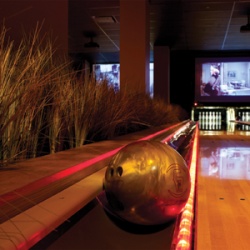 Bowlmor Lanes· Midtown's ultimate entertainment destination with 45 lanes i...
From torch-song cabarets to cutting-edge dance clubs, from neighborhood bars to velvet-rope lounges, plus world-class comedy clubs and establishments with all manner of live entertainment, New York City is a world capital of nightlife. Here you can find libations from beer and wine to elaborate cocktails and high-end champagne, often accompanied by great food.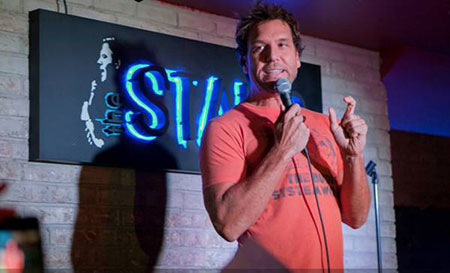 Located in the Gramercy neighborhood of Manhattan, The Stand Restaurant & Comedy Club features some of the biggest names in comedy as well as local and national up-and-comers. Plus, their restaurant offers some of the city's best late-night dining, with enticing dishes such as Cheeseburger Dumplings, the renowned Stand Burger, Pepper Crusted Seared Tuna, and more. 239 Third Ave. (20th St.), 212-677-2600; thestandnyc.com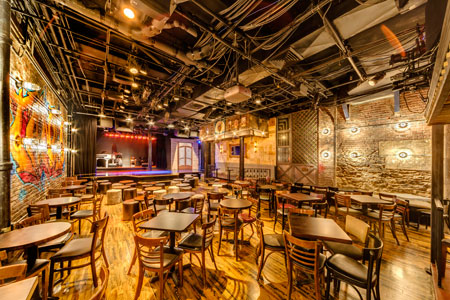 Having just opened this summer in Astor Place near the Village, Tango House has already generated a heap of buzz for their nightly (8pm; no show on Mondays) tango musical featuring professional musicians and dancers direct from the stages of Buenos Aires. Set in a theater that was a cabaret in the 1920s, the show goes from Gardel to Piazzolla with all the sensuality, passion, and glamour that you have come to expect from the 100-year-plus-old artform. 428 Lafayette St., 212-419-4645; tangohouse.net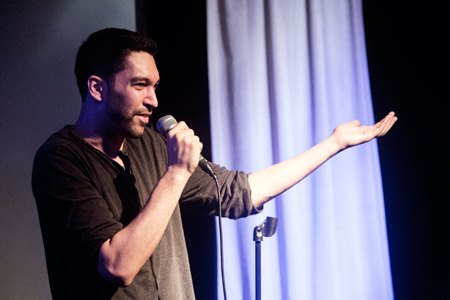 LOL New York in Times Square offers a showcase for NYC's vast reserve of up-and-coming comedic talents, as well as some of stand-up's biggest headliners. Visit www.lolnewyork.com for information on their upcoming schedule, and get 50% off tickets with code: 50%off1. 300 W. 43rd St., 212-643-6557
A throwback to the fabled days of New York nightclubs, B.B. King Blues Club & Grill features top-caliber music stars and an American Continental menu with a Southern flair. The Showcase Room has video screens and state-of-the-art sound, table seating, a bar where you can snack and listen, and a dance floor. The Beatles Brunch is offered every Saturday at noon (doors at 11am), and doors open for the Gospel Brunch every Sunday at 12:30pm with music at 1:30pm. Visit bbkingblues.com for a list of upcoming shows. 237 W. 42nd St. btw. Seventh & Eighth Aves., 212-997-4144
Located in the heart of Times Square, Bowlmor Lanes is unlike any other destination in Manhattan. In addition to 50 bowling lanes, Bowlmor's themed bowling areas let you experience Times Square, Central Park, Chinatown, Coney Island, the Art Deco Era, or the Prohibition Era, while enjoying high-end food and drink. Boomer Esiason's Stadium Grill features a menu with upscale twists on classic sports bar favorites including the Boomer Burger and Irish nachos. Night Strike, with unlimited bowling and drink and food specials, runs every Thursday from 9pm for $24. 222 W. 44th St., 212-680-0012; bowlmor.com
Co-founded by Rodney Dangerfield in 1969, Dangerfield's is the longest-running comedy club in the world. The world-famous landmark features top comedians straight from other clubs, movies, and TV shows such as The Tonight Show and Letterman. Stars who have performed here include Jay Leno, Jim Carrey, Jerry Seinfeld, and Chris Rock. Dangerfield's features no drink/food minimum, making it an inexpensive place to get your laughs—and to be a part of comedy history. 1118 First Ave. btw. 61st & 62nd Sts., 212-593-1650; dangerfields.com

Evoking the ambience of a 1920s & '30s speakeasy, 54 Below provides an unforgettable New York nightlife experience, combining performances by Broadway's best with innovative New American cuisine in an elegant setting. 254 W. 54th St., 866-468-7619; 54below.com
Dizzy's Club Coca-Cola is Jazz at Lincoln Center's intimate jazz club and restaurant. Featuring a stunning view of Manhattan and some of the best sophisticated soul food this side of New Orleans, Dizzy's is the perfect place to kick back, relax, and hear some of the greatest jazz ever made. With multiple shows nightly, be sure to swing by and make yourself at home. Jazz at Lincoln Center, Broadway at 60th St., 5th floor, Time Warner Center, 212-258-9595; jalc.org/dizzys
Voted the best comedy club in NYC by NY Press, Gotham Comedy Club is one of the city's most elegant and upscale venues. Every third Sunday of the month, Gotham Comedy Club hosts "The Mixtape Comedy Show" with Royale Watkins, featuring the hottest comics and musicians; past performers include Tracy Morgan and Patton Oswalt. 208 W. 23rd St. btw. Seventh & Eighth Aves., 212-367-9000; gothamcomedyclub.com

If your travels take you downtown, head over to Broome Street Bar in SoHo. With its mix of professionals and locals, Broome Street is a relaxing place to stop in for a moderately priced burger and a few beers. Open since 1972, Broome Street Bar is also notable for its cozy atmosphere, the lovely stained-glass portrait behind the bar, and a good beer selection. 363 West Broadway at Broome St., 212-925-2086

Garage Restaurant and Café has it all -- great food, an outdoor cafe, and live jazz all day and night. Multi-level dining gives everyone the best seat in the house, whether relaxing on richly upholstered banquettes or overlooking the entire scene from a cozy booth on the balcony. With 17 draught beers, a fireplace, late-night dining until 2:30am, and great people-watching, a stop at Garage is a must when visiting Greenwich Village. 99 Seventh Ave. So. (Christopher St.), 212-645-0600; garagejazz.com
Stop into any of Heartland Brewery's locations and you'll see that it isn't just beer that's brewing at New York's first American-style brewpub. The relaxed atmosphere makes it a great place to kick back and relax, and the multiple locations make it easy to stop in and sample one of the many unique brewed beers, or have one of the appetizers. And located next door to the Times Square location is HB Burger, which serves nine specialty burgers and "hard shakes," which are definitely not for kids! 35 Union Square at 16th St., 212-645-3400; 127 W. 43rd St. btw. Sixth and Seventh Aves., 646-366-0235; 350 Fifth Ave. at 34th St. in the Empire State Building, 212-563-3433; 625 Eighth Ave. at 41st St., 646-366-0235; heartlandbrewery.com.
Archives:
Related Articles
Most Popular Articles on CGNY