New York International Fringe Festival 2012 Runs August 10-26
August 8, 2012 - by Griffin Miller, Theatre Editor
From August 10 through August 26, the sixteenth edition of the New York International Fringe Festival -- aka FringeNYC -- takes over multiple theatres located Off- and Off-Off-Broadway. Bearing the title of "the largest multi-arts festival in North America," it reigns as the summer event for those Manhattan insiders and visitors whose radar is set to home in on all things creative, cutting-edge, and off-the-wall.
To give you a sense of the expansiveness of this two-weeks-plus Gotham arts marathon, the website spells it out nicely, noting that it takes 5,000 artists, 2,000 registered volunteers, 200 shows (musicals, plays, multimedia and solo works), 20 venues, 1,200 performances, 16 days, and a theatregoer count in the 75,000 range to give this annual festival its jaw-dropping cache.
For those unfamiliar with the Fringe's impact on Gotham's performance scene, allow me to fill in the blanks: it was the starting point for the Broadway hit Urinetown as well as the current must-see Off-Broadway phenom Silence! The Musical.
This year, some of the hottest buzz surrounds the shows 5 Lesbians Eating a Quiche; The Particulars; Dogs: A Biting Comedy; and Linda Means to Wait (directed by Geoffrey Owens, who played Elvin on The Cosby Show).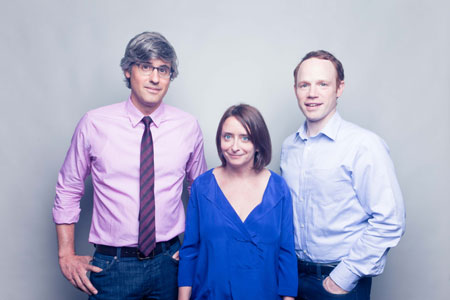 And while as-yet-unknown performers traditionally dominate FringeNYC, there are at least two shows this season that come with a bit of celeb cachet: Tail! Spin, with a cast (pictured) featuring Rachel Dratch of SNL fame, Sean Dugan of Smash, and Mo Rocca, seen regularly on CBS Sunday Morning; and The Women of Spoon River: Their Voice from the Hill, starring former Miss America/Catwoman Lee Meriwether.
For reservations, visit FringeNYC.org, keeping in mind you can purchase seats using a credit card and they will be waiting for you at the "Will Call" sign (despite its size and rep, Fringe NYC still retains a little Mom & Pop DNA from its early years: you're instructed to look for "the volunteer in the bright yellow vest" to retrieve your tickets)!
Looking for Free Group Planning Services?
Get free advice on planning your group's trip to New York.
RESTAURANTS

The handsome, 12,000 square foot Times Square location offer...

THEATER

Kander and Ebb's "musical vaudeville" in which Roxie Hart ga...

SHOPPING

Shop or sell at this weekend bargain hunters' paradise....

SIGHTSEEING

Spirit Cruises is New York City's most vibrant and entertain...