Post Feedback | Printer-Friendly | Send Article to a Friend
August 22, 2011 - by CG News Desk
Featured Listings
Bangkok House· For Thai near Times Square, enter Bangkok House...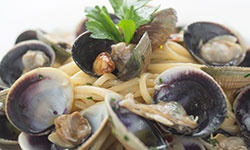 Da Marcella· A Mediterranean taverna in the Theater District...
Patsy's Italian Restaurant, New York's best-loved Italian Restaurant (236 W. 56th St.) presents "Heart and Soul of New York...Anema e Core" at Feinstein's at Loew's Regency on Wednesday, August 24, 2011. With musical entertainment by tenor Christopher Macchio and singer George Pettignano, and featuring comedian Ernie Naspretto, Patsy's executive chef and co-owner Sal Scognamillo will serve a four-course dinner.

WHERE: Feinstein's at Loews Regency Hotel, 540 Park Avenue (at 61st Street, New York)

WHEN: Wednesday, August 24, 2011. Doors open at 6 pm. Show Begins at 8 pm
For reservations, call 212-339-4095 or click here.
Archives:
Related Articles
Most Popular Articles on CGNY