Cirque du Pippin: The Tony-Winning Revival Soars
January 9, 2014 - by Melanie Baker
Under a billowing circus tent, an ambitious prince sets out on a quest to live an extraordinary life. It's a declaration that touched Broadway for the first time in 1972 with Stephen Schwartz and Roger O. Hirson's enchanted musical Pippin, which follows a young prince on a quest to find joy in his own unique "Corner of the Sky."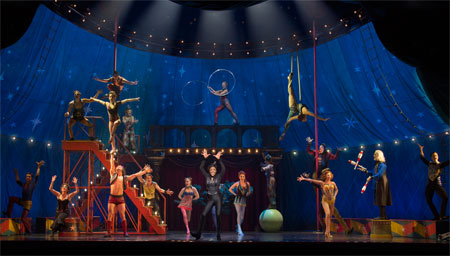 Photo: Joan Marcus
Originally directed by legendary choreographer Bob Fosse, Pippin breaks through the fourth wall, inviting theatergoers to join the title character on his odyssey—an adventure overrun by a troupe of eccentric and bewitching characters.
This time around, director Diane Paulus (Hair; Porgy and Bess) brings a balanced concoction of magic, whimsy, and humanity to Pippin. Paying visual homage to the big-top mystique, Paulus works alongside "circus creator" Gypsy Snider of Les 7 doigts de la main (7 fingers), puppeteers, a cast of high-flying acrobats, hunks of muscle, synchronized dancers, and an adorable leaping pup. And that's just the ensemble.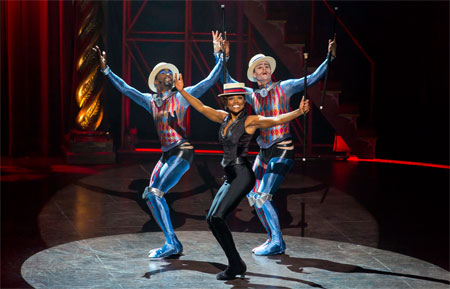 Anthony Wayne, Patina Miller, Andrew Fitch. Photo: Michael J. Lutch
Meanwhile, the visual magic — illusion design by Paul Kieve, fire effects by Chic Silber, and flying effects by ZFX, Inc. — produces an aesthetic jubilee that sets it apart from anything else on Broadway.
READ MORE: Broadway's Newest Pippin: Josh Kaufman of 'The Voice'
Taking on the role of Lead Player, Patina Miller — who picked up a Tony statuette for her performance — demonstrates power and prowess in the demanding song-and-dance role. Under Chet Walker's choreography (in the style of Fosse), Miller guides Pippin on his journey with a spellbinding feminine sass and strength that defies comparisons to the Broadway's original Lead Player, Tony winner Ben Vereen.
Notably, it is only towards the show's conclusion that the Lead Player's position as show runner collides with the true hero: the golden-natured Pippin.
British-born Matthew James Thomas (Spider-Man: Turn Off the Dark) brings an eagerness and optimism to the role. "The team, the idea, and the opportunity to try something that I knew would be a challenge physically, mentally, and even socially" is what drew him to the revival. "The idea of being in this production — from the feeling in my first meeting with the team — was completely exciting," he adds.
Matthew James Thomas. Photo: Joan Marcus
For the role, Thomas reprises some of the thrill and physicality of Spidey (he was Reeve Carney's alternate in the role), but in a totally different other world. "With Pippin, the physical challenges actually present more instant danger that I am fully responsible for," he explains. "So I drink lots of coffee."
In awe of his fellow castmembers and the creative team, Thomas revels in a sequence titled "GLORY," in which the Leading Player goes full-on Fosse in a meticulously choreographed number juxtaposed against the backdrop of war.
"Can you tell me how dance and music go hand-in-hand perfectly with the concept of bloody war?" Thomas wonders. "Stephen's [Schwartz] timeless music and Larry's [Hochman] orchestrations are epic. They have an edgy, '70s dark feel, and they always give me shivers."
Charlotte d'Amboise performing "Spread a Little Sunshine." Photo: Joan Marcus
As for the balance of "who's who in the cast," suffice it to say that Pippin audiences are privy to a dynamic array of Broadway A-listers. The role of Fastrada (King Charles's wife) is played by noted Fosse stylist/Tony nominee Charlotte d'Amboise. Her husband (both onstage and off) is three-time Tony nominee Terrence Mann, who brings zest and precision to his comedic timing as Pippin's royal dad.
Also in the cast are Rachel Bay Jones, who soars in the second act as Catherine, a widow and farm owner who falls in love with Pippin. And by all means be on the lookout for Pippin's grandmother Berthe, played by Annie Potts in the show-stopping pièce de résistance "No Time At All." It's a killer opportunity for an audience sing-along while Potts executes complex acrobatic maneuvers high above the crowd in a most un-grandmotherly corset.
In the final act, Pippin's hunt for an extraordinary life takes a turn towards a much more human quality. Through lessons learned, maturity gained, and a uniquely profound "Love Song," the wide-eyed prince learns to see the extraordinary in the ordinary and the everyday magic found in reality, brilliantly accompanied by mind-bending spectacle and the grandest of grand finales!
Pippin is playing at the Music Box Theatre, 239 W. 45th St. For tickets, call 212-239-6200 or click here.
Looking for Free Group Planning Services?
Get free advice on planning your group's trip to New York.
RESTAURANTS

Guy's American Kitchen & Bar is a dynamic restaurant introdu...

THEATER

Kander and Ebb's "musical vaudeville" in which Roxie Hart ga...

SHOPPING

Shop or sell at this weekend bargain hunters' paradise....

SIGHTSEEING

The 9/11 Memorial honors the nearly 3,000 people killed in t...