Pop Idol and R&B Star Justin Bieber Immortalized in Wax at Madame Tussauds
March 2, 2011 - by City Guide News Desk
Following the release of the highly anticipated 3-D documentary Never Say Never, Madame Tussauds (234 W. 42nd St., 800-246-8872; www.madametussauds.com/NewYork/) has announced that Grammy-nominated pop/R&B singing-sensation Justin Bieber will be the next celebrity to be immortalized in wax. Bieber's figure will make its world debut in March 2011 at three Madame Tussauds attractions: New York, London and Amsterdam.

"I'm honored to be getting my own wax figures at Madame Tussauds New York, London and Amsterdam," Bieber said. "To be immortalized in wax alongside some of my idols - Michael Jackson, Prince, Beyonce and my mentor, Usher - is incredibly exciting and very cool."

Bieber was an enthusiastic participant of the four-month-long figure creation process, spending time with a team of Madame Tussauds studio artists who took hundreds of precise measurements and photos of the singer to ensure the figure captures his signature style and of course, his signature locks. (Scroll down to see pictures from his sitting.)

"Justin Bieber is one of today's biggest stars, and we are thrilled to be able to give his fans and our visitors - who have been requesting that we create Justin's figure since he burst onto the scene - a preview of his wax likeness before its world premiere in March," said Bret Pidgeon, General Manager Madame Tussauds New York.

With over 9 million albums sold worldwide at just 16 years old, Justin Bieber's star continues to rise. He has won four American Music Awards, including Artist of the Year; he was also nominated for two Grammy Awards, including Best New Artist; published a New York Times bestseller, First Step 2 Forever; and guest starred on "Shaq Vs." and "CSI". With millions of fans that have caught "Bieber Fever," Justin is admired for his talent, charm and generous support of charities such as Pencils of Promise.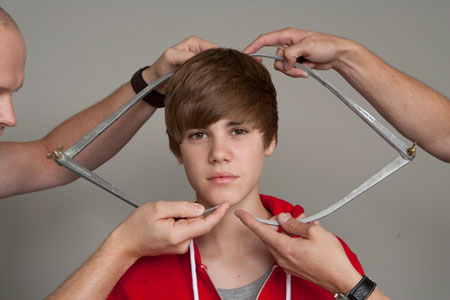 ABOUT MADAME TUSSAUDS NEW YORK: Madame Tussauds New York is celebrating its 10th anniversary as the interactive "must do" attraction in the heart of Times Square, providing guests with unique opportunities to create memories with some of the world's biggest icons. New wax additions include Lady Gaga, Taylor Swift, Kim Kardashian, Sean "Diddy" Combs, Robert Pattinson, the Jonas Brothers, Carrie Underwood, as well as President Barack Obama and First Lady Michelle Obama. Madame Tussauds' interactive exhibits include Cinema 4D, now featuring the "Wizard of Oz 4D Experience"; the "Bollywood Zone," where visitors have the chance to re-create the experience of being on a Bollywood film set with Shahrukh Khan and Amitabh Bachchan (or their wax figures, at least); and the "Sports Zone", which allows guests to interact with some of the world's most famous athletes, including Yao Ming, Serena Williams, Derek Jeter and David Wright. Prominently located in the heart of Times Square, Madame Tussauds New York is open 365 days a year at 10 a.m. Visit www.madametussauds.com/NewYork or call (800) 246-8872 for more information.

Take $5 off adult or children's tickets by clicking here.
Looking for Free Group Planning Services?
Get free advice on planning your group's trip to New York.
RESTAURANTS

The newest member to the Heartland Brewery family, HB Burger...

THEATER

Gaston Leroux's famous period thriller is now one of Broadwa...

SHOPPING

Swiss luxury watch manufacturer for men and women since 1853...

SIGHTSEEING

Located in Times Square in the heart of New York City, Riple...