Ringling Bros. and Barnum & Bailey Circus Offers Legends Retrospective
February 14, 2014 - by Ellis Nassour
Ringling Bros. and Barnum & Bailey Circus has roared into town on its mile-long train to begin its Spring Metro New York engagement of the 144th Edition, Legends! It'll be encamped at Brooklyn's Barclays Center, February 20 - March 2. It's being billed as "Drama, Surprise, and Wonder building in excitement so BIG that it could only be The Greatest Show on Earth," as Ringling Bros. has been labeled for over a century.
The arrival of the Circus is always synonymous with the start of spring and the Easter season. But spring doesn't officially begin until March 20. Maybe this is a welcome omen that we'll be getting uplift from the frozen tundra we've been experiencing. Here's another bright spot: Some opening night tickets are priced as low as $15.
Ringling's Legends! will follow the Barclays engagement with Long Island's Nassau Coliseum March 5–10; Newark's Prudential Center March 13–16; and East Rutherford/Meadowlands IZOD Center March 19–23.
Feld Entertainment's producers Alana and Nicole Feld, the first women to produce the show, grew up playing with clowns, trying on glittering costumes, and being in the enviable position of petting elephants and giraffes. They travel the world annually to put together a super-sized, high-energy show and Legends! is their biggest extravaganza of family fun to date.
"Legends! takes live entertainment to a new level," says Nicole. "We wanted to blow it out in a way that's over the top, with performers from six continents." Alana adds, "Thanks to our father [Kenneth Feld] and grandfather [Irving Feld], we grew up with so many circus memories. Now, we get to create memories that'll not only rekindle the magic of circus but also create magic for a new generation."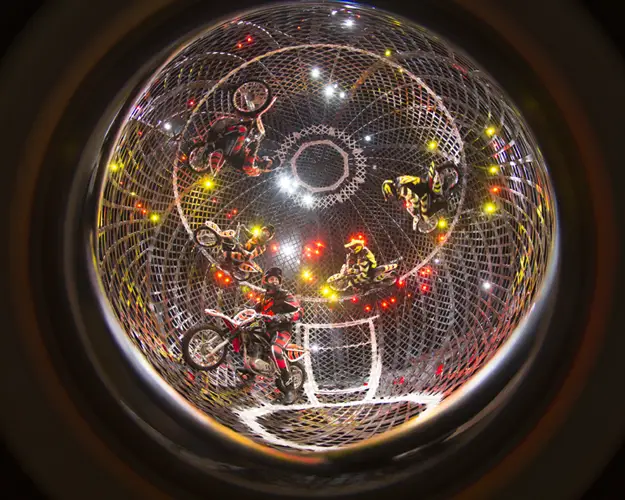 They describe a show "that continues a tradition of star-spangled glitz and spine-tingling edge-of-the-seat thrills" that's certainly not your Mom and Dad's circus. There's a feast of awe-inspiring feats of daring from gymnasts and acrobats, spectacles of strength and thrills of wonder, exotic animals that include a rare mix of lions and tigers, RBBB's large contingent of performing elephants, high-wire and motorcycle daredevils, "thundering Cossack warriors in a dressage that includes Roman and trick-riding," and tons of laughter and absurd antics from those side-splitting spoofs of Clown Alley.
To top that, highlights of the show will be a retrospective of many of the past's mega-themed editions that were filled "with mysterious visions that only existed in your imagination and materialized right before your eyes: the Unicorn, Pegasus, and a Woolly Mammoth"; and memorable artists, such as The Lord of the Rings, Gunther Gebel-Williams.
Free with ticket an hour before show time is the interactive All Access Pre-show. Families can become part of the circus on the arena floor learning juggling and balancing skills, meeting performers and clowns. There's even an art lesson as a "Picasso of Pachyderms," a majestic Asian elephant, paints a one-of-a-kind masterpiece, which will be won by an audience member.
New this year is the exclusive Ringmaster's Zone. This family experience, limited to 100 per performance, grants exclusive access to behind-the-scenes and a meet & greet and photo opt with the stars of the show.
A RBBB tradition continues – awarding 2014 babies born in the U.S. a free ticket for a future show. For details on how to secure your voucher visit www.Ringling.com under Special Offers/Baby's First Circus.

Ringling Bros. is a sponsor of America Supports You. A portion of performance proceeds will benefit American Recreational Military Services, which supports deployed service members and their families.
For performance dates and times, visit www.ringling.com and check out the show line up and special offers under Legends! Tickets, with regular prices starting at $30 are available at www.ticketmaster.com, by calling Ticketmaster at (800) 745-3000, and, to save on service fees at the box offices of the four arenas.
Looking for Free Group Planning Services?
Get free advice on planning your group's trip to New York.
RESTAURANTS

The newest member to the Heartland Brewery family, HB Burger...

THEATER

Kander and Ebb's "musical vaudeville" in which Roxie Hart ga...

SHOPPING

Swiss luxury watch manufacturer for men and women since 1853...

SIGHTSEEING

Located in Times Square in the heart of New York City, Riple...