Shake, Shake, Shake Your Shakespeare...
June 14, 2011 - by Griffin Miller
Once spring departs the Big Apple, you can be certain the city will be gearing up for its favorite annual visitor: The Bard. In addition to several Off- and Off-Off-Broadway Shakespearean offerings, often in park settings -- BYOB: Bring Your Own Blanket -- there's the celebrated Delacorte Theater's Shakespeare in the Park where, in addition to open-air ambiance, theatergoers are privy to comfy stadium-style seats and big-name performers -- for free.

Now through July 30, the Delacorte is presenting two of Shakespeare's works in repertory: Measure for Measure and All's Well That Ends Well. The two plays will be alternating performances, buoyed by a stellar company of Public Theater veterans and Shakespearean heavyweights including Tony winners John Cullum (Shenandoah; Northern Exposure) and Tonya Pinkins (Jelly's Last Jam; Caroline, or Change), as well as actors Annie Parisse (Alexandra Borgia on Law & Order) and Andre Holland, fresh from his critically acclaimed performance in Off-Broadway's The Whipping Man.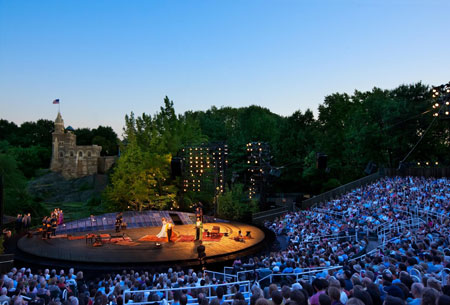 Said Public Theater artistic director Oskar Eustis: "Last year's experiment in rep was a brilliant success, allowing us to create an acting company of unparalleled depth and ability, and giving us two wonderful productions, The Merchant of Venice [with Al Pacino] and The Winter's Tale. This year, we are tackling two of the lesser-known jewels of the canon."

While Shakespeare in the Park is a long-revered NYC summer tradition, this year the Delacorte is receiving some unprecedented competition from the renowned Royal Shakespeare Company beginning July 6, when the RSC takes up residence -- make that replicates residence -- within Manhattan's Park Avenue Armory. For the record, the 900-seat, web-like theater has been rebuilt from a flat-pack transported to the fortress-sized Armory. (Suffice it to say, serious welding was involved.)

A co-presentation by Lincoln Center Festival 2011 and the Park Avenue Armory, in association with The Ohio State University, RSC will present five plays by the Bard of Avon -- As You Like It, Julius Caesar, King Lear, Romeo and Juliet and The Winter's Tale -- for a total of 44 performances through August 14.

As for the performance area, expect to be awed (or as the Brits would say, "gob-struck") by the imported reproduction of the new thrust Courtyard "Scarlet & Gray Stage" Theatre designed for the Royal Shakespeare Theatre in Stratford-upon-Avon.

RSC artistic director Michael Boyd, who notes that this "specially built thrust stage" could "only be realized in Park Avenue Armory's soaring space," adds: "I want American audiences to have the opportunity of seeing the very best of our work."
Reader Feedback