A Freak Like Me: Robert Cuccioli's Sinister Turn in Broadway's Spider-Man Turn Off the Dark
February 6, 2013 - by Melanie Baker
Going from heroic luminary to blood-curdling arch nemesis is a rapid character arc requiring both serious acting chops and playful flexibility -- no easy feat, to be sure, but Robert Cuccioli of Jekyll & Hyde fame is more than up to the challenge as he brings his talents (of questionably mutant proportions -- yep, he's that good) to his dual role of Dr. Norman Osborn/The Green Goblin in the Broadway mega-hit Spider-Man: Turn Off the Dark.
The highest-budgeted Broadway show in history is still delivering a Comic Con-worthy KO to crowds at Foxwoods Theatre with its revitalized take on Marvel's famous superhero. Airborne acrobatics, daring stunts, a larger-than-life stylized set, and an electrified score by rock icons Bono and The Edge work together to draw packed houses jammed with amped theatergoers.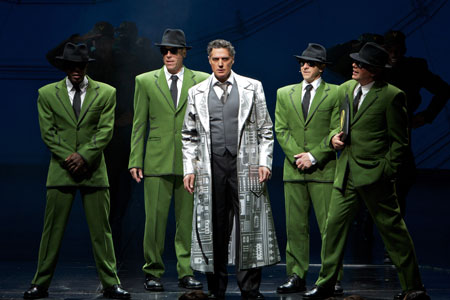 Although Cuccioli, who stepped into Spider-Man last August, falls under the Zodiac's bullish Taurus sign, when it comes to Broadway casting he clearly veers more toward two-sided Gemini roles. His signature portrayal of Victorian Dr. Jekyll (ironically, another medical visionary) and his darker, power-hungry flipside, Mr. Hyde, garnered him a Tony nomination. And while he now wears a 21st-century lab coat as Dr. Osborn, the megalomaniac gene still creeps through and into the actor's deviously puckish portrayal of the villainous Green Goblin.
"It's not something I sought," Cuccioli says regarding the similarities between the two sets of characters. "Even though they are both dual roles, they're telling two different stories—and they are two different genres. One is Gothic, horror, and thriller, and this is more of a comic-book genre… and they're both such fun roles."
It's precisely that fun that resonates from the stage to the premier "flying circle" section of the orchestra, to the back of the rear mezzanine.
Cuccioli's grand reveal as the Green Goblin at the top of the second act is ingeniously presented via his crooning a jazzy, improvised homage to the audience. And it's this initial breaking down of the fourth wall to engage with the energy of the crowd he calls one of his biggest thrills, "because that's a whole factor you have no control over. During the ['A Freak Like Me Needs Company'] number, dealing with the audience, I'm finding out how they are they going to react to me. Sometimes they sit stone-faced, sometimes they… really get into it, and sometimes they don't know how to take me," he says. "There's an exciting and unknown aspect to the whole thing."
As the show's lead antagonist, Cuccioli has to decide just how far to push the villainy envelope. "There are a lot of people who are more into comic books and Spider-Man than theatre—and a lot of kids," he explains. "I think there should be an element of danger when you're dealing with a true nemesis, but you don't want to scare the kids. Also, it's a comic book, so you want to have fun with it."
Not surprisingly, Cuccioli enjoys toying with the Green Goblin's more amusing moments. "The situations he ends up in are humorous, as are the ways he approaches them. I needed to find those moments and make sure that they were balanced enough with the danger to add those lighter touches."
Cuccioli joined a wildly skilled cast that includes Reeve Carney, who originated the role of Peter Parker/Spider-Man and continues to play up Parker's geeky charm while appearing in Spidey spandex whenever save-the-day heroics are called for. Rebecca Faulkenberry, with her show-stopping vocals and ingénue aura, wins hearts as Mary Jane Watson, the aspiring actress whom Parker adores, while Katrina Lenk spins webs and holds a watchful eye over the young protagonist as the spider goddess Arachne.
Final recommendation: Put a little "pow," "zap," and "OMG!" into your theatre plans. I mean, really, how often do get to experience the jaw-dropping spectacle of superhero and super-villain duking it out in the flesh—in the stratosphere!—of a Broadway theater?
Spider-Man: Turn Off the Dark is playing at the Foxwoods Theatre, 213 W. 42nd St. For tickets, call 877-250-2929 or click here.
Looking for Free Group Planning Services?
Get free advice on planning your group's trip to New York.
RESTAURANTS

Guy's American Kitchen & Bar is a dynamic restaurant introdu...

THEATER

Gaston Leroux's famous period thriller is now one of Broadwa...

SHOPPING

The world's only NHL store is located in the heart of Manhat...

SIGHTSEEING

Enjoy a narrated harbor tour including views of the Statue o...