NYC's Statue Cruises Unveils State-of-the-Art Eco-Friendly Vessel
July 23, 2012 - by City Guide News Desk
This summer, Statue Cruises has "gone green" while introducing guests to New York's most famous landmarks. Their Harbor Cruise, a one-hour sightseeing adventure on New York Harbor, kicked off on July 23 aboard the eco-friendly Hornblower Hybrid.
The Liberty Harbor Cruise begins at historic Battery Park, at the foot of Manhattan. Once the cruise gets underway, on-board narration highlights historic sites as the boat glides past and shares some of the local stories that make New York City fascinating to natives and visitors alike. Of particular interest are the Statue of Liberty and Ellis Island, where guests are treated to a focused look at immigration and how it has shaped the city and the nation.
Statue Cruises, COO Mike Burke said, "This is a great opportunity for people with limited time to get the absolute closest visitor access to the Statue."
In addition, the excursion offers the perfect vantage point to take in and capture photo-worthy views of the Brooklyn Bridge, Governors Island and the World Trade Center Tower.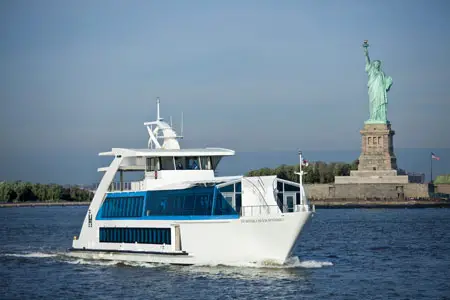 The Liberty Harbor Cruise is priced to deliver the best value in New York!
This exciting outing takes place aboard a revolutionary member of Statue Cruises' fleet: the 600-passenger Hornblower Hybrid. By capitalizing on an array of power sources, including solar and wind, the innovative vessel minimizes its environmental footprint without sacrificing quality. Inside, the Hornblower Hybrid features Leadership in Energy and Environmental Design (LEED)-certified carpet, energy-efficient LED lighting, and various recycled and reclaimed materials.
Statue Cruises' 60-minute Liberty Harbor Cruise starts the summer season. It will run daily between July 23 and September 3, and subsequently each Saturday and Sunday through October 8, 2012. Tours will depart from New York City's Battery Park at 9:30 a.m., 11 a.m., 12:30 p.m., 2 p.m. and 3:30pm.
Harbor Cruise tickets cost $13 for adults, $10 for seniors and $5 for children ages 5 to 12. Ages 4 and younger cruise for free.
For reservations and additional information, or to learn about tours and event charters aboard the Hornblower Hybrid, visit www.statuecruises.com or call 201-604-2800.
Looking for Free Group Planning Services?
Get free advice on planning your group's trip to New York.
RESTAURANTS

Burke's dual-concept restaurant opened in 2005 and spans the...

THEATER

Gaston Leroux's famous period thriller is now one of Broadwa...

SHOPPING

The world's only NHL store is located in the heart of Manhat...

SIGHTSEEING

Sweeping, unobstructed, open-air views of NYC from the top o...