Post Feedback | Printer-Friendly | Send Article to a Friend
March 4, 2013 - by City Guide
Featured Listings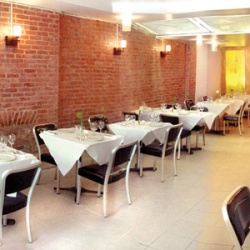 Bangkok House· Delicious Thai food to die for at extremely reasonable price...
The St. Patrick's Day Parade is a quintessential celebration of Irish-American identity. On Saturday, March 16, 2013, almost 200,000 marchers will parade up Fifth Avenue in a display of the vibrancy and vitality that is Irish culture. This culture is a special component of the diversity that is the essence of New York and America. In many ways, the parade is a celebration for all Americans.

The annual parade for St. Patrick in New York City is in its 252nd year. As it has for many years, it begins at Fifth Ave. & 44th St. at 11am. It marches north along Fifth Ave., led by the historic Fighting 69th. The Fighting 69th is a New York State militia regiment, made up of 1,000 Irish-American volunteers, that first served in America's Civil War at the Battle of Bull Run. The contributions of the Fighting 69th helped bridge the gap between Irish settlers and the rest of the American community by sharing common sacrifices and goals. The regiment went on to serve the U.S. in later wars. Now veterans of the regiment and their descendants hold the esteemed honor of leading the parade. Marching along with the Fighting 69th is a host of political figures, including New York City Mayor Michael Bloomberg.

As the procession moves up Fifth Ave., thousands of well-wishers of all backgrounds cheer on the marchers. At selected spots along the route, there are 32 large green banners. These banners depict the emblems of the 32 Irish counties and are sponsored by the various Emerald Societies and delegations of Irish descendants.

At Fifth Ave. and 86th St., the procession turns right and marches east on 86th St., where it ends at about 4:30-5pm. Many of the marchers and participants move on to the various Irish pubs, taverns, and restaurants around Manhattan.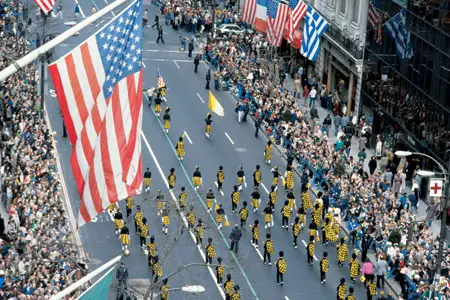 After the parade, celebrate at these great NYC bars and Irish pubs

Benjamin Steakhouse on E. 41st St. will be offering green beer and specialty cocktails throughout the day and night. 52 E. 41st St., 212-297-9177; www.benjaminsteakhouse.com
For St. Patrick's day libations, stop into Heartland Brewery and you'll see that it isn't just beer that's brewing at New York's first American-style brewpub. The relaxed atmosphere makes it a great place to kick back and relax, and the five locations make it easy to escape the rush of the city. Sample one of the many unique brewed beers, try a tasty martini, or have one of the appetizers, like the mini bison burgers. 35 Union Square at 16th St., 212-645-3400; 127 W. 43rd St. btw. Sixth and Seventh Aves., 646-366-0235; South Street Seaport, 93 South St. at Fulton St., 646-572-2332; 350 Fifth Ave. at 34th St. in the Empire State Bldg., 212-563-3433; 1285 Sixth Ave. at 51st St., 212-582-8244; www.heartlandbrewery.com
If your travels take you downtown, head over to Broome Street Bar in SoHo. With its mix of professionals and locals, Broome Street is a relaxing place to stop in for a moderately priced burger and a few beers. Open since 1972, Broome Street Bar is also notable for its cozy atmosphere, the lovely stained-glass portrait behind the bar, and a good beer selection. 363 West Broadway at Broome St., 212-925-2086.
Located across the street from Madison Square Garden and Penn Station (don't be surprised to see Knicks & Rangers players dining here), Cafe 31 offers 16 TVs offering all the big games and a menu featuring pizzas, sandwiches & Greek specialties at reasonable prices. Open seven days for lunch & dinner, 10am-midnight. 220 W. 31st St., 212-695-5966; cafe31nyc.com
Archives:
Related Articles
Most Popular Articles on CGNY