The Clock at Lincoln Center July 13-August 1
June 28, 2012 - by CG News Desk
In his epic video installation, The Clock, artist/musician Christian Marclay draws attention to time as a multifaceted protagonist of cinematic narrative. Using a range of timepieces, from clock towers to wristwatches, buzzing alarm clocks to the occasional cuckoo, Marclay samples thousands of film excerpts to indicate the passage of time. The installation is constructed from a spectacular variety of periods, contexts and genres, representing a veritable 100-year history of cinema -- bank heists, chase scenes, emergency rooms, shootouts, silent comedies, detective dramas, and more. With virtuosic skill, the artist has excerpted each of these moments of image and sound from their original contexts and edited them together to form a 24-hour montage, which unfolds in real time, synchronized with the local time of the exhibition space. The Clock received the 2011 Golden Lion award for best artwork at the Venice Biennale. For more information about the artist visit: paulacoopergallery.com/artists/CM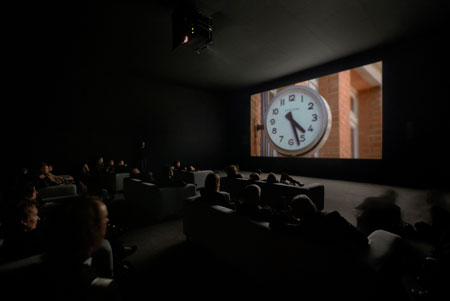 The Clock is on public view, free of charge, from July 13–August 1, Tuesdays–Thursdays, 8 am–10 pm; and runs continuously from Fridays at 8 am through Sundays at 10 pm; Closed on Mondays. Admission is first come, first served; there are no reservations. More information about hours and public access is available online at: lincolncenterfestival.org/index.php/2012-the-clock.
Photo credit: Todd White Photography, © Christian Marclay. Courtesy Paula Cooper Gallery, New York and White Cube, Mason?s Yard, London
RESTAURANTS

The handsome, 12,000 square foot Times Square location offer...

THEATER

A newly imagined meditation on narcissism, talented tykes an...

SHOPPING

DataVision is redefining retail with their new, fully intera...

SIGHTSEEING

Start by ascending to the top of the tallest building in the...
Reader Feedback