Post Feedback | Printer-Friendly | Send Article to a Friend
September 6, 2013 - by Karli Petrovic
Featured Listings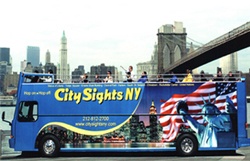 CitySights NY· Our hop-on, hop-off bus tours are operated on a fleet of new...
After a decade-plus of grieving, healing, and resilience, the National 9/11 Memorial marks a monumental change to the city — one that invokes a transformation at the revered site itself, and transforms the spaces left in the New York City skyline.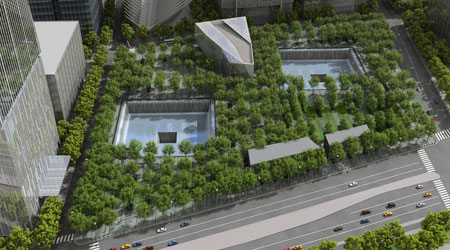 Once at the memorial, visitors will see the visions of architect Michael Arad and landscape architect Peter Walker come to life. Arad's idea emerged from a thought he had right after the attacks that involved tearing the Hudson River open to allow the water to flow down into two voids. "My hope is that we are building the equivalent of a moment of silence, a quiet place to reflect and for people to come together," says Arad. "It's about letting that quiet, respectful moment occur. It should be very personal."
Expanded over about 8 acres of the 16-acre site, the memorial includes two acre-size square reflecting pools, featuring North America's largest manmade waterfalls cascading down the eight sides of the pools. In the spaces the towers previously occupied, there's a cleared space for gatherings and special ceremonies called the "Memorial Grove," and over 400 swamp white oaks including the "Survivor Tree," a callery pear nursed back to health following the attacks.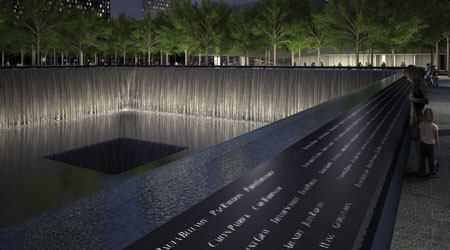 The 2,982 names of the victims are etched on bronze, stencil-cut parapets lining the outer walls of the reflecting pools. The design allows daytime visitors to view the waterfalls through the inscriptions and for light to shine through at night. The design, chosen from 5,201 entries from 63 countries, organizes the names according to direct relationships between spouses, relatives, colleagues, and friends as well as by affiliation or agency. Names of victims from World Trade Center North, Flight 11, and February 26, 1993 line the north pool, while the south pool houses the names of victims from World Trade Center South, first responders, flights 175, 177, and 93, and the Pentagon. Visitors interested in locating a particular name can find the name's "address" on the official website, an N or S followed by a number 1-76 to indicate a specific pool and panel, by using a smartphone application, or on a kiosk at the memorial site.
A museum created by the September 11th Families' Association to convey first-person experiences of 9/11, the nearby 9/11 Tribute Center offers visitors to the World Trade Center site deeply moving gallery experiences and meaningful walking tours on the 9/11 Memorial led by volunteer guides — including family members, survivors, lower Manhattan residents, recovery workers, and volunteers — who share their personal experiences. Open daily, 10am-6pm (until 5pm on Sundays). Last tickets are sold 30 minutes before closing. 120 Liberty St. (Greenwich St.), 866-737-1184; tributewtc.org

Admission rates: Adults, $24; seniors/U.S. veterans/college students, $18; youth (7-17), $15; 9/11 Family members, free; Museum members, free with membership; 9/11 Rescue and Recovery workers, free with registration. To reserve a pass, click here or call 212-266-5200 for groups of 20 or more. (Reservations made online or by phone carry a $2 nonrefundable service fee per pass.) No-fee passes for same-day visits are also available on a first-come, first-served basis in person at the 9/11 Memorial Preview Site at 20 Vesey St. Hours are 10am-8pm until September 22. From September 23, the memorial will be open 10am-6pm. The last entries are ushered in an hour before closing.
Archives:
Related Articles
Most Popular Articles on CGNY