Post Feedback | Printer-Friendly | Send Article to a Friend
July 17, 2012 - by CG News Desk
Featured Listings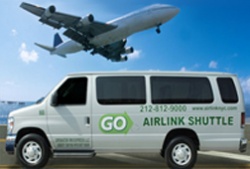 Go Airlink NYC· Direct, door-to-door transportation between Manhattan and JF...

SuperShuttle· Need a lift? Let SuperShuttle pick you up from your home, o...

MetroCard· The fastest and least expensive way to see all the famous pl...
On Friday, August 31, 2012 at 8:30pm the New York City phenomenon known as THE RIDE will roll out its 1,500th show.

The event celebrates twenty-two months of sold-out, multi-million-dollar, state-of-the-art, electronically interactive tours of the Midtown Area of the Greatest City in the World.

Over 68,000 very happy customers have supported the 4.2-mile journey that has been termed "a Passport to New York City."
THE COACHES
There are four of them.

Together they make up New York's spectacular fleet of traveling theatres created for group exhilaration and audience participation.

An audience, which in this case, happens to be the hundreds of people on the streets of mid-town Manhattan.

THE RIDE was inaugurated on OCTOBER 11, 2010 to across-the-board critical acclaim.

On May 3, 2012 CEO/President Richard Humphrey launched THE RIDE'S Second Season with the introduction of THE Fazzino RIDE, several new motor coaches, a new cast, new themes, new management and a new Box Office located at Madame Tussauds on 42nd Street in Times Square.

More across-the-board critical acclaim.

Much of which concentrated on THE Fazzino RIDE.
ABOUT THE Fazzino RIDE

THE Fazzino RIDE, a new gigantic 1.5 million dollar traveling theatre, has been designed as a visually choreographed piece of kinetic art that will feature new interactive content and street performances allowing the passengers to view New York City through the beloved 3-D artist's whimsical, original and amusing eyes from their front row stadium-style seats that offer an exhilarating 4-D view.

Mr. Fazzino has created a special design wrap for the motor coach making THE Fazzino RIDE a 75-minute moving work of interactive art.

Directed by Richard Humphrey, THE Fazzino RIDE features original content and videos of Fazzino's universally recognized New York 3-D paintings that jump to life on the forty interactive screens aboard.

THE Fazzino RIDE also features original music written by Patrick Noth and a new cast of specialty performers who entertain along the 4.2 mile journey through mid-town Manhattan.
THE BOX OFFICE:
Located on 42nd Street between Broadway & Eighth Avenue. Directly beside Madame Tussauds.

TICKETS: $74
Individual Tickets: Telecharge.com & 866-299-9682
Groups: 212-244-2551 (X155)
Text: THERIDE TO 313131

PLAYING SCHEDULE: THE RIDE
Mondays, Wednesdays & Thursdays at 7:00pm & 8:30pm
Fridays & Saturdays at 2:00pm, 4:00pm & 7:00pm
Sundays at 2:00pm & 4:00pm

PLAYING SCHEDULE: THE Fazzino RIDE
Fridays & Saturdays at 8:30pm only!
Archives:
Related Articles
Most Popular Articles on CGNY