Featured Listings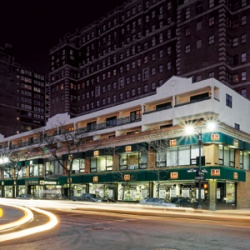 B&H Photo Video· The world's largest source of cameras, camcorders, and more ...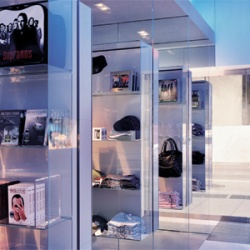 HBO Shop (sm)· An array of quality branded merchandise showcasing HBO's® aw...
It's that time of year again -- Valentine's Day. No other holiday strikes as much fear in the hearts of men and sends women to the comforts of chocolate and shopping. The pressure on couples and couples-in-the-making on this day is stronger than it is on a Wall Street stock trader at 4pm. But never fear, we'te here to help you convey just the right message to the one you love -- or you just "like like" -- on February 14.
Many restaurants throughout the city offer special menus for Valentine's Day. Here is a wide variety of selections for the special night in question, the weekend before, and the entire month of February.
Please click on the restaurant name for address, phone number, website, and more information.
Valentine's Day at Abboccato Ristorante will feature a Chef's Four-Course Tasting Menu ($70; $100 with select Italian wine pairings). Dishes include pan-seared Mediterranean sea bass with marinated artichokes, roasted garlic, and salsa verde; and pan-seared pork chop with fontina potato croquettes and pepperonata relish. To view the full menu, click here.
B.B. King Blues Club & Grill will be featuring a special Freddie Jackson Valentine's Day Show at 8pm and a Valentine's Day Dance Party upstairs at Lucille's. Click here for tickets and more info.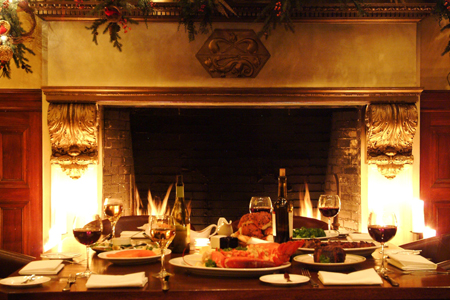 The Valentine's Day menu at Benjamin Steakhouse will include three courses (plus sides) and a Valentine toast for $99. Their entrees include USDA prime, chef-selected, dry aged porterhouse steak (ordered in pairs), filet of Chilean sea bass, USDA prime filet mignon, dry aged USDA prime rib eye steak, and a surf-and-turf plate (lobster tailpaired with USDA prime filet mignon), followed by a choice of dessert. For the full menu and more details, click here.
Is your sweetheart big on bowling? Bowlmor Lanes in Times Square will be offering a Valentine's Day special; buy a bottle of champagne and bowl for free from 4-9pm (2 games/person). Shoe rentals not included; walk-ins only. Visit www.bowlmor.com for more information.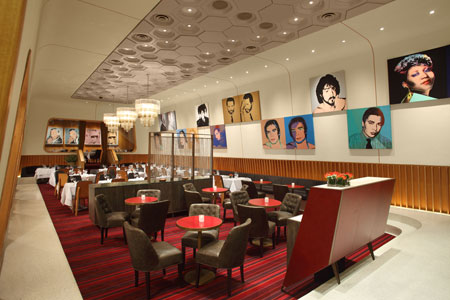 "Milan meets Manhattan" at Casa Lever, which will offer a five-course Valentine's Day dinner from 6-11pm ($130/person; wine pairing/$75). Entrée choices include the signature Ricci di Mare, with Santa Barbara sea urchin, king crab, and avocado jalapeno puree. (Psst: It's also home to one of the world's largest collections of original Andy Warhol paintings.) For more information and the full menu, click here.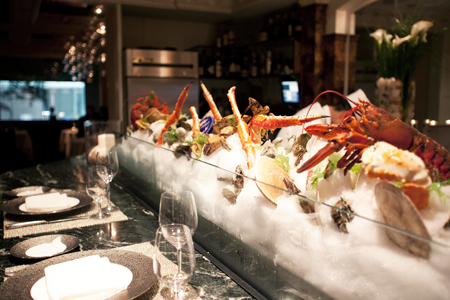 What's would be more luxurious than dining on caviar for the evening? Caviar Russe is one of America's largest caviar importers, where you can sample the caviar you're buying. Their restaurant will offer a special Valentine's Day menu ($495) that features Caspian Golden Osetra, Creme Fraiche Granitee, Blue Fin Tuna, Foie Gra & Sea Urchin, Saffron Risotto, and much more. Click here for the full menu; call 212-980-5908 for reservations.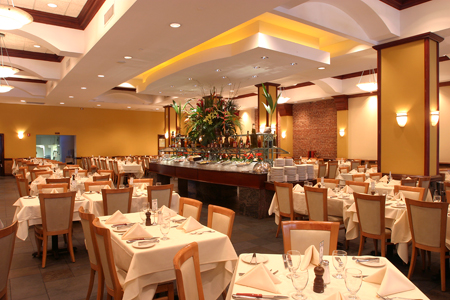 You can also celebrate Valentine's Day in Brazil without having to leave New York. Churrascaria Plataforma is offering an all-you-can-eat love feast for $62.95 per person (beverages and dessert not included). A meal typically begins with a trip to the gourmet salad bar, which features a variety of vegetables, composed salads and seafood in addition to four hot dishes. They also serve a selection of side dishes at your table. The main course, the highlight of the meal, will start when you flip your coaster-sized "chip" from the red side to the green side, signaling the meat cutters you are ready to be served. Saude!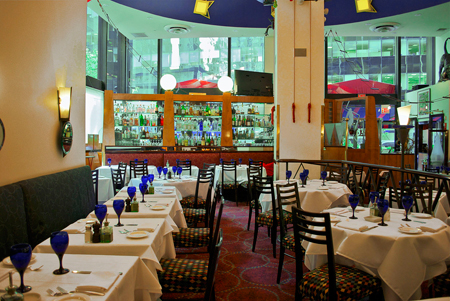 In upscale setting reminiscent of old-style European circus tents, Circo on West 55th Street will offer a Valentine's Tasting Menu ($68/person; $95 with wine pairings) that includes Fisher Island oysters, seafood risotto with saffron, roasted Chilean sea bass; and other options. Click here for the full menu.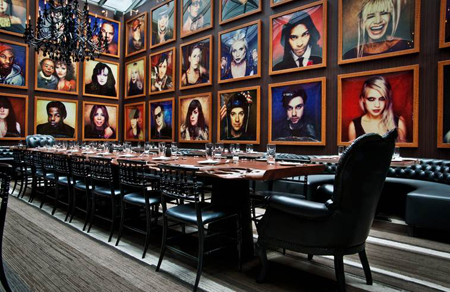 CO-OP Food & Drink at the Hotel on Rivington on the Lower East Side will offer a three-course Valentine's Day menu with unique entrées courtesy of chef James London. Choices include: Chef's Selection of Salmon, Yellowtail, and Tuna Sushi; Truffled Beef Filet; Soy Butter Poached Lobster Tail; and more, with wine pairings. Click here for the full menu. For reservations call, 212-796-8040 or click here.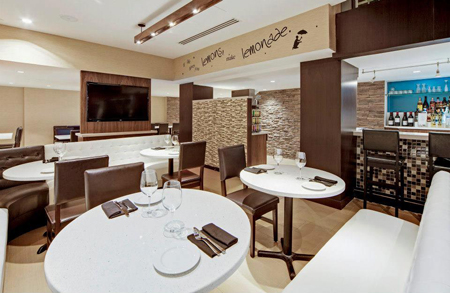 Chinatown's Elevate Restaurant & Lounge, featuring New American Cuisine with a Japanese twist, will be offering a special 3-course prix-fixe menu for Valentine's Day ($55/person) that includes a complmentary Champagne toast. All couples who make reservations are also eligible to win a $50 gift certificate. Click here to view the full menu.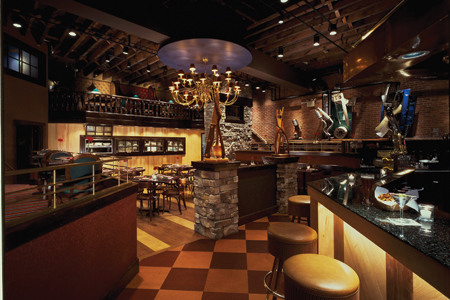 For Valentine's Day, Garage Restaurant & Cafe in Greenwich Village will be offering a VIP five-course Couples Menu ($79.95/person) with entreés such as surf & turf for two, New Zealand rack of lamb, Cornish game hen, lobster ravioli, flame-grilled Chateaubriand, and salmon Wellington. The white tablecloth gala atmosphere will be punctuated with beautiful roses on the tables, a romantic fire burning in their two-story fireplace, and romantic jazz played late into the evening by the David Coss Quartet and the Justin Lees Quartet. Click here to see the full menu, which is offered from 5pm until late in the evening. For reservations, call 212-645-0600. 99 Seventh Ave. So. at Christopher St., 212-645-0600; www.garagejazz.com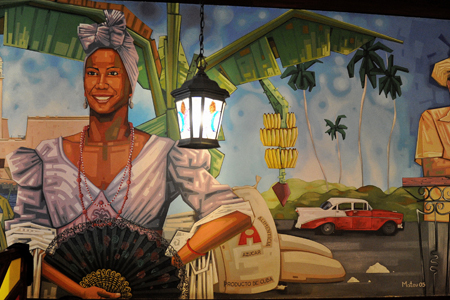 Celebrate Valentine's Day Cuban-style at Guantanamera, located near Times Square and the Theater District, with mojitos, great food, live music, and more. Click here for the full menu and more information. Call 212-262-5354 for reservations.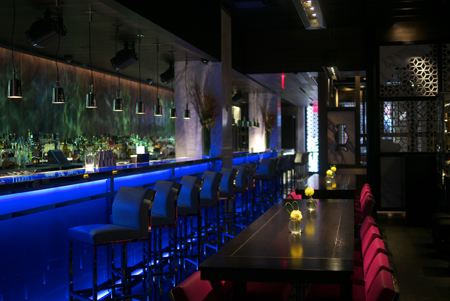 Modern Chinese masters Hakkasan New York will offer a special Valentine's Day menu ($98/person) that includes a glass of Rosé champagne, special steamed dim dum platter, lobster with spinach soup, Kurobuta pork with agred vinegar sauce, and more. Click here to view the full menu.
Celebrate Valentine's Day aboard Hornblower's yacht and enjoy an elegant four-course seated dinner, champagne toast, and ever-changing views before dancing the night away to the sounds of the on-board DJ. Click here or call 212-206-7522 to learn more.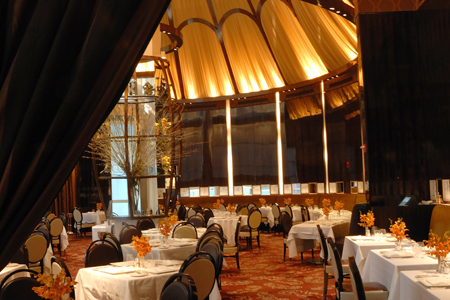 Black truffles are known for their aphrodisiac properties, so for Valentine's Day, Le Cirque will offer a five-course Black Truffle Tasting ($225/person; $140 wine pairing). Click here to view the full menu. They're also be offering a 3-course Valentine's Amour Tasting ($135/person) with main-course options that include (among many other choices): Filet de Flounder "Le Cirque"; Skate "Grenobloise"; Black Tie Scallops; Venison Saltimbocca; and Prime Dry-Aged NY Strip. Click here to view the full menu.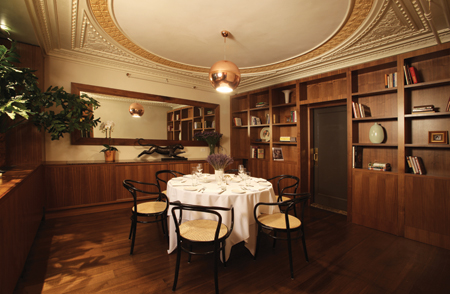 Located in the iconic landmarked Hotel des Artistes, The Leopard at des Artistes will be offering a special Valentine's Day menu in addition to their a la carte menu. Main course options include: risotto with Maine lobster and braised artichoke; Branzino al Cartoccio (Mediterranean Sea Bass parchment-poached with petit vegetables, clams and mussels); and pan-seared filet of veal served with fennel gratin. Click here to view the full menu; for reservations, which are highly recommended, call 212-787-8767.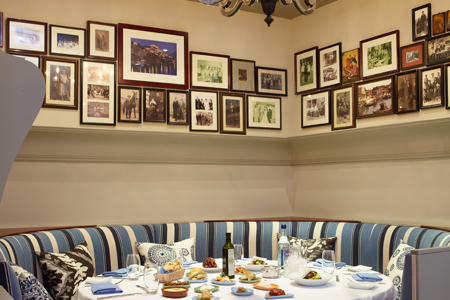 Molyvos will offer a special three-course Chef's Valentine's Day Menu ($55/person, $85 when paired with select Greek wines), and the a la carte & dinner menus will also be available. Entrees include Pan-Roasted Sea Scallops (with wild mushroom, butternut squash, creamy rice pilaf, Assyrtiko vinegar reduction) and Lamb Stew (with pearl onions, tomato, spices, and soft white polenta). To view the full menu, click here.
New York Water Taxi's champagne-and-dessert Valentine's Day Cruise offers another great option for lovers, with views of the glittering NYC skyline and an assortment of sweets, cocktails, and music. Click here to purchase tickets and for more details. Save $5 per ticket. Just mention code VDAY2013 when calling 212-742-1969 (valid on phone orders and walk-up sales only). They'll also be hosting a Cupid Is Stupid Anti-Valentine's Day Bash.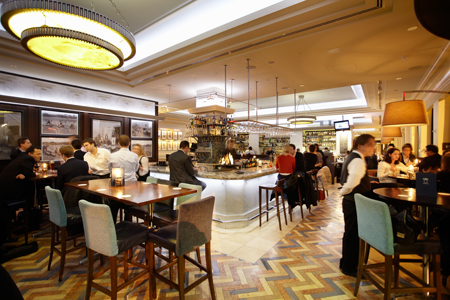 Oceana will offer an elegant Valentine's Day dinner from 5-11pm that includes Chef Ben Pollingers' Oyster Pan Roast, Turbot a la Plancha, and Warm Dark Chocolate & Raspberry Caramel Tart. There will also be special cocktails, including Cupid's Arrow (stoli vanilla, stoli honey, cherry infused brandy, champagne, strawberry) and Raging Bull (bulleit bourbon, domaine de canton, ramazzotti amaro, lemon juice, orange bitters, fentimans mandarin orange soda). The regular a la carte and raw bar menus will also be offered, with live jazz by their Valentine Quartet featuring Paul Nedzela beginning at 8pm in the cafe. Click here for more info.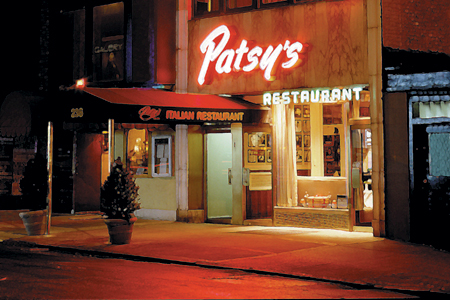 Patsy's Italian Restaurant, New York's best loved Italian restaurant, known as Sinatra's favorite, is offering a Valentine's Day Aphrodisiac Menu that includes Arugala Salad with shaved parmesan cheese and basil vinaigrette, Baked Clams, Chicken Fra Diavolo, and Patsy's Passion cocktail made with Vodka, Chambord, and Creme de Cacao. For dessert, chef Sal Scognamillo will prepare Patsy's famous Warm Chocolate Cake served with strawberries, honey and whipped cream, and served with coffee. Patsy's Valentine's Day special costs $65/person and will be available from noon-10pm on Thursday, February 14.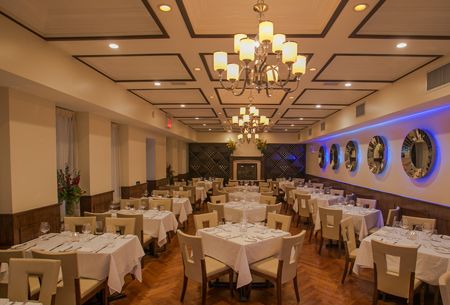 For $99/person, The Sea Fire Grill's 3-course menu includes a Valentine's champagne toast, and choice of entree that includes lamb Wellington, lobster bouillabaisse, USDA prime filet mignon, and roast turbot. Click here for more info and the full menu.
Sirio Ristorante, located in the Pierre, a Taj Hotel New York near Central Park, will offer a Valentine's Day dinner that includes a rose, 16 cocktails to choose from, three-course dinner with amuse bouche, petits fours, and a small box of chocolates ($135/person; additional $39 for wine pairing). Entrée options include: Creamy Taleggio Cheese Risotto; Veal Osso Buco; Grilled Maine Lobster; and much more. Click here to view the full menu.
Spirit Cruises is offering Valentine's Day dinner cruises with live entertainment, dancing, breathtaking views, and distinctive cuisine. Cruises operate on the evenings of the 14th through the 16th. Click here for more information. SAVE 15% on a Valentine's Day weekend cruise for 4 or more by using the promo code DOUBLEDATE when booking.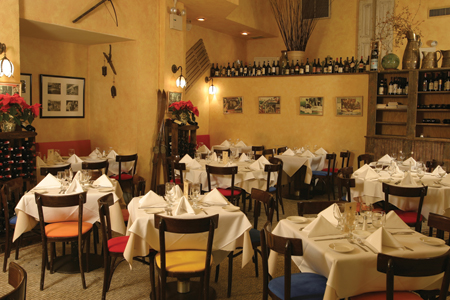 Trattoria Dopo Teatro, a charming Italian restaurant located in Manhattan's Theater District, will be offering a special three-course Valentine's Day menu for $39.50 per person that includes a bottle of house red or white. Main course options include risotto with artichoke hearts and creamy mascarpone cheese, roasted sea bass, and rolled veal scaloppine. Click here to see the full menu. They'll also have their regular menu available, as well as daily specials.
World Yacht will be offering two different Valentine's Day packages, for couples looking for more than just a romantic dinner on February 14, 15 & 16. The Sweetheart Package ($99/person) includes a 3-hour cruise, 4-course dinner, a DJ providing entertainment, and a single rose for all couples. The Romance Package ($139/person) includes the above plus a live band, champagne toast, and Godiva chocolates. To purchase tickets, visit www.worldyacht.com or call 212-630-8100.
Ripley's Believe It or Not! Times Square is inviting couples to skip the cliché dinner dates and plan an out-of-the-ordinary rendezvous filled with curiosity, amazement and amour. Couples willing to prove their love (or extreme like) with a kiss will receive special "buy one, get one free" ticket pricing. To redeem this special savings, couples are required to kiss at the admission desk. Regular adult admission is $29.95.
Celebrate the holiday with Romance Under the Stars, a unique NYC experience only at the American Museum of Natural History's Hayden Planetarium. Join in for a cocktail hour, complete with open bar, Champagne, chocolate-covered strawberries, and hors d'oeuvres, along with the music of the Josh Rutner Quartet. Then, join one of the astronomers in the Planetarium for a view of the night sky. Sit back, hold hands, and enjoy some of the greatest romance stories of all time.6:30pm. $85, includes open bar and appetizers.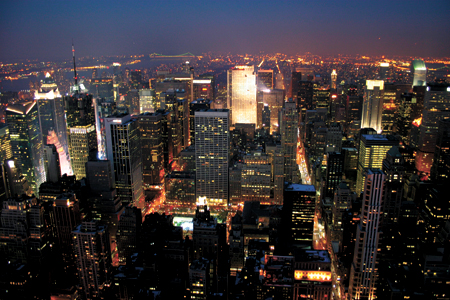 The stars are in your favor since you're already in a place with the most romantic potential in the world. Well, we suppose Paris is nice, but Cary Grant and Deborah Kerr didn't meet at the top of the Eiffel Tower, did they? No, they met at the Empire State Building Observatory, as did Tom Hanks and Meg Ryan. Whether you're "Sleepless in Seattle" or having "An Affair to Remember," the 86th Floor Observatory is one of the most romantic spots in all of NYC, offering panoramic views of the city. Stop by after dark for a romantic nightcap and an opportunity to watch the stars come out over the greatest city in the world. Don't forget about the 102nd Floor Observatory -- separate tickets are required for the highest indoor views of New York. 350 Fifth Ave. & 34th St., 212-736-3100

Also offering phenomenal views is Top of the Rock, the 70th floor observation deck atop 30 Rockefeller Center. The triplex deck has 360-degree views extending up to 30 miles on a clear day. You can pick up tickets at 50th St. btw. Fifth & Sixth Aves., or buy timed tickets in advance by calling 877-NYC-ROCK.
Archives:
Related Articles
Most Popular Articles on CGNY