Post Feedback | Printer-Friendly | Send Article to a Friend
May 17, 2010 - by CG News Desk
Featured Listings
Bangkok House· For Thai near Times Square, enter Bangkok House...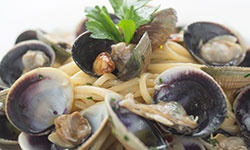 Da Marcella· A Mediterranean taverna in the Theater District...
All summer long, on Wednesday nights from 5:30pm until closing,
Victor's Cafe
(236 W. 52nd St. (Broadway-Eighth Ave.), 212-586-7714;
www.victorscafe.com
) -- one of the city's top Cuban restaurants -- will be offering their signature margaritas for $8 in their Cuba Lounge. And if you can't make it to Victor's on a Wednesday, be sure to visit the Cuba Lounge on Friday and Saturday nights, when they host live music.
About Victor's Cafe: Since 1963, this family-run New York treasure still gets it right. Consistently serving fine authentic Cuban cuisine, the zesty black beans, roast suckling pig, paella, and tropical sangria are still as delicious as ever. Perfect for pre- or post- theater, business lunches, private parties or for the perfect mojito in the Cuba Lounge. Stop by Manhattan's Cuban connection for its unforgettable, acclaimed fare. 7 days, lunch & dinner. 236 W. 52nd St. (Broadway-Eighth Ave.), 212-586-7714; www.victorscafe.com.
Archives:
Related Articles
Most Popular Articles on CGNY