Best of the September Fests
September 3, 2013 - by Linda Sheridan
September is not only the kickoff to a new school year, but is also the beginning of fall, brimming with festivities. Here's a roundup of some of this month's biggest festivals. Grab your favorite sweater, a friend and go!
09/12-22 SAN GENNARO FESTIVAL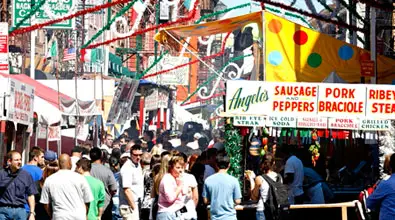 The 87th Annual Feast of San Gennaro, New York City's longest-running, biggest and most revered religious outdoor festival in the United States. Although this is an annual celebration of faith, the Feast of San Gennaro is known the world over for its festive atmosphere, an 11-day event featuring religious processions and colorful parades, free musical entertainment every day, a wide variety of ethnic food delicacies, charming restaurants and cafes and even a world-famous cannoli-eating competition! The central focus of the celebration takes place every September 19th, the official Saint Day when a celebratory Mass is held in Most Precious Blood Church, followed immediately by a religious procession in which the Statue of San Gennaro is carried from its permanent home in the church through the streets that comprise Little Italy. Mulberry St., NY 212-768-9320, sangennaro.org
09/16-22 BROOKLYN BOOK FESTIVAL
The Brooklyn Book Festival happens at various locations (consult website for specifics/participating authors), and events are dedicated to nearly every literature genre. Readers of all ages will find their thing! Brooklyn Borough Hall/Borough Hall Plaza, 718-802-3830, brooklynbookfestival.org
09/17-12/21 BAM NEXT WAVE FESTIVAL
BAM's signature fall festival returns for its 31st season, presenting a dynamic lineup of work by emerging artists and innovative modern masters. The 2013 Next Wave Festival showcases the very best in contemporary performance, plus artist talks, storytelling, visual art, and film. Brooklyn Academy of Music, 30 Lafayette Ave., Brooklyn NY
718-636-4100, bam.org
09/21-22 WORLD MAKER FAIRE
Get inspired to make, create, learn, invent, craft, recycle, build, think, and play while celebrating art, science, and technology. Hundreds of "makers" will present fun and unusual creations such as rockets and robots. There will also be arts and crafts, artisanal foods, live music, and much more. 10am-7pm Saturday; 10am-6pm Sunday. New York Hall of Science, 47-01 111th St., Flushing NY, 718-699-0005, nysci.org
09/21-22 QUEENS COUNTY FAIR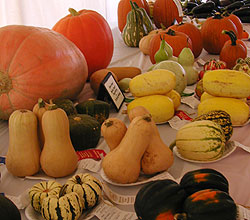 A traditional county fair with blue ribbon competitions in produce, livestock, arts and crafts, and more. Enjoy the Amazing Maize Maze, pie-eating and corn-husking contests, pig-racing, hayrides, carnival rides, and a midway. Visit craft vendors, food vendors, enjoy music, and more. Call for competition information and Maize Maze admission fees. 11am-6pm. Queens County Farm, 73-50 Little Neck Parkway, Floral Park NY, 718-347-3276, queensfarm.org
09/21-22 LONG ISLAND GARLIC FESTIVAL
Enjoy an all-day celebration of the wonders of "Garliciana," with this Long Island festival, where vendors will offer a wide variety of garlic inspired foods, crafts, music, theater, and garlic. 10am-6pm. Garden of Eve Organic Farm and Market, 4558 Sound Ave., Riverhead NY 631-722-8777, gardenofevefarm.com
09/26-29 THE 11TH ANNUAL NEW YORK BURLESQUE FESTIVAL
Put on your top hat and tails for the Saturday Spectacular (9/28) at B.B. King Blues Club & Grill in the heart of Times Square! Hosted by Murray Hill, this magical night showcases over 40 of the finest burlesque performers from around the globe in a 1920s supper club atmosphere. Expect glamorous gowns and gorgeous gals in a dazzling evening of entertainment that includes live jazz and big band music! This luscious night ends with a wild DJ/go-go dance party from 11pm until 1am in Lucille's Bar & Grill (located next door to the main showroom) that is free for all Saturday ticket holders. $35. BB King Blues Club & Grill, 237 W. 42nd St. (7-8 Aves.), bbkingblues.com, thenewyorkburlesquefestival.com
09/29 CLOISTERS MEDIEVAL FESTIVAL
The Medieval Festival at The Cloisters brings to life the customs and spirit of the Middle Ages. Manhattan's Fort Tryon Park is transformed into a medieval market town decorated with bright banners and processional flags. Performers, guests and festival goers dress in medieval costume. Visitors are greeted by authentic medieval music, dance, magic, and minstrels, as well as jugglers and jesters. The afternoon is concluded with a thrilling joust between four knights on horseback. Costumed vendors will be on hand to demonstrate and sell a wide variety of medieval crafts as well as food and drink. 11:30am-6pm. Fort Tryon Park, Linden Terrace, Cabrini Boulevard and Fort Washington Avenue, NY, whidc.org
09/27-29 DUMBO ARTS FESTIVAL
500 artists, 100 studios, 50 galleries and 100 programming partners converge for this art festival that highlights Brooklyn's vitality and contribution to fine art. Enjoy outdoor and indoor art exhibitions and installations that include digital art, musicians, poets, dance, and mixed media. 45 Main Street, DUMBO, 718-488-8588, dumboartsfestival.com
10/5 CHILE PEPPER FIESTA AT BBG
Brooklyn Botanic Garden's Chile Festival turns 21! Enjoy chile-infused foods and hear music from chile-growing regions. Get up on your feet and dance to the Afro-Brazilian funk grooves of Dendê Macêdo & Band. Try some spicy chocolate and fiery beer, spicy pickles, and burn baby burn! 11am-6pm. Admission, $20 adults, $15 kids and seniors, 12 and under, FREE. 900 Washington Ave., Prospect Heights, 718-623-7200, bbg.org
RESTAURANTS

The newest member to the Heartland Brewery family, HB Burger...

THEATER

Gaston Leroux's famous period thriller is now one of Broadwa...

SHOPPING

An array of quality branded merchandise showcasing HBO's® aw...

SIGHTSEEING

BODY WORLDS: PULSE shows the science of the human body, and ...
Reader Feedback