The Best September Festivals in NYC
September 4, 2015 - by Linda Sheridan
As a crisp new fall begins, September in New York is brimming with things to do. Among the kid-friendly activities and fun events for grown-ups: food festivals; heritage festivals; a county fair; and even a unicycle festival. Here's a roundup of some of the most can't-miss things to check out when you're visiting NYC.
9/3-9/6 NYC UNICYCLE FESTIVAL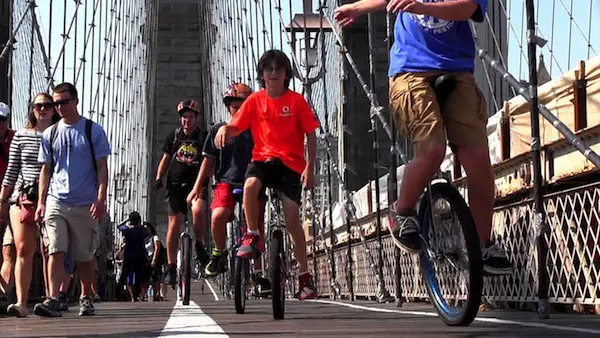 Calling all unicycle enthusiasts! This free, fun festival spans Manhattan, Brooklyn and Governors Island. The New York City Unicycle Festival brings together riders from all walks. There will be races, exhibitions, workshops, and a variety of unicycle sports, including basketball, hockey and sumo. nycunifest.com


9/10-9/20 FEAST OF SAN GENNARO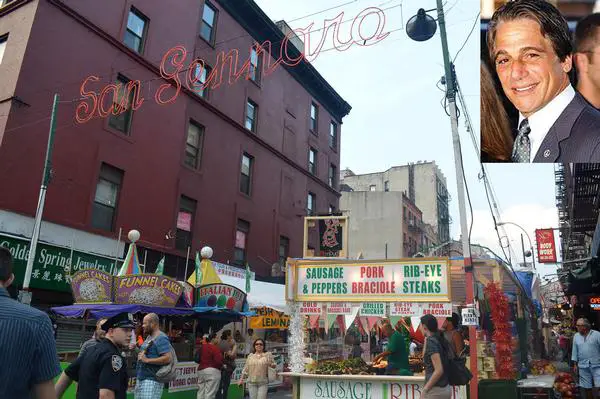 At the 89th Annual Feast of San Gennaro, New York City's longest-running, biggest and most revered religious outdoor festival in the United States, everyone is Italian for a day! Although this is an annual celebration of faith, the Feast of San Gennaro is known the world over for its festive atmosphere, an 11-day event featuring religious processions and colorful parades, free musical entertainment every day, a wide variety of ethnic food delicacies, charming restaurants and cafes and even a world-famous cannoli-eating competition! This year's Grand Marshal is veteran TV, film and Broadway actor, Tony Danza; the Grand Procession is Sept. 12. The central focus of the celebration takes place every September 19th, the official Saint Day when a celebratory Mass is held in Most Precious Blood Church, followed immediately by a religious procession in which the Statue of San Gennaro is carried from the church through the streets of Little Italy. sangennaro.org
9/12 FALL FAMILY FESTIVAL AT THE CHINA INSTITUTE

Now located Downtown, The China Institute celebrates its new, larger location with a special family festival celebrating Chinese culture. The day will include arts and crafts, a kung-fu performance, see a Chinese landscape painter at work, watch films, taste Chinese delicacies, and more. Admission is FREE. Seating at events on a first come, first served basis. 11am-3pm. chinainstitute.org.
9/14-9/21 BROOKLYN BOOK FESTIVAL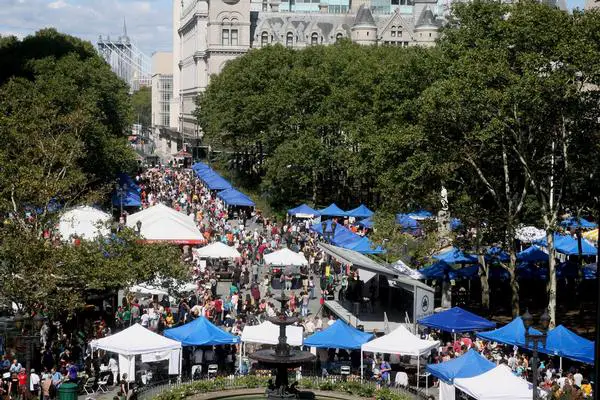 This year marks the 10th anniversary of the Brooklyn Book Festival, and some 300+ authors will be participating! Literary events will be taking place at various locations around the city, with Children's Day (9/19), and the main festival day taking place by Borough Hall, 9/20. Guest authors scheduled for this year include Augusten Burroughs, Sloane Crosley, Vivian Gornick, Pete Hamill, John Leguizamo, Terry McMillan, Jon Scieszka, Amber Tamblyn, and many, many others. brooklynbookfestival.org
9/16-12/20 BAM NEXT WAVE FESTIVAL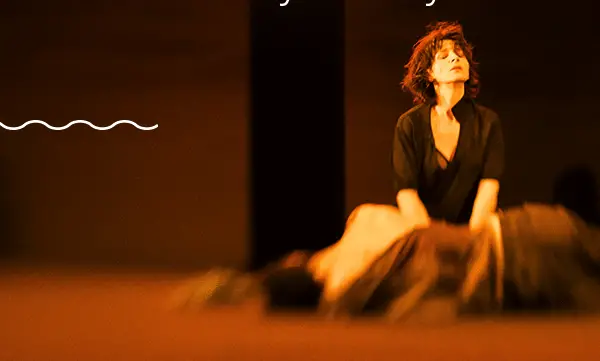 Brooklyn Academy of Music (BAM)'s signature fall festival returns, presenting a dynamic lineup of work by emerging artists and innovative modern masters. Kicking it off is Juliette Binoche starring in a production of Antigone (9/24-10/4). The 2015 Next Wave Festival showcases the very best in contemporary performance, plus artist talks, storytelling, visual art, and film. bam.org
9/19-9/20 QUEENS COUNTY FAIR
Now in its 32nd year, the traditional county fair at Queens County Farm Museum features blue ribbon competitions in produce, livestock, arts and crafts, and more. Enjoy the Amazing Maize Maze, pie-eating and corn-husking contests, pig-racing, hayrides, carnival rides, and a midway. Visit craft vendors, food vendors, enjoy music, and more. 11am-6pm. queensfarm.org
9/26 CHILE PEPPER FIESTA AT BBG
Turn up the heat at Brooklyn Botanic Garden's Chile Festival. Enjoy chile-infused foods and hear music from chile-growing regions. Get up on your feet and dance, try spicy chocolate and fiery beer, spicy pickles, and burn baby burn! 11am-6pm. bbg.org
9/26-9/27 WORLD MAKER FAIRE AT NEW YORK HALL OF SCIENCE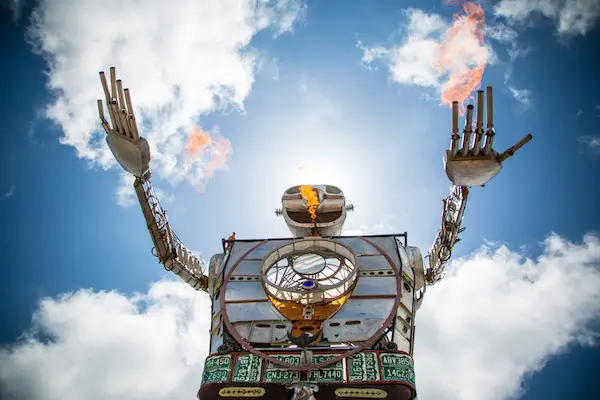 The popular, competitive World Maker Faire returns to the New York Hall of Science! Get inspired to make, create, learn, invent, craft, recycle, build, think, and play while celebrating art, science, and technology. Hundreds of "makers" will present fun and unusual creations such as rockets and robots. There will also be arts and crafts, artisanal foods, live music, and much more. 10am-6pm. Specially priced family passes available. nysci.org, makerfaire.com
9/24-9/27 THE 13TH ANNUAL NEW YORK BURLESQUE FESTIVAL
The popular New York Burlesque Festival is back, hotter than ever. With starting events at Brooklyn Bowl and the Bell House, the festivities culminate with the Saturday Spectacular (9/26) at B.B. King Blues Club & Grill in the heart of Times Square! The festival's sexy finale features 20+ of the best Burlesque performers on the circuit, in a 1920s supperclub atmosphere. Then, enjoy a dance-crazed afterparty in Lucille's. bbkingblues.com, thenewyorkburlesquefestival.com
9/25-9/27 NEW YORK COFFEE FESTIVAL


Something good is brewing! The New York Coffee Festival, held in the 69th Regiment Armory, is New York's flagship coffee event, celebrating the burgeoning specialty coffee scene. The festival will feature live experiences from more than 70 coffee, food and equipment suppliers. Visitors will enjoy endless free coffee tastings, interactive workshops, demonstrations from world-class baristas, delicious street food, intoxicating coffee-cocktails, live music, art and so much more. Based on the highly successful programs in London and Amsterdam, this inaugural event is a must for coffee lovers. newyorkcoffeefestival.com
10/4 CLOISTERS MEDIEVAL FESTIVAL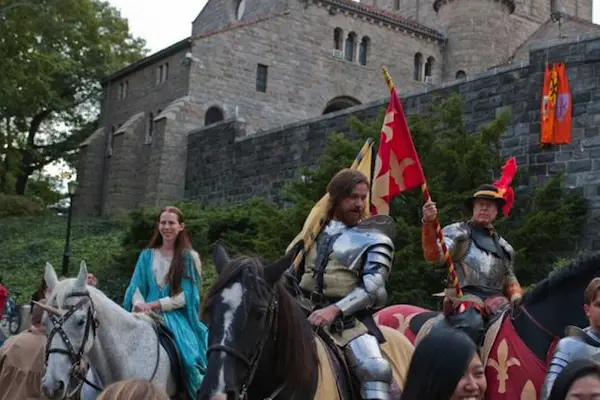 Ok, it's not falling in September this year, but close enough! The Medieval Festival at The Cloisters brings to life the customs and spirit of the Middle Ages. Manhattan's Fort Tryon Park is transformed into a medieval market town decorated with bright banners and processional flags. Performers, guests and festival goers dress in medieval costume. Visitors are greeted by authentic medieval music, dance, magic, and minstrels, as well as jugglers and jesters. The afternoon is concluded with a thrilling joust between four knights on horseback. Costumed vendors will be on hand to demonstrate and sell a wide variety of medieval crafts as well as food and drink. 11:30am-6pm. Fort Tryon Park, Linden Terrace, Cabrini Boulevard and Fort Washington Avenue, NY, whidc.org.
Looking for Free Group Planning Services?
Get free advice on planning your group's trip to New York.
RESTAURANTS

Burke's dual-concept restaurant opened in 2005 and spans the...

THEATER

"The Very Hungry Caterpillar" emerges from the page in a the...

SHOPPING

An array of quality branded merchandise showcasing HBO's® aw...

SIGHTSEEING

Enjoy the best prices for deluxe double decker, hop-on, hop-...
SAVINGS OPPORTUNITIES
Stand Up NY - Free admission for 2 with promo code CITYGUIDE. -05/31/2016
Broadway Comedy Club - Free admission Sundays through Thursdays at 9pm or 11pm, $5 admission Fridays and Saturdays at 11pm with mention of City Guide. -06/30/2016
Reader Feedback