Post Feedback | Printer-Friendly | Send Article to a Friend
March 18, 2014 - by CG News Desk
Featured Listings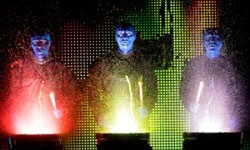 Blue Man Group· The trio of "post-modern clowns" present their outrageous in...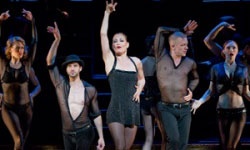 Chicago· Kander and Ebb's "musical vaudeville" in which Roxie Hart ga...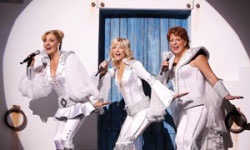 Mamma Mia!· This hit musical incorporates 22 ABBA songs into a story abo...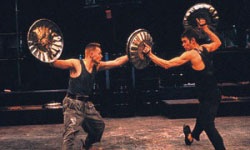 Stomp· The world-renowned eclectic theatre of percussion...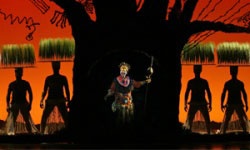 The Lion King· The stage version of Disney's celebrated animated feature....
Due to popular demand, The Amazing Max and The Box of Interesting Things starring magician Max Darwin (aka "The Amazing Max") will continue performances at the Manhattan Movement and Arts Center - MMAC through April 19th. The show is perfect for kids ages three & up — but promises to entertain the entire family. Click here for the schedule of performances.
The Amazing Max and The Box of Interesting Things is a magic show with a mind of its own. Magician Max Darwin makes objects appear out of thin air, defies the laws of physics, and performs miracles inches from spectators' faces. The props onstage seem intent on surprising even the magician himself. This out-of-control show bursts with striking visual magic, comedy, and loads of audience participation. The Amazing Max selects all of his assistants at random from the audience, and each adds a unique element to the show.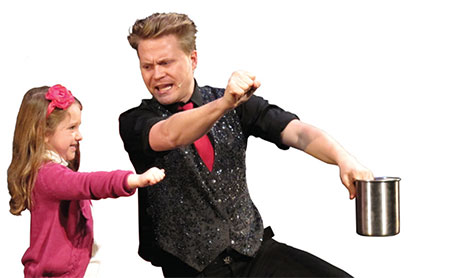 "It's been really thrilling to see how the audiences – young and old – have been enjoying the show," says producer Christine Cox. "We are delighted that so many people have come – many more than once - and that Max can continue to share his magic with new faces."
Tickets are $59.50 (premium) and $34.50 - $49.50 (general admission). Premium ticket holders receive access to the VIP "Magic Lounge" (which opens 25 minutes before the start of each show) and children receive Amazing Max memorabilia, participate in a magic lesson, and take home a magic trick! Additionally, Premium tickets include priority front-row seating on the "Magic Carpet." They can be purchased online at theamazingmaxlive.com or by calling 866-811-4111 or 212-352-3101.
About Max Darwin
Max Darwin was born to perform. He began charming audiences at the young age of 5 months, traveling all over the United States alongside his parents who were professional street performers specializing in clowning, mime, juggling, and magic. Throughout the years, Max has emerged as one of the most sought-after magic artists in the country. He performs hundreds of shows a year with a client roster including such notable celebrities as Uma Thurman, Diana Ross, Chazz Palminteri, Ethan Hawke, Jeremy Sisto, Tommy Hilfiger and Hank Azaria.
Currently Max can be seen as a guest artist and magic consultant on Season 3 of "Brain Games," airing on the National Geographic Channel. His TV credits also include hosting the hit Nickelodeon show "Game Farm!" He has also appeared in various national TV commercials for products like Axe Body Spray, Verizon, Bank of America, and Coca-Cola.
He also released his first instructional magic video, "Magic in Minutes," where Max teaches kids ages 5 & up how to fill their everyday lives with wonder and perform magic with ordinary objects found right in their own homrs.
Archives:
Related Articles
Most Popular Articles on CGNY