Big Apple Circus Is Back at Lincoln Center With 'Luminocity'
November 20, 2013 - by Ellis Nassour
The holiday season is upon us. It's family time, and a time to be jolly, merry, and have memorable times. There's no better place to find all that than under the heated big top of the 2013 edition of New York's home-grown Big Apple Circus, now in its 36th season, in Damrosch Park at Lincoln Center through January 12th. The theme is Luminocity and, just like NYC, it moves with amazing velocity and verve.
Set amid the everyday life of Times Square neon signage, Broadway, and the fireworks and revelry of New Year's Eve, it seems that everyone has run away to join the circus: hot dog vendors, construction workers, dog walkers, mounted police, flimflam men on the prowl, and execs in three-piece suits who suddenly segue into performers — some stripping down to minimum circus glitz. It all makes for one of the best BAC shows in recent years.

In case you didn't know, the Big Apple Circus takes place, European-style, in one huge ring. With no seat more than 50 feet from the action, Luminocity offers every ticket holder an intimate experience. This isn't to say closer isn't better, but there are seats at quite affordable prices so everyone can enjoy the artists assembled during a year-long search.
Performers from seven nations and the U.S. include: Japan's show-stopping juggler, 15-year-old Ty Tojo, holder of three Guinness World Records; Portugal's veteran circus stars the Duo Guerrero, Werner Guerrero and Aura Cardinali, perform jaw-dropping stunts on the taunt high wire, including a never-before-seen dismount that'll leave your heart racing; the Mongolian Angels, a graceful duo, soar high above the ring on a double trapeze doing the seemingly impossible with derring-do; Russia's Acro-Duo perform a superhuman hand-and-body balancing that has to be the envy of gymnasts; and BAC favorite, Canada's Daniel Cyr, returns to defy gravity as he spins and scrambles on a very mobile ladder.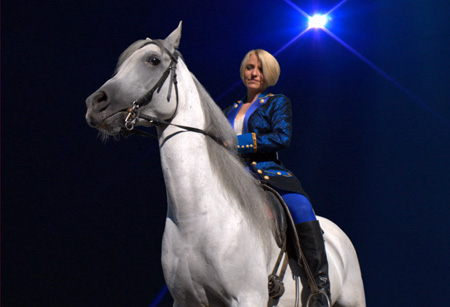 Three super highlights are Russia's agile Dosov Troupe, who race pulses by bursting from teeter-boards to stack themselves several bodies high; the U.S.'s Jenny Vidbel (above), another BAC favorite (the show's authentic horse whisperer), does double duty. She commands an affable ring of gorgeous white and black horses and ponies in an elegant act (at one point, the horses do a full stop so ringside audiences can pet them); and Vidbel generates howls of laughter as she lets loose her talented barking brigade of rambunctious dogs from their kennel to warm hearts with high spirits and hijinks. (Watch out for that little weasel of a mixed terrier who tears into the audiences on the prowl for anything edible.
What's a circus without clowns? Not to worry, the BAC has just the perfect guys to tickle the funny bones: the U.S.'s Rob Torres, who's notorious for creating noise from thin air and other shenanigans; and, sure to be an audience favorite, France's Pierre Ginet, who gets laughs with magic. (Advisory: Watch your wallets! This guy is one slick pickpocket!)
Ringmaster is the affable John Kennedy Kane. The BAC artistic director is Guillaume Dufresnoy. Returning as director for a sixth season is Michel Barette with choreography by Vicki Davis. Also returning is costumer Sarah Conly with some knockout outfits. Performing live is the Big Apple Circus Band under music director Rob Slowik.
Luminocity seats are $25-$95, with premium and VIP Experience [includes private lounge, open bar, juices and soda, snacks (hot dogs, cotton candy, crudité), coat check, and exclusive facilities] tickets at $135 and $175, respectively. Purchase at the BAC box office, online at www.bigapplecircus.org, or by calling (888) 541-3750. Hours are 10am to 8pm Tues.-Fri.; and until 6pm Sat.-Mon. (or until 8 on weekends when there's a 7pm performance). The BAC is wheelchair-accessible. For show schedules and group rates, click here.
Looking for Free Group Planning Services?
Get free advice on planning your group's trip to New York.
RESTAURANTS

The handsome, 12,000 square foot Times Square location offer...

THEATER

Gaston Leroux's famous period thriller is now one of Broadwa...

SHOPPING

Heaven for designers, artists, and antiques lovers....

SIGHTSEEING

Located in Times Square in the heart of New York City, Riple...