Little Italy's Annual Feast of San Gennaro Begins September 11
The 88th Annual Feast of San Gennaro, New York City's longest-running religious outdoor festival takes place Thursday, September 11 through Sunday, September 21, 2014, on the streets of lower Manhattan's historic Little Italy.
---
The Feast will begin on September 11 with the annual Blessing of the Stands at 6 PM when Rev. Romano Almagno, the new Administrator of Most Precious Blood Church, the National Sanctuary of San Gennaro, and Fr. Fabian Grifone, Pastor Emeritus, will lead a group of priests in a Procession through the streets blessing vendors and restaurant, café and boutique owners.
Dignitaries and celebrities — including David Mazouz (Gotham), Miss Italia New York (Nadia Manginelli) and the 2009 Miss Italia USA (Christina Marraccini) will lead the Grand Procession on Saturday, September 13, at 2pm, which also features floats, a rolling gondola, the Giglio Band, the Cathedral High School All Girls Marching Band, and the Red Mike Festival Band (which has performed at every Feast since 1927). For opera lovers, the 15th Annual Enrico Caruso Opera Night takes place Thursday, September 18. And for those who love eating competitions, the 13th Annual Feast Cannoli Eating Competition, sponsored by Ferrara Bakery and sanctioned by the International Federation of Competitive Eaters, will take place on the stage on Friday, September 13, at 2pm The annual Pizza Eating Contest will also take place on the stage on Tuesday, September 16, at 3pm.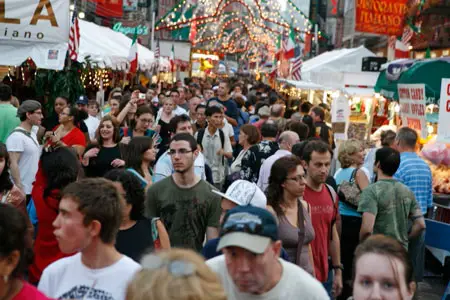 On the Official Feast Day — Friday, September 19 — there will be a Concelebrated Mass in honor of San Gennaro at 6 PM in Most Precious Blood Church followed by a Religious Procession with the Statue of San Gennaro at 7pm. The annual Feast of San Gennaro Blood Drive will be held on Sunday, September 21, from 11:30 AM to 6:30 PM in the Youth Center of the Basilica of St. Patrick's Old Cathedral at 268 Mulberry Street. All donors will be given free cannoli courtesy of Mulberry Street's famed Caffe Palermo.
Musical entertainers include Gianni Russo, Jenna Esposito, Vito and The Elegants, Teo, Tre Bella, Jimmy Aleva, Johnny Mandolin, Just Friends, The Emotions, The Classics, Nostalgia, Marco Pisano, Rocco Mesito, Francesca Cavalieri, and a special musical presentation, "Experience Sicily with Allison Scola and Villa Patagonia," a performance by singer Allison Scola and multifaceted guitarist Joe Ravo, on Friday, September 19 at 1pm. It's a presentation about Sicily featuring their original eclectic acoustic pop and traditional Sicilian folk songs.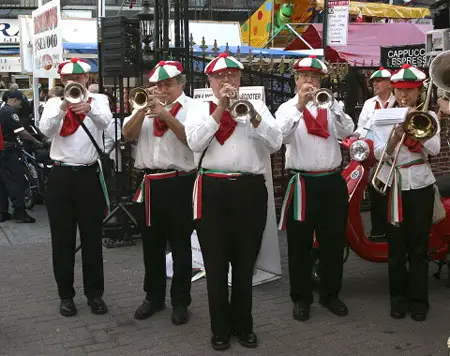 Ferrara's Bakery will attempt to set a world record by creating the biggest cannoli ever made. It will be unveiled to the public on Saturday, September 20, at 3pm in front of Ferrara's on Grand Street between Mott and Mulberry Streets.
For more information, call 212-768-9320 or visit www.sangennaro.org.
Reader Feedback -
0 Replies