A Guide to Celebrating NYC Pride 2014
June 2, 2014 - by Linda Sheridan
June is commonly regarded as LGBT Pride Month, to commemorate the June 28, 1969 Stonewall Inn riots in Greenwich Village. We've included here a roundup of NYC festivities to get into the spirit of celebrating respect and equality--for all.
6/9-14
Brooklyn Pride Week- LGBT 5k Run and Multicultural Festival
Brooklyn Pride Week kicks off with a (6/9) flag ceremony. It culminates with a run (6/14) through beautiful Prospect Park for a good cause and a festival. The 17th annual Brooklyn Pride LGBT 5k Run is just long enough to get some exercise without straining yourself while supporting Gay Men of African Descent's (GMAD) youth organization. Run, Bartel-Pritchard Square. Arrive, 8am, start 10am. To register, click here. Festivities, 11am, on Fifth Avenue between 3rd and 9th streets. brooklynpride.org For full week schedule, click here.
6/14
Laid BK Pride Queer Dance Party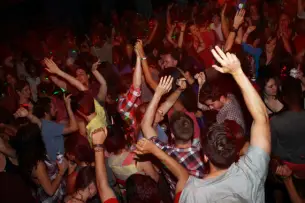 Featuring DJs Roze Royze, Noa D, Designer Imposter & Whitney Day. Performance by People at Parties. This year's event benefits the Desmoid Tumor Research Foundation, the Astraea Lesbian Foundation for Justice, & the YES Drop-In Center. 21 and over. 8:30pm. $10. Bell House, 149 7th St., Brooklyn NY, 718-643-6510; thebellhouseny.com
6/22-29
Harlem Pride Week - For its fifth anniversary, this year's Harlem Pride is a week long. This celebration includes vendors, healthcare organizations, artists, food, entertainment and activities for families, adults and youth of all cultures. Jackie Robinson Park, harlempride.org
6/24
NYC Pride Family Night Screening: The Wizard of Oz
Enjoy this family-friendly classic, while lounging under the stars on Hudson River Park's Pier 46. Seating, blankets, and tasty treats will be offered on a first-come, first-served basis.
The space will open its doors at 7:30 p.m. and the movie will screen at dusk. Fun games and entertaining performers will be on hand to get the crowd ready.
6/27
NYC LGBT Pride Rally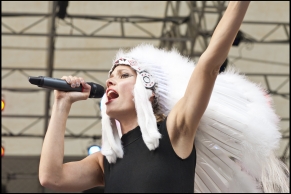 A month after the Stonewall Riots in June 1969, 500 peaceful protesters gathered in Washington Square Park to express solidarity and gay pride. Forty-five years later, the New York City LGBT Pride Rally continues to be the official kickoff for Pride Week. Taking place at Pier 26 in TriBeCa, the rally features dozens of well-known performers and speakers and attracts thousands of attendees. The raven-haired emcee, Michelle Visage (Rupaul's Drag Race), will be joined by a special performance from Sharon Needles. The rally goes from 6pm to 9:30pm. nycpride.org/events
---
6/28
Front Runners New York LGBT Pride Run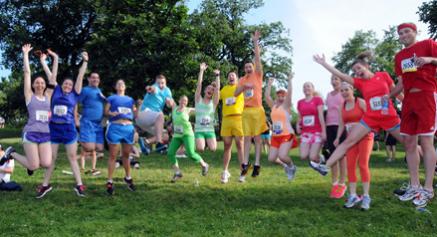 This year marks the 33rd running of this festive collaboration between NYRR and Front Runners New York, a competitive and social club for LGBT runners, multisport athletes, and their allies. Join more than 5,000 runners and show your pride at this five-mile run. Last year, this race—a marathon qualifier—sold out, so be sure to register earlier. This year, the New York City Anti-Violence Project (AVP) has been chosen as the beneficiary of this year's LGBT Pride Run. Start on the park's East Drive south of the 102nd Street Transverse and head north, down a hill and around the upper end of the park through the tough Harlem Hills. 8:30am. nyrr.org
WE Party at Hammerstein Ballroom
Try your luck with over 3000 of the hottest men from around the world as Masterbeat once again transform NYC's legendary Hammerstein Ballroom - this time into a mega-club casino, complete with slots, craps, blackjack and more ways to "get lucky..." Six points of thundering line array sound, mega-watt lasers, hundreds of intelligent lights and Spain's legendary dancers will make this an unforgettable night. Superstar International DJ's Issac Escalante (Mexico City) and Micky Friedmann (Berlin) will provide the soundtrack for the night. 10pm-7am, wepartycasino.com
The VIP Rooftop Party - Be a part of one of the most popular parties of NYC Pride Week and dance the afternoon and night away. For the first time in history, DJ Dave Aude, Escape and Nacho Chapado will be at one event together. 2pm-10pm. Hudson Terrace, 621 West 46 St., nycpride.org/events
Teaze (formerly Rapture on the River)
This special event is for ladies only.
SPECIAL OFFER!! Pier Pressure 15 is the Official Women's After Party to Teaze! Purchase a $75 VIP ticket to Teaze, which includes open bar, and receive complimentary admission to Pier Pressure 15 at YOTEL. DJ Dimples and DJ Susan Levine will bring the party to this new experience for women! nycpride.org/events
Azealia Banks /Chus & Ceballos & DJ Cindel
212 hitmaker Azealia Banks performs live and Spanish DJ duo Chus & Ceballos bring the beats! Red-hot rising star DJ Cindel closes. 10pm. The mega-event takes place at the Capitale (former Bowery Savings Bank) on 130 Bowery in Lower Manhattan. Tickets required.
Third Annual Gumbopride Pool & Rooftop Party #Gumbopride
At Sixty Les Hotel, 190 Allen Street, rain or shine. 21 + $20.
Andy Warhol Pool, 1pm-8pm, above Allen Rooftop After Party 8pm-3am
Absolut cocktails, Coors Light beer. Music by DJ Hannah Rad, Jon Ali & Steven Paul. Dirty Sugar Photography Studios. GumboNYC will give back to nonprofit Live Out Loud.
---
6/29
NYC PrideFest - The streets spill over with a vibrant mixture of food and craft vendors, musicians, entertainers and local residents at the annual Pride Week street fair, now in its 20th year. The PrideFest smorgasbord starts at Hudson and 14th Streets, just a quick walk from the Hudson River piers, an excellent place to watch the sunset after a day of celebration. 11am–6pm. nycpride.org/events
LGBT Pride March - The streets of New York City are never so festive, outrageous and energized as they are during the annual LGBT Pride March. Outlandish floats and spontaneous dance parties blend perfectly with the political components of this civil rights march. The march begins in Midtown at Fifth Avenue and 36th Street at noon, and ends in the West Village. This year's Grand Marshals are Laverne Cox, Rea Carey and Jonathan Groff. Lineup, 11am, stepoff, noon. This event is free and open to the public. nycpride.org/events
Dance on the Pier
NYC Pride is planning to make 2014 BIGGER by continuing to book incredible talent and provide support to even more community groups through our ever expanding grants program. Special guest performer this year is Demi Lovato. Tunes spun by DJs Pagano and Grind. 4pm-10pm. 21 and over. Tickets required.
New York Pride Live Grand Finale
DJ Shye, DJ Poison Ivy, DJ Kidd Swagg. Performance by Dollhouse Urban Burlesque Mona Marie. Special guests to be announced. 8pm. $15-$40. Highline Ballroom.
PAST
6/1
Queens Pride 2014 - The long-running festival, held in Jackson Heights, is one of Queens' largest LGBT events. The parade and festival celebrate togetherness, open-mindedness and acceptance. Everyone is welcome to march, and there is no cost to participate. Starting point is at Main Stage at 85th Street and 37th Road (and marches down 37th Avenue). Noon-6pm. queenspride.org
Reader Feedback