Post Feedback | Printer-Friendly | Send Article to a Friend
May 19, 2009 - by Griffin Miller
Featured Listings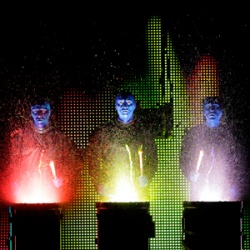 Blue Man Group· The trio of "post-modern clowns" present their outrageous in...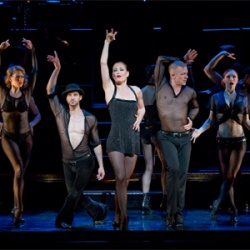 Chicago· Kander and Ebb's "musical vaudeville" in which Roxie Hart ga...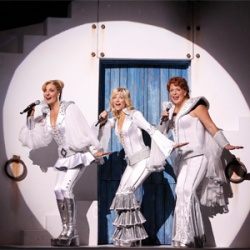 Mamma Mia!· This hit musical incorporates 22 ABBA songs into a story abo...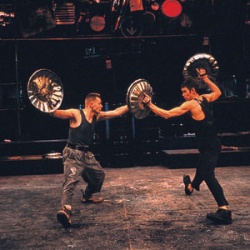 Stomp· The world-renowned eclectic theatre of percussion...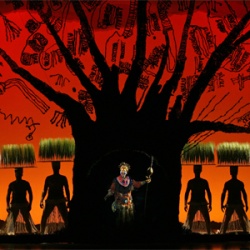 The Lion King· The stage version of Disney's celebrated animated feature....

It takes a lot of courage, patience and dedication to commit oneself to a pre-show ritual of cumbersome green prosthetics, a medieval fat suit and guy tights. Even more impressive? The natural ability to elevate the physical phenomenon known as "flatulence" to an art form -- on Broadway, no less. And yet, musical theatre star Brian d'Arcy James does it all, with a wink and a belch and a swampful of gusto.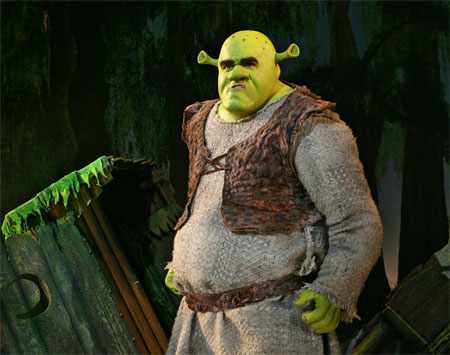 "It's an amazing experience playing Shrek, feeling from the very beginning of the show how receptive the audience is to this big green ogre," he says. "Shrek is a magnetizing character who draws kids in because they relate to him. He wants what they want: a friend and a home and to be happy."

Of course, to get his happy ending place, Shrek must go through all those fairy tale heroics that made the animated film version such a blockbuster (and led to two sequels, with two more in the planning stages). On the massive stage of the Broadway Theatre, though, having a flesh-and-blood Shrek, Princess Fiona, Donkey, Lord Farquaad -- not to mention oodles of storybook personalities -- to act out the exploits, ratchets up the magical ante to spectacular proportions.

d'Arcy James, who appreciates an irreverent, fantasy-packed adventure story as much as the next guy, has been a fan of the Shrek films since the get-go. "I've seen them all. I can even remember where I was when I saw them and with whom," he recalls. "My daughter Grace loves the movies, too. She's was six when I started working on the role and was definitely interested in how I was going to become the ogre."

Having a young child around during his metamorphosis certainly gave the Tony-nominated actor an interesting perspective. "As I was creating the role, I kept trying to imagine how this or that would impact her," he says. "And early on there was some question as to where Daddy ended and the ogre began." Which didn't stop her from becoming an active participant in her father's creative process. "She started giving me notes on my accent, letting me know what didn't sound right," he adds.

The original story has been embellished considerably from the engaging children's book by William Steig and loving tweaked for its transformation from screen to stage. In keeping with the overall spirit of Shrek, however, the musical definitely sticks to the original notion of reinventing standard fairy tale format.

A curmudgeonly ogre -- chartreuse, super chubby, with little trumpet ears -- is the hero; a singing/dancing/stand-up-comic Donkey (played to hilt by the wonderful Daniel Breaker) is his devoted sidekick; and a gorgeous red-haired Princess with attitude to spare (Tony winner Sutton Foster) is the object of his affection -- and vice versa!

As for the villain, well, it's one thing to see an embarrassingly puny Lord Farquaad cartoon, but quite another to see six-foot-plus actor Christopher Sieber portray the snarky evildoer on his knees with tiny faux leg appendages. (This may well be the silliest and most wonderful Broadway optical illusion ever.)  

d'Arcy James, who's starred in such shows as Sweet Smell of Success and The Apple Tree, makes it clear that his fellow cast members make doing this show pure joy for him.

"I've been in a lot of big musicals but I will say our director, Jason Moore, said from the beginning he was hell-bent on finding people who were hilarious and talented and willing to take risks," he says. "I've never worked in an ensemble who has given so much thought to what they're bringing to the parts. Each member of the company is amazing."

Still, it's the audience -- little kids and grown up kids who share a love for odd-ball romance and cheeky, gross-out humor -- who bring it all home for d'Arcy James.

"One of my favorite stories is about the cutest little girl -- she couldn't have been than four -- who pulled me aside after a performance, and clearly she felt she had to tell me something very important. So I bent down and she whispered, very seriously: 'I like to fart, too.'"

Shrek is playing at the Broadway Theatre, 1681 Broadway (btw. 52nd & 53rd Sts.)  For reservations, call 212-239-6200 or click here.

Archives:
Related Articles
Most Popular Articles on CGNY