The Superman Franchise Is Rebooted With Man of Steel
June 13, 2013 - by Ellis Nassour
The Man of Steel relaunch (Warner Bros., Legendary Pictures) is an introduction to the Kryptonian alien Kal-El who becomes Superman. Though he has superpowers galore, don't expect to see the two sides of Clark Kent just yet. This is a long, sometimes convoluted prequel to the Superman adventures that surely are going to follow every two years.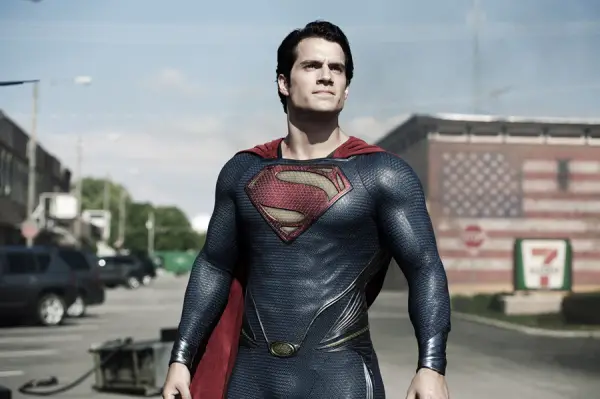 Clay Enos/Warner Bros.
It'd be hard to top Richard Donner's 1978's Superman, the contemporary movie relaunch of America's favorite superhero (who first made to the screen in the '50s and first appeared in comic books in 1938) as portrayed by Christopher Reeve. It served our cultural zeitgeist well with amazing special effects in a pre-CGI world, humor and over-the-top performances, breathless beauty in the Kansas scenes, and benefited from John Williams' score. Its reputation as the definitive Superman movie remains intact.
Though it takes itself much too seriously, Man of Steel has its moments. You just have to wait a long time for them – and they don't come from the special effects overkill, but from human elements.
Man of Steel is directed by Zack Snyder (300, Sucker Punch), conceived by Christopher Nolan and David Goyer (The Dark Knight), and overwritten by the latter; based upon Superman characters created by Jerry Siegel and Joe Shuster and published by DC Comics, a co-producer.
"Bringing one of the first comic book super heroes back to the screen," Snyder explains, "was something I wasn't sure I wanted to do it. Growing up, I was into comics and Superman was a favorite. I didn't know if I could take the character where he hadn't gone before. But the screenplay took me on an interesting journey and Superman became relatable."
Brit Henry Cavill, with chiseled matinee-idol good looks, is quite winning and believable – and his portrayal would've been more believable if we first meet him as a young man, instead of in his 20s – whether sulking about his powers or using them to the nth degree and worrying about being an outcast.
"Superman is one of the truly special figures," says Cavill. "He stands for hope and the ability to conquer adversity. That's something we can relate to, as we always face hardships. He's also the ultimate outsider, wondering what his purpose in life is."
Oscar winner Kevin Costner and Oscar nominee Diane Lane portray the Kents. We later see Kal as a youngster, teen, and young adult on their Kansas farm near Smallville. These scenes are touching and add the depth that most of the film lacks.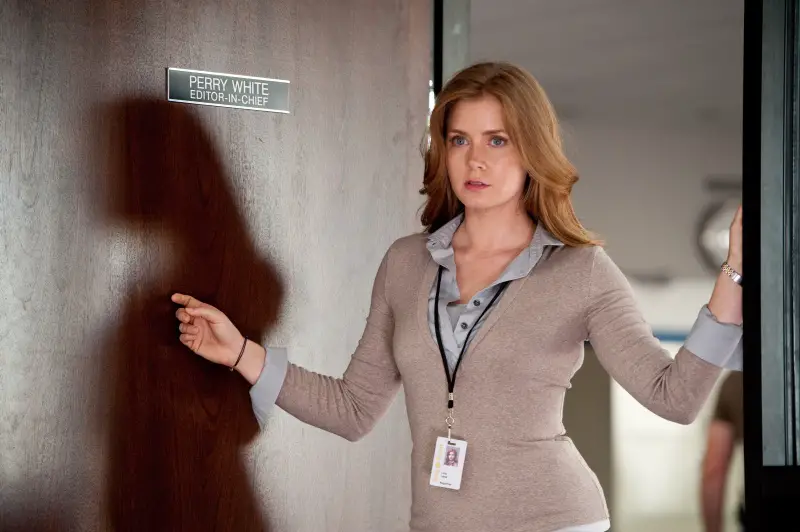 Amy Adams as Lois Lane/Warner Bros.

Oscar nominee Amy Adams portrays globe-trotting journalist Lois Lane, and thankfully adds humor to her tongue-in-cheek line readings; Oscar winner Russell Crowe as Krytpon dad Jor-El, and Michael Shannon is the nefarious General Zod. Feature roles are played by Oscar nominee Laurence Fishburne (the Daily Planet's Perry White); and Christopher Meloni (TV's Law and Order, Oz).
It'll be interesting to see how Superman purists react, especially to how Kal-El and Lois meet. You note homages to other sci-fi legends, such as The Day the Earth Stood Still, Star Wars, War of the Worlds, and Iron Man.

Russell Crowe/Warner Bros.
Crowe, as Krypton's brilliant but renegade scientist, dominates the film's first hour. Shannon (recently on Broadway in Grace) is quite adept at eating the scenery, but a capable enough actor to pull it off with elan.

Michael Shannon/Warner Bros.
Man of Steel was shot in 2-D, then converted to 3-D. You won't go wrong seeing it in
2-D. It's almost mindboggling that in a film perfect for 3-D effects (even gimmicky ones) nothing ever pops from the screen and, Bwana Devil-style, slaps you in the face. The 3-D conversion does add depth to some scenes, but not enough to cause regret.

Though shot in color, there's a lack of it in a majority of the 145 minutes (about 10 of those for the credits and list of genius digital artists). Blown up to fill about three-quarters of a real IMAX screen, the picture's bound to lose contrast. Bigger and deeper may not be optimum choices for Man of Steel, which is rated PG-13 (language, intense sci-fi violence, and endless scenes of mass destruction, some too close to footage of the 9/11 collapsing of the Twin Towers). Parental judgment is advised.
Looking for Free Group Planning Services?
Get free advice on planning your group's trip to New York.
RESTAURANTS

The newest member to the Heartland Brewery family, HB Burger...

THEATER

Gaston Leroux's famous period thriller is now one of Broadwa...

SHOPPING

The world's largest source of cameras, camcorders, and more ...

SIGHTSEEING

Opened to the public in 1913 thanks to the ingenuity and amb...