It's a Date! Explore the 2014 Museum Mile Festival on June 10
June 4, 2014 - by Linda Sheridan
The 2014 Museum Mile Festival will take place on Tuesday, June 10, from 6pm-9pm. Created in 1978 as a means to stir public interest and support of museums, the Museum Mile Festival was formed as a consortium by the museums that share the Fifth Avenue address.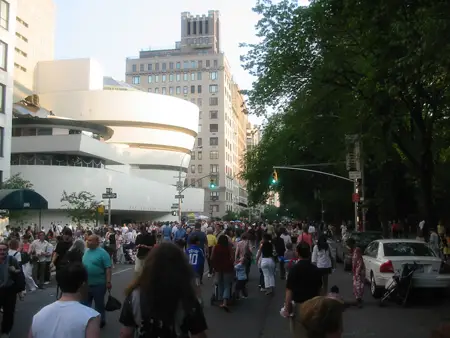 Outside the Guggenheim
Festivities will kick off at 5:45pm with an opening ceremony at the Museum of the City of New York. Then from 6pm-9pm, visit any participating museum for FREE. These include:
The Africa Center (new)
Museum of the City of New York
Cooper-Hewitt, National Design Museum, Smithsonian Institution
The Metropolitan Museum of Art
National Academy Museum & School
There will also be live music, magicians, face painting, balloons, and more!
The Met Museum
Each year, thousands of tourists from around the world make their trip to the Museum Mile Festival. Total attendance records over its 27 years have surpassed one million visitors. Because of the success of the festival and the work of the consortium, the City of New York officially designated Fifth Avenue from 82nd to 105th Streets as "Museum Mile,"­ further cementing the area as one of the city's major cultural resources.
For maps or more information, visit museummilefestival.org.
Reader Feedback