Off Broadway Hits Abound This Summer
June 6, 2013 - by Ellis Nassour
Do you know the way to Off Broadway, where this has been one of the best seasons ever? Theaters are easy to find. Off Broadway has everything Broadway has, including (as a rule, but not always) uncomfortable seats and stages that are (often but not always) smaller, but it also offers tickets that are definitely cheaper. Two of the best and most nominated shows are big hits, and two new potential hits have just arrived.
---

Jose Llana and Ruthie Ann Miles as Ferdinand and Imelda Marcos

Here Lies Love, David Byrne and Fatboy Slim's Drama Desk-nominated musical at the Public Theatre (425 Lafayette St.), is about the rise and fall of Philippines' dictator Ferdinand Marcos and wife Imelda. It boasts a large and excellent cast, especially Ruthie Ann Miles as Mrs. Marcos. The show is innovatively staged and audience submersive, which means that most of the audience stands for 90 minutes (no intermission) and, during the very long "pre-show" of booming disco beats, move with the scenery, and are asked to dance. Advisory: wear comfortable shoes. For tickets, visit www.publictheater.org. (Scheduled through 7/28)
---

Photo: Chad Batka
Also innovatively staged is Natasha, Pierre, and the Great Comet of 1812, at Kazino (W. 13th St. at Washington St.), an elaborate tented dinner theatre venue. The "electropop opera," the 2013 Richard Rodgers Award winner for Musical Theater and recipient of five Drama Desk nominations, is set just before Napoleon's ill-fated invasion of Russia. It tackles a slice of Tolstoy's epic War and Peace, focusing on the love triangle between Natasha, stunningly portrayed by Phillipa Soo, her fiancé Andrey, who's off to war, and Anatole, a notorious married scamp who's also handsome and pumped with charm. As vodka flows and passions ignite, Pierre, a slothful aristocrat observes the goings-on and philosophically comments on them.
Admission includes a complimentary toast, pre-show, full Russian-themed dinner, and desserts. Doors open one to two-and-a-half hours before the show, with cash bar and food service. Advisory: Seating is tight. Best viewing is from room center and tables on upper tiers (especially the Washington Street end of the tent). For tickets, visit kazinonyc.com. Pre- and post-show, there's food and beverage service in the Public lobby and The Library. (Through 9/1)
---

Photo: T. Charles Erickson
More hits abound. The new kids on the block are Playwrights Horizons' acclaimed mainstage premiere of Far from Heaven, a musical adaptation of Todd Haynes' 2002 film by the award-winning Grey Gardens team of Richard Greenberg, Scott Frankel, and Michael Korie. Four-time Tony nominee Kelli O'Hara (Nice Work If You Can Get It, South Pacific, Light in the Piazza) is a picture-perfect '50s Connecticut housewife living in suburban bliss whose world is turned upside-down by her husband's secret gay life and her interracial affair. Stephen Pasquale and Isaiah Johnson co-star. Three-time Tony nominee Michael Greif (Rent) directs. For tickets, visit www.playwrightshorizons.org. Playwrights makes productions affordable to those 30 and under with I.D: $25 rush HOTtix, one hour before show, day of performance to, one ticket per person. (Through 7/7)
---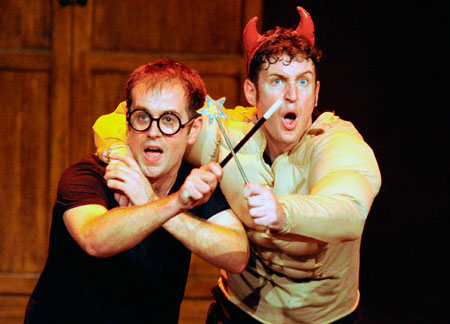 Potted Potter: The Unauthorized Harry Experience, the international hit and Olivier Award-nominated parody by Daniel Clarkson and Jefferson Turner, has returned. This winning, zany, and magical parody plays at the jewel-b ox Little Shubert Theatre (422 W. 42nd St.). It makes good on the ultimate challenge: Condensing, or "potting," as the Brits say, all seven Harry Potter books into 70 madcap minutes, aided only by mayhem, multiple costume changes, songs, ridiculous props, "and a generous helping of Hogwarts magic." Audiences engage in a real game of Quidditch, played according to Clarkson and Turner's unique set of rules. Suitable for ages six to Dumbledore, whether or not you know the difference between a Horcrux and a Hufflepuff. For tickets, click here. (Through 9/1)
---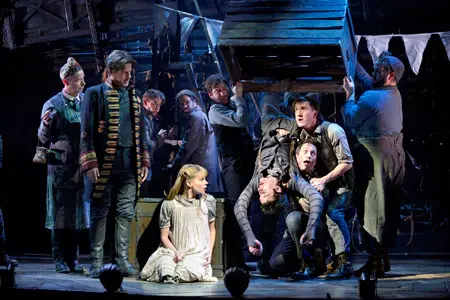 New World Stages (340 W. 50th St.) hosts two of the best transfers of Broadway hits to Off Broadway. Peter and the Starcatcher by Rick Elice (Jersey Boys) is the hilarious and imaginative prequel to the story of Peter Pan, based on Dave Barry and Ridley Pearson's novel about an orphan who heads to a faraway land where he finds love, friendship, and, ultimately, himself. Directed by Tony winner Roger Rees and Tony and Drama Desk nominee Alex Timbers (Bloody, Bloody, Andrew Jackson; Here Lies Love). Great for all ages. (Open run)
---

Photo: Carol Rosegg
New World Stages' long-run champ is Avenue Q, the delightfully bawdy, saucy, insightful laugh-out-loud musical mix of puppets and humans. College grad Princeton moves to an East Village apartment, where he meets Kate, the girl next door, Rod, not exactly the boy next door, and, among others, Lucy, a woman of questionable morals (who, as an actress, gives Miss Piggy competition). It's quirky satire set to infectious songs. You may blush while you roar with laughter. Parental discretion advised. For tickets, click here. (Open run)
Looking for Free Group Planning Services?
Get free advice on planning your group's trip to New York.
RESTAURANTS

The newest member to the Heartland Brewery family, HB Burger...

THEATER

Gaston Leroux's famous period thriller is now one of Broadwa...

SHOPPING

Shop or sell at this weekend bargain hunters' paradise....

SIGHTSEEING

Located in Times Square in the heart of New York City, Riple...