Rock of Ages on Broadway: Nothin' but a Good Time
July 22, 2014 - by Griffin Miller, Theatre Editor
Some musicals start slow and build. Not Rock of Ages. It blasts through the third wall with a ramped-up pre-show "concert" followed by the juiced opening number, Quiet Riot's "Cum on Feel the Noize," led by Lonny (Genson Blimline), the show's de facto tour guide through Los Angeles' Sunset Strip during the mid to late '80s, back when it was a glam metal magnet or, as Lonny puts it, "…a sexier time — the Reagan era — when LA was a beacon of rock n' roll excess, a majestic, acid-wash epicenter! ... Back in the day, if you had a dream, a fifth of Jack, and a decent amount of hair, there was nowhere else to be."
And if the signage spilling out into the house — and servers trolling the aisles — are any indication, we are no longer audience members but rather patrons of the Bourbon Room, a nightspot owned by Dennis Dupree (Adam Dannheisser, who originated the role) that regularly books VIP rockers like Stacee Jaxx (Joey Calveri) and occasionally hires corn-fed ingénues (e.g., the newly arrived Sherrie) to wait tables and win the heart of rock-superstar-wannabe Drew (Aaron C. Finley).
"With Rock of Ages, there's no way around giving 100 percent," says Carrie St. Louis, the show's current Sherrie, who began her love affair with the show in the Las Vegas company. "Once the train leaves the station, there's no getting off."
Unlike most Broadway leads (Audra McDonald notwithstanding), St. Louis comes to RoA with an opera background (she's a graduate of USC's Thornton School of Music) — not the usual skill set one associates with a score known for such retro megahits as Whitesnake's "Here I Go Again," Foreigner's "I Want to Know What Love Is" and Journey's "Don't Stop Believin'."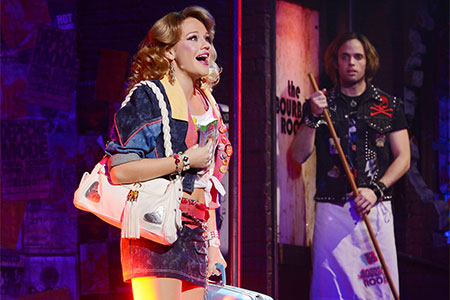 Photo: Denise Truscello
Nevertheless, St. Louis has no trouble embracing the show's powerful duets and hard-edged solo numbers. "I found that musical theatre works for me," she says, adding that she has not completely turned her back on her classical training. "I do like to run high C's backstage; I like to know it's still there."
For newcomers to RoA, there are two basic storylines: the initially ambiguous love affair between Drew and Sherrie, and their post-Bourbon Room life trajectories; and the potential demise of all things iconic about the Sunset Strip due to graft, greed, and two seemingly soulless Germans — one of whom appears in the latter part of the show in the most divinely bizarre workout ensemble ever.
Which may or may not explain why RoA has earned a reputation for garnering an unrestrained, blissfully raunchy, five-star cult during its multi-year run.
Having gone through a seemingly non-stop revolving door of cast members, bands, and even theaters over the years — it started out Off-Broadway at New World Stages in 2008 before transferring to its original Broadway home, the Brooks Atkinson Theatre, and took up residence at the Helen Hayes in March of 2011 — RoA remains a sure thing for a good time.
Concludes St. Louis: "In addition to everything else it's the perfect date-night show: funny, sexy, and filled with adult humor that even wins over the guys who may not be into musicals, or theatre in general. But this is different… pure escapism: Broadway's best party with awesome '80s music!"
---
Rock of Ages is playing at the Helen Hayes Theatre, 240 W. 44th St. For tickets, call
212-239-6200 or visit www.rockofagesmusical.com/ticketsbroadway.
Looking for Free Group Planning Services?
Get free advice on planning your group's trip to New York.
RESTAURANTS

A sophisticated, elegant steakhouse with generous portions o...

THEATER

Kander and Ebb's "musical vaudeville" in which Roxie Hart ga...

SHOPPING

A premier destination for family entertainment....

SIGHTSEEING

This renovated museum complex includes the 900-foot-long air...