Find yourself in the city on a Sunday with a free morning or afternoon? Head up to the Upper West Side to explore the Grand Bazaar NYC. This year-round flea market spans across both the indoors and outdoors, showcasing an array of vintage artwork, fashion, collectibles, furniture, and everything in-between. And the best part of it all? With every purchase you're not only adding to your own personal inventory, but also helping to serve the local community. That's right, you can shop and feel good about it doing it till you drop. From what to expect and its history to its mission and upcoming events, find out everything you need to know about one of Manhattan's most beloved flea markets below.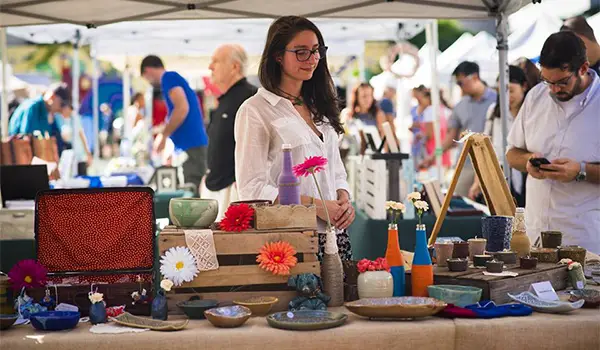 What to Expect
You never know what kind of treasures you'll unearth at the Grand Bazaar NYC, but there is one thing you can be certain of: you most certainly will find treasures. From scones from The Hungry Gnome to jam-filled donuts from Black Label Donuts, you'll even have a fair share of foods and beverages to taste and try while you're shopping around this haven for all things vintage. Here are just a few of the many collectibles to expect when visiting Grand Bazaar NYC:
Vintage Tiffany & Co Silver
Handmade Jewelry
Antique Furniture
One-of-a-Kind Cufflinks
Vintage Mirrors
Ethnic Rugs, Tablecloths & Placemats
Vintage Watches & Hats
Antique Silverware
Vintage Record Players, Radios & Boom Boxes
Handmade Soap Bars
One-of-a-kind Purses
Iconic Prints & Photographs
Vintage Clothing & Accessories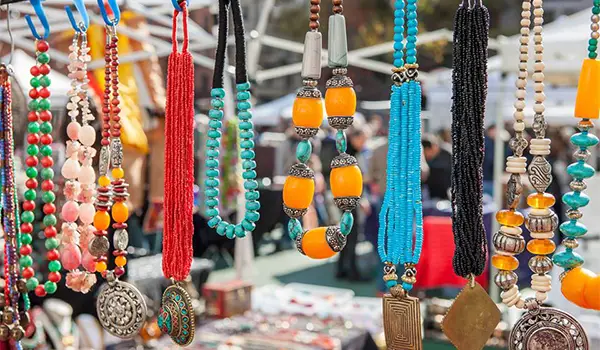 The History
The Grand Bazaar NYC began in 1982 when a group of parents had an idea to help fundraise for the local schools with a weekend "yard sale." As the market grew, it came to be known as GreenFlea Market in 1985, only changing its name to the Grand Bazaar NYC in 2016 in hopes of rebranding the event and acquiring an even bigger fan base. While the flea market has been around for over 30 years, its mission has always remained the same: raising funds for the neighboring public schools in the area, ultimately benefitting over 4,000 children in doing so.
Upcoming Events
Be sure to check out any of the Grand Bazaar NYC's upcoming events during the 2017 calendar year! Whether your focus is foods or fashion, there's a special event here for every kind of deal hunter.
Future events:
May 7: NYC Vintage Classics
May 14: Mother's Day
May 21: "READY, SET, SUMMER!" The NY Handmade Collective (NYHC), formerly known as the Etsy NY Street Team, is partnering with Grand Bazaar NYC to present a special event that will feature a carefully selected roster of 40 talented multi-disciplined NYHC artisans and designers, united through Etsy, the online marketplace for handmade goods. Shoppers are sure to find something special, one-of-a-kind, exclusively handcrafted and locally made from a wondrous array of exceptional goods, from fine art, paper goods and stationery, jewelry and unique fashion, home decor, and amazing skincare products to items for children and pets.
June 4: International Food Bazaar
July 16: NYC Artisanal Ice Cream Blizzard
August 20: NYC Lemonade Challenge
September 10: Annual Anniversary
September 24: NYC Artisanal Jewelry Bazaar
October 15: NYC Artisanal Sweet Treats Bazaar
October 29: Scary Bazaar
November 12; NYC Coat Drive Day
December 2, 3, 9, 10, 16, 17, 23, 24: Grand Holiday Bazaar
100 W. 77th St., 212-239-3025, grandbazaarnyc.org
---