City Shopping - Accessories Blogs
Back to Blog... | View More Bloggers...

About the Author: About the Author: Ruth J. Katz is a well-known shopping and service writer based in New York City. She has written about shopping for 25 years for New York magazine; covered the topic on-air at Fox-TV for several years as the Home Services expert; and had her own show on both the USA and Lifetime Cable networks. Katz wrote extensively for The New York Times as well, and contributed periodically to the New York Daily News. She is a passionate shopper, always looking for not merely a good buy, but the best buy, ferreting out a "steal" or discovering up-and-coming designers. She has written five books and is a former contributing editor to Hearst's Redbook, Classic Home, and Colonial Homes; she is currently a Contributing Editor of New York Home, Golf Connoisseur, The Modern Estate, and Promenade magazines. She is also the former Shopping Director for Davler Media's Manhattan Living.


---
City Shopping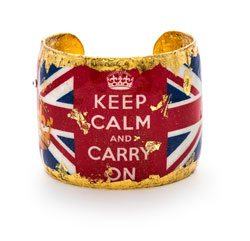 I was having a fuzzy, warm feeling about all things British (which is always an easy frame of mind for me to slide into) when I wrote about the fabulous Hollywood costume exhibit the Victoria & Albert Museum at the end of year. (And if you were in London at the time, then I hope you got to see it—it was truly spectacular.) With Great Britain firmly on my mind, I reminded myself that I had taken pictures at a trade show of the fun and lively jewelry of Barbara Ross-Innamorati of Evocateur, and decided it would be the next blog...but then Fate interfered in the form of shoulder surgery, which put an immediate end to typing for a while.
But, as they say, "We're back!" The recovering appendage is finally agreeable to typing, so we can now share Barbara's stunning bracelets. This jeweler has an interesting background and came to jewelry-making through the proverbial back-door, from the London School of Economics (LOL). Well, not exactly. But she did attend the renowned school, and while in the UK, she saw an exhibit of gold-worshipper Gustav Klimt and the images, resplendent with all that luscious, rich gold stayed with her for years. "Since that time, I have been passionate about and fascinated with gold leaf -- the way it can transform even the most ordinary of objects into something extraordinary, almost magical."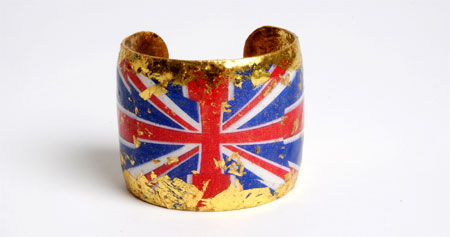 After dumping corporate America (corporate finance/investment banking/mergers and acquisitions, she notes), she was hunting for the just-right jewelry to wear with an ensemble and couldn't find what she wanted...and that need led to her experimentation with the gold leaf she so loved, and so, for 18 months, she doggedly pursued how to make the kind of jewelry she'd want. Et voila! Evocateur, her company, was born.
Today she sells a gorgeous line that includes some of my favorites, her British-inspired jewelry. Apparently I am not the only one with favorites from her line; her pieces also tickle the fancy of countless buyers from around the globe, as she sells not only to well over 100 outlets in the States, but also to such far-flung destinations around the world as Russia, Portugal, Panama, and even tiny Cyprus.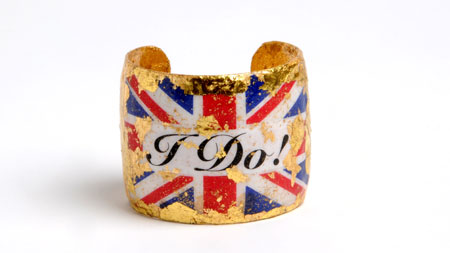 All her pieces are made in America, in her workshop in Connecticut. She continues to produce head-turning jewelry, heavily laden with that delicate, burnished gold, in 22kt. A more exotic collection, Humphrey's Safari, was inspired by a trip to Africa and named for her guide. (A portion of the proceeds from that collection goes to support a school in rural Zimbabwe.) Most cuffs range from about $220 (for the narrower, less elaborate ones) to about $340, for the wider, more involved ones.
Before signing off on things British, I must send you to the site Unique Vintage, which sells the most eclectic things you'll ever find on one Web site: a baby pacifier with a funny mustache attached to it; prom dresses and evening clothes; a pizza cutter; a stamper for imprinting toast, with a picture of the Eiffel Tower, called (rather cleverly) "French Toast Stamper"; luggage tags; swim suits; and Lord only knows what else you'll find!

It's an odd and interesting agglomeration of goods, but among the sundry offerings are a few things British and they are adorable: There is the little flask, convenient for a sporting event or just plain old travel ($26); a charming felted-wool handbag, with the Union Jack and a heart on it ($99). And, of course, there is an umbrella ($14.50) with the famous British flag on it. I have no clue what else you'll find if you jump around the site, but I guarantee an interesting time perusing it. Prices are reasonable, and it's a great site to plumb for novelty gifts, as well.
Posted on Tuesday, February 19, 2013 @ 03:11 PM | 0 replies Start the Discussion

Browse: Accessories
---
City Shopping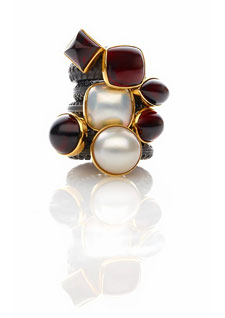 The word "loot" conjures up images of precious (perhaps purloined?) treasures—the spoils and bounty of war, plundered golden artifacts encrusted with diamonds, chalices and goblets dripping with ormolu, tomb-raided objets d'art. You get the idea: Prized, valuable "stuff," objects that can elevate the spirit or enlighten civilization—things meant to be coveted and cherished.
Twelve years ago when the Museum of Arts and Design began its annual LOOT extravaganza-event, it was hoped that the buying public would react that way—and come to purchase the splendorous and valuable jewelry showcased in this pop-up shop/exhibit. Here are riches designed by contemporary studio artists—jewelers you do not find at a typical "jewelry store"—many of whom have never shown in the States. Their works are inventively modern pieces, some created with precious metals and stones, and other jewelry crafted from unexpected materials such as titanium, stainless steel, glass, wood, rubber, fabric, leather, paper, and found objects.
Unlike any other jewelry event in the country, LOOT 2012 gives aficionados and neophytes alike the opportunity to meet some of the most innovative and sought-after jewelers working today...and to buy highly collectible bijoux from these gifted artists. This curated edition of LOOT is the grandest ever and represents an international cavalcade of over 50 fine jewelers. (It will also showcase the work of jewelry students from Gotham's own Fashion Institute of Technology.)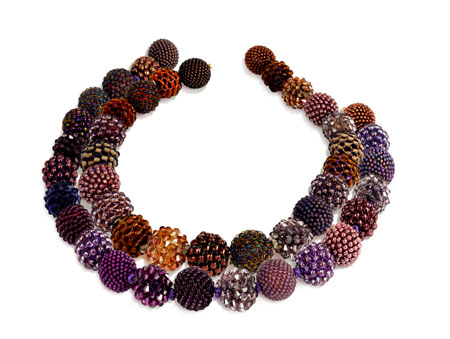 For the first time, LOOT will honor esteemed German jeweler Axel Russmeyer, who will receive the inaugural LOOT Award for Contemporary Art Jewelry. Russmeyer's signature work is constructed from extraordinarily stunning, ethereal, and elegant beaded-beads that he painstakingly creates by hand and then works into the most appealingly seductive earrings, necklaces, and bracelets (such as the one pictured above). Talk about wanting to covet jewelry—he's your man. (Russmeyer's works at the show will range in price mostly from $1,250 to $3,250, although there are highly desirous necklaces that soar up to $12,500.)
The show-sale is being staged September 11 to 15 at the Museum; proceeds benefit the exhibition and education programs of the Museum of Arts and Design. LOOT 2012 is made possible in part through the generosity of the Silver Institute: Silver Promotion Service and MAD's Jewelry Study Day is supported by Van Cleef & Arpels. Additional info: madmuseum.org; madaboutjewelry.tumblr.com
Posted on Tuesday, September 11, 2012 @ 12:45 PM | 0 replies Start the Discussion

Browse: Jewelry | Art | Accessories
---
City Shopping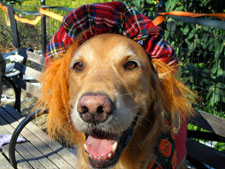 Greetings, again, from moi, your furry correspondent, Austin Katz. My human "editor" said I could scribble a blog again, as it's been months since I've put my two-cents into print. I was warned, however, that I have to be careful; I was advised to watch my language, so as not to put my paw in my mouth!
So, here is what I want to share with you: This is the weekend that begins the official rush to Fire Island, the Hamptons, Upstate New York, Connecticut, and so on...and if you're a fuzzy person like me, then you want to be sure all your "things" are properly packed to be transported to the summer abode. (Yes, some dogs really are literally lucky dogs, to have two homes!)
When they (the management of my domicile) pack up the car, I watch them like a hawk, to be sure my stuff gets loaded. Yes, transporting everything is a chore, to say the least; I have to keep reminding them waht to take, by moving my things to a spot in front of the door; I feel like I have to do it all--keep the humans in tow, get my stuff loaded, and remind them to take their junk—their arugula, their tennis rackets, their hiking boots, their battery-charging-electronics junk. Their stuff, in a word, is both mysterious and endless.
So, to protect myself and my treasured belongings, I have urged them to get the most wonderful mobile pet organizer. (We're strictly a canine-companion family, but I think any persnickety kitties who may be reading this and who belong to others could use this stupendous organizer, too; but I fear that they would then not allow us dogs to share it! You know those cats.) Anyhow, the organizer is from Yep Yup and it folds up neatly, and yet unravels to reveal pockets a-plenty, to hold all your necessities (like cookies and rawhides and bones and treats and Greenies and biscuits) and other non-necessities/provisions like brushes, leashes, collars, IDs, tooth-brushing annoyances, and ear-cleaning torture contrivances.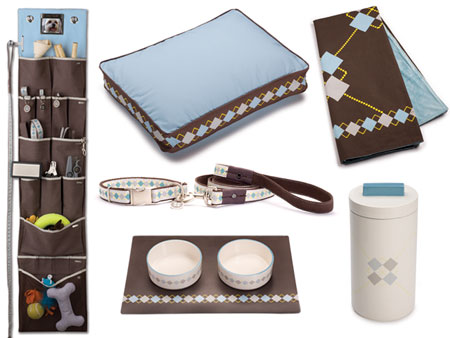 Designed by a duo, Sepi and Gerardo (who are very experienced in matters pet-related and design-oriented), the beautifully crafted and well thought-out organizers are perfect for the car and ideal to hang on the wall once you are at that vacation house. The organizers have storage galore for all my treasures, my bones, my gizmos, my fold-up dishes—my stuff, in a word. (I do not have any arugula, by the way.) And, as you see above each design style has many other pet-related items in the series--beds, leashes, cookie jars, and so on.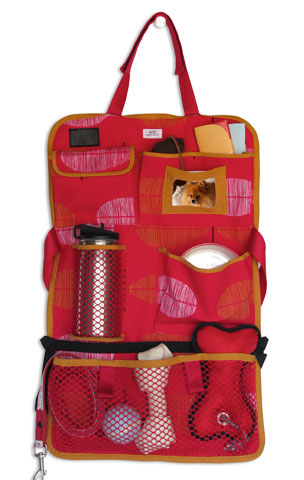 They are available in over a half-dozen different colors/designs and there are a few styles. They range in price from $49 to $59, real cheap if you ask me, since I am a dog and have no money anyhow. (I encourasge spending the humans' cash.) They are available on line at Yep Yup and also in New York at Canine Styles. (And just in case there IS a cat on the horizon, the organizers have a place for a photo, so let the cat have her own Yep Yup organizer -- and put her picture there in the little pocket -- so she doesn't horn in on my organizer!)
Posted on Friday, May 25, 2012 @ 10:35 AM | 1 reply View/Post Feedback

Browse: Getting Organized | Accessories
---
City Shopping
So, imagine my shock and chagrin when Delta Airlines charged me for overweight luggage—a whopping $75 (but that is a whole lot better than the $400 I heard someone pay on another recent trip) and there was nothing that could be done about it. I was lugging about a million copies of Promenade magazine—our lovely mag!—to give to give to a million (OK, ten) people in the UK and even if I took those mags out, and attempted to hand-carry them, my suitcase was still five pounds (a mere five pounds, I'd like to point out to the Luggage Police) overweight...so I plunked down the tariff grudgingly. But since I am a loyal frequent flyer, the counter agent promised me frequent flyer miles to make the financial sting less sharp. (Alas, I never got them...and, yes, I will write to Delta sooner or later to remind them.)
So, to make sure this would never happen again and to be 100% certain I was never a recalcitrant flyer and overweight again (not the bod, but the luggage), I picked up the WONDERFULLY PRACTICAL EatSmart Precision Voyager digital luggage scale.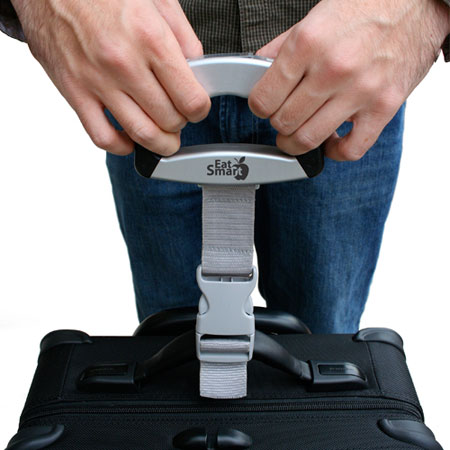 I have used EatSmart's food scale (more about that in a few weeks), and know their products to be accurate, durable, and well made. So, it was definitely a worthwhile investment for moi, since I am on the road a fair amount of time. And here is why you'll want one, too, for all your upcoming summer/holiday travel, since vacation time is upon us. It is reasonably priced (you'll find it most places for $19.95) and it will, potentially, save you a bundle; I have actually seen people at airports remove clothing out from their suitcases, abandoning goods in the airport.
It is simple to use: Just pack and zip up your bag, then secure the clip over the valise's handle. The scale has an easy-grip handle (you can use both hands, a smart design feature) with the scale built right into the handle. Then lift! The scale beeps when it has determined the weight and it's easy to read, with a back light. You can also check the avoir du poids in pounds or in kilos. When you turn it off, the scale resets to zero. But here is the best part -- I learned that my own luggage weigh an incredible 17 pounds!!! I was shocked. Next time, I'll buy luggage that is lighter weight. That sure takes a bite out of your clothing weight allotment.
And if you are a shopper, and think your luggage is going to -- shall we say? -- weigh more on the return trip, then just throw the scale into your suitcase pocket and you can weigh your luggage before the return trip, also. (The scale can weigh up to 110 pounds but if you are totin' a suitcase that weigh that much, then you're in serious trouble—back trouble and wallet trouble!) The sale comes with a battery that EatSmart says has a very long life, so you should be set for quite some time. Trust me, this is an item that is worth its weight in gold!
Posted on Monday, May 07, 2012 @ 04:32 PM | 0 replies Start the Discussion

Browse: Useful Info | Favorite Finds | Accessories
---
City Shopping
Last week, it was shoes. A passion. This week, it's pens and leather goods, more favorites. How lucky are we, to get to be The Town Crier (at least of this blog) and to share the things we love with everyone else? We have cooed over Campo Marzio pens for years. And whenever we are in Italy (the company has nine boutiques and nearly 60 different sales counters in other stores across the country), we try to find a little trinket to gratify our craving. Since Campo Marzio has been satisfying the pen-lust of Italian nobles, politicians, and artists for over 80 years, we feel right at home with our own yearnings for writing implements of style, marked by fine workmanship.

A few years ago we discovered that Campo Marzio had opened in London, so now we have to always stop by the shop on Piccadilly when we're heading to St. James's. (For the record, the company has 17 boutiques in 15 cities in 11 countries.) And now – finalemente!!!! – there is a shop-within-a-shop at Kate's Paperie in SoHo (72 Spring Street, between Crosby and Lafayette Streets). Coming soon, at the other Kate's locations (East Side, West Side, and all around the town, as the song goes), more Campo Marzio boutiques.

Let's see. What do we love about Campo Marzio? Well, for starters, the pens with all the rhinestones. But then we love the pens with all the polka dots. Then we love the silvery pens that are very cutting-edge. Then it's the leather goods -- the portfolio cases, the business-card holders, the stationery boxes, the organizers, the wallets, the waste paper baskets, the envelopes, the letter-holders....and on and on.
It's also about the color. No store in the world is a happier shop to walk into. From the bright-orange, signature exterior to the painted shelves, the colorful panoply of merchandise spread out so appealingly, and the rainbow-like displays...it's like walking into a Pantone color catalogue. Even if you hate pens -- and the company has every kind of pen, ball point and fountain pens, roller balls, calligraphy sets, etc. -- you will easily be turned into a pen lover, as a Campo Marzio shop is simply a joy to behold.
Prices are soothing, also, and will not break the proverbial bank: Leather goods in general range from about $12 to $210; pens range from as little as $13 to $90 for the most fancy; journals and albums from $25 to $160; desk accessories from $15 to $40; and portfolio envelopes, from $15 to $40.

Hip-hip-hooray, that the work of these talented Italian craftsmen has finally made it to our shores. Bravissimi!
Posted on Wednesday, September 29, 2010 @ 01:36 PM | 9 replies View/Post Feedback

Browse: Store Openings | New in NYC | Accessories
---
City Shopping
Well, not exactly dietetic chocolate. But close. If last week's cocoas were just too rich and too caloric for your New Year's resolutions-restricted waistline, then hie thee to Godiva or to Neiman Marcus and scoop up one of the company's brand-new scented candles. Infused with delicious aromas of luscious chocolate flavors, the nearly one-pound candle (the glass container contributes to the weight of the pillar-style candle), imparts heady, chocolate-y flavors even when unlit. Candles are about 3" tall, with a 10"diameter, and are "enrobed" in a cocoa-brown glass container.
Five mouth-watering flavors are on the market: Milk Chocolate Truffles, Black Almost Truffles, White Chocolate Magnolia, Raspbery Ganache, and Peppermint Bark (inspired by one of the company's traditional bestsellers, peppermint bark), and, all of which are truly evocative of the real deal. Created by Laura Slatkin (formerly of the eponymous Slatkin & Co., makers of fine home fragrances, which is now part of the Bath & Body Works family), the scents are intoxicating and they smell as if a few dozen boxes of rich and robust chocolates have been opened in proximity of the receptive scent detectives in your nose! Sniff the caramel, the Madagascar bourbon vanilla, the fresh mint, brown sugar, and ripe fruit...
The candles are available at Neiman Marcus and Bath & Body Works for $22.50 (50 hours' burn time); there are also smaller, travel versions (10 hours' burn time), for $12.50.
Posted on Thursday, January 14, 2010 @ 12:51 PM | 0 replies Start the Discussion

Browse: Tabletop | Fun Stuff | Accessories
---
City Shopping
O.K., yes, we know. There is a recession on. We're all spending a bit more wisely these days and are not so madcap as to buy our Golden Retriever a $25,000 ormolu-encrusted bed. So, file this blog away until your veritable ship comes in, as you'll want to be the first on your block to have a pair of the newest Cartier eyeglasses.   Yesterday, as we meandered along Lexington Avenue in the 80s, we passed a
Gruen Eyes
  emporium (fine eyeglass purveyors, with the snazziest of frames, for well over 30 years) and we were reminded that we had received information in the mail about Gruen's current unveiling of the
Caresse d' Orchidées par Cartier
precious eyewear collection. The shop is presently -- and exclusively -- showcasing these beauties at two of its locations:1022 Madison Avenue (from June 13th through the 19th) and at 229 Greenwich Avenue(from June 20th through the 27th).  After that, the glasses will be available more broadly.
But should you choose to make a Caresse d' Orchidées purchase during this special viewing, know that 20% of your purchase will be donated to the American Heart Association.And that 20% is not just peanuts. The glasses range from about $7,000 for the plainest of the lot (an 18kt. white-gold rimless frames) to $44,500 for the priciest (18kt. solid pink-gold frames with pavéed diamonds and pink sapphires). Caveat emptor: the price does not include the cost of your prescription lenses. Nonetheless, they are pretty stunning. Just don't lose them. 
Posted on Wednesday, June 24, 2009 @ 11:19 PM | 0 replies Start the Discussion

Browse: Accessories
---
City Shopping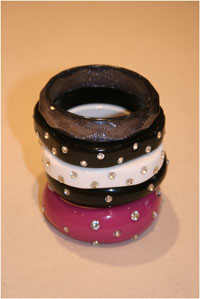 We love sparkly things, and we love bangle bracelets, so when we stumbled across both those things at the fairly new Helianthus boutique in the Village, we had to share them. This cute little shop has a mix of American and European clothing and accessories, but what kept grabbing our eye were the stacks and stacks of bangles, which range in price from $22 to $42 -- hot pink, black, clear, silvery, white, and all twinkling with rhinestones and crystals.  The shop is located at 522 LaGuardia Place, between Bleecker & West 3 Sts., near Washington Square Park.  (212-677-6888; www.helianthusny.com)

Posted on Wednesday, March 19, 2008 @ 10:04 AM | 3227 replies View/Post Feedback

Browse: Accessories | Jewelry | Women's Clothing
---
City Shopping
If you are having a lazy Martin Luther King Day here is quickie errand you can run, while hopefully, not running up too large a bill on your charge card:  Yes, it's another Soiffer Haskin sale.  Today, tomorrow (Tuesday), and Wednesday (the last day).  Stuart Weitzman (one of our favorite shoe manufacturers (because, yes, we wear a size 10.5 and nobody makes that size, but we can always find something at Weitzman that fits just right and is stylish, too).  And Krizia, too.  And we don't need to embellish about Krizia, do we? 
So, here's the usual deal: Soiffer Haskin, 317 West 33rd Street, just west of 8th Avenue; credit cards only; all sales final; strollers not allowed; no children under 12 will be admitted. 
So, go out and get yourself some shoes!
Posted on Monday, January 21, 2008 @ 01:33 PM | 3812 replies View/Post Feedback

Browse: Accessories | Gloves, Hats, Scarves | Handbags & Totes | Leather Goods | Sales/Sample Sales | Women's Clothing | Women's Shoes
---
City Shopping
Another super sale of Italian goods Frette, this time.  Super fine and super-superior white goods as well as table linens and assorted home accessories are all for sale, at up to 70% off retail...which is good, because Frette doesn't come cheap under normal circumstances.  Here is a chance, though, to snap up some of those lovely, over-the-top, high-count sheet sets and fluffy, plush towels, not to mention a box of $100 soaps or some of those silky, clingy dressing gowns that look like they should be in a Merchant/Ivory costume drama.  The sale is at Soiffer Haskin, 317 West 33rd Street, just west of Eighth Avenue (which you probably know by heart now).  Credit cards only, and as usual, no strollers, no children under 12.  Starts tomorrow, Saturday, and continues through Wednesday, the 12th.    Hours:  9 a.m. to 6:30 daily, except Wednesday, when they will close up shop at 5 p.m.
Posted on Friday, December 07, 2007 @ 05:03 PM | 12146 replies View/Post Feedback

Browse: Tabletop | Sales/Sample Sales | Luxury Goods | Linens | Home Furnishings | Home Accessories | Accessories
---
City Shopping
Lambertson Truex makes high-quality, sometimes over-the-top leathergoods -- beautiful bags, belts, gloves, accessories. If you need anything in that funny-named category, "small leathergoods," then here is your chance. Think Christmas, think Hanukkah, which is VERY early this year, providing a handy excuse for shopping, as if you really needed one. Merchandise is up to 80% off retail, and there is sure to be a little trinket here with your name on it.

This is another Soiffer-Haskin sale, but at a new location, at least just for this sale: Metropolitan Pavilion, 123 W. 18th St. (between Sixth & Seventh Aves.); from Wednesday, December 5th through Friday the 7th, from 9 a.m. to 6:30 p.m. daily. This time, NO cash (unlike the TSE sale last week); plastic only, no checks; no strollers, no children under 12.

Posted on Tuesday, December 04, 2007 @ 02:14 PM | 20 replies View/Post Feedback

Browse: Sales/Sample Sales | Luxury Goods | Leather Goods | Gloves, Hats, Scarves | Accessories
---
City Shopping
We're pretty crazy about The Loom Company and all the different lines this manufacturer's rep handles. We always see them at the Gift Show and always find things that we want to write up in our sundry magazines. And when there's a sample sale at The Loom Company, you can bet that it's the real deal -- a real sample sale. That is to say, they are truly selling samples, and overruns, and extra stock, and seconds, and you-name-it. We always hustle on down to the sale, and this is the perfect time for you to play Santa yourself and stock up on great goodies for your friends at VERY good prices. (CASH ONLY, Kids!)
Expect to find goods from John Derian (ah, that master découpager), Hable Construction (can anyone do MORE with felt than these guys?), and tons of other names you might or might not know but who all make very tasteful goods. So go to the take-out bank (that's the cash machine for those of you who were born yesterday) and get some green stuff and get down there! The early bird catches a lot of worms here.
Thursday and Friday, the 29th and the 30th, from 10 a.m. to 7 p.m., and Saturday, from 10 a.m. to 4 p.m. 1140 Broadway, Suite 1602 (between 26th & 27th Sts.).
Posted on Thursday, November 29, 2007 @ 12:25 PM | 432 replies View/Post Feedback

Browse: Sales/Sample Sales | Linens | Home Accessories | Accessories
---
---
City Shopping
We're not sure just what this sale is promising today, but we're going to check it out later and we'll report from the front.  It's allegedly supposed to have Gucci and Pucci…and Chanel and Hermès.  We shall see just how much of each of these houses it actually has for sale…and for how much off.  The material sent to us by our friends at Lazar Media says that there will be clothing and accessories at 75% off.  Stay tuned for tonight's report.  But in the meantime, here is what you need to know:  It's today and tomorrow, at the Shoreham Hotel, 33 West 55th Street (between Fifth and Sixth Avenues), Ground Floor; from 10 a.m. to 7 p.m.....credit cards accepted.
Posted on Wednesday, September 26, 2007 @ 01:14 PM | 184 replies View/Post Feedback

Browse: Accessories | Gloves, Hats, Scarves | Handbags & Totes | Home Accessories | Jewelry | Leather Goods | Luxury Goods | Sales/Sample Sales | Women's Clothing | Women's Shoes
---
City Shopping
Tourneau is having a BIG sample sale, up to 70% off (so forget your cousin in the biz who could get you a "good" watch for 30% off).  It started on Saturday, but you have until Thursday, the 20th to stock up on all those Jaeger LeCoultres and Vacherons that you've lusted after for so long.  There will also be some estate pieces and some pre-owned timepieces.  Hey, it's worth a look-see, for sure, even if your pockets aren't bulging with moolah, or watches, for that matter. Daily, from 9 a.m. to 6:30 p.m., at the usual Soiffer Haskin joint:  317 W. 33rd St., just west of Eighth Ave.  Again, as usual, no children, no strollers, no cash (credit cards only), and come with time on your hands, so you can buy some more.   
Posted on Monday, September 17, 2007 @ 02:59 PM | 46 replies View/Post Feedback

Browse: Accessories | Jewelry | Luxury Goods | Sales/Sample Sales
---
City Shopping
Another Metropolitan Pavilion sale is on the calendar this week, with clothing and accessories by Valentino, Missoni (oh, how we love those sweaters), See by Chloe, Moschino Jeans, and assorted other goods. (What could be bad with labels like those?)Wednesday from 9:30 a.m. to 7 p.m., and Thursday from 9 a.m. to 7 p.m.; 123 West 18 Street, fourth floor gallery. (Thanks to our pals at Lazar Media for alerting us in time to post this!) So, if you missed out buying something at Hermès a few days ago, make up for it now!
Posted on Monday, August 27, 2007 @ 12:24 PM | 0 replies Start the Discussion

Browse: Accessories | Women's Clothing
---
City Shopping
Celine, the French maker of fine quality small leather goods, as well as handbags, shoes, and tailored, tasteful accessories, is ending a sample sale today…and if only we'd had the two seconds to post it yesterday.  But, you have until 3 p.m. tomorrow, Thursday to make it there, to get yourself to the company's offices (at 19 East 57th St., 8th floor, 212-931-2120), to take advantage of the huge savings on the luxury goods.  Bring ID to get into the building and a credit card to pay for your bounty. 
Posted on Thursday, August 02, 2007 @ 10:33 AM | 271 replies View/Post Feedback

Browse: Leather Goods | Handbags & Totes | Accessories | Women's Shoes
---
City Shopping
A few years ago, Tokens and Coins hit upon a wonderful idea, particularly for nostalgic baby boomers: jewelry and gewgaws made from old typewriter keys. As you might guess, those "margin release" and "back space" keys struck a responsive note, and since then, Tokens and Coins has greatly expanded its line to include salvaged goodies from old Scrabble sets, watch movements, Monopoly trinkets, memorabilia from subways and from baseball parks, you-name-it. Among the best sellers are cufflinks made from old fountain-pen nibs (gold-plated sterling silver), Scrabble cufflinks, and assorted key rings. We think the coolest key rings are the ones that say "Floating Shift" -- and we're sure that all these items are things that Dad will go for.  Prices range from under $50 to a few hundred dollars.

Posted on Friday, June 15, 2007 @ 12:53 PM | 1 reply View/Post Feedback

Browse: Gifts | Fun Stuff | Accessories
---
City Shopping
If you're late for Dad's special day, Hugo Boss has a sample sale starting today...
O.K., we're not going to chastise you for not heeding our week-long tips for securing a fun, interesting, on-the-mark gift for dad this Sunday. We're not going to say we told you so...just get out right now and get that gift, a nice gift, because no matter what you find at the Hugo Boss sample sale, it's sure to be hit. On sale are Boss' signature tailored clothing, sportswear, assorted furnishings, shoes, and accessories. All at a huge savings. This is another Soiffer-Haskin sale, so we think by now you know the drill: Credit cards only, no strollers, all sales final. Where? 317 W. 33rd St. (west of Eighth Ave.). Sale runs from Sunday, the 17th through Thursday, the 21st, of next week; Sunday, 9am to 6:30pm; Monday, 9am to 7:30pm; Tuesday and Wednesday, 9am to 7pm; Friday, 9am to 5pm.
Posted on Friday, June 15, 2007 @ 09:48 AM | 0 replies Start the Discussion

Browse: Accessories | Men's Clothing | Sales/Sample Sales | Women's Clothing
---
City Shopping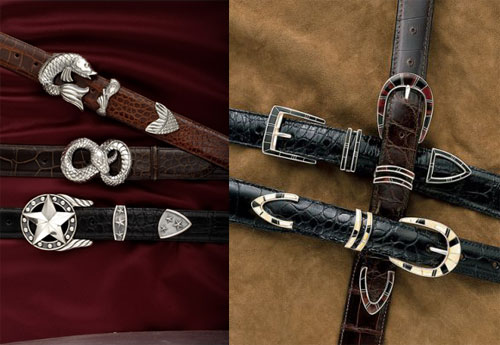 A month or so ago, we sang the praises of the J.W. Cooper jewelry emporium at the Shops at the Time Warner Center, when we were touting the one-of-a-kind charm -- not bracelets but necklaces, for Mother's Day. Now it's Dad's turn. (We'll try to give you some suggestions each day this week.) Cooper has actually built its reputation on its huge variety of fine sterling belt buckles and belt findings/buckle sets, all hand-crafted and unique. Each is virtually a "trophy buckle" of classic or contemporary design. There are themed buckles that will celebrate Dad's favorite sport, hobby, or pastime -- and there are literally hundreds of choices priced from a few hundred dollars up to the thousands. And lest we forget, the buckles come on belts, too, and the Cooper staff will help you select from a wide array of skins -- from the exotic to the exclusive to the exceptional. Cooper also has belts in just about every size -- up to size 50 -- for the fat-cat Dad whose workout is in the boardroom, not on the bench press.

Posted on Wednesday, June 13, 2007 @ 12:14 PM | 455 replies View/Post Feedback

Browse: Men's Clothing | Gifts | Accessories
---
Subscribe to this Blog's
Feed