Calling All (Wannabe) Billionaire Babes
Back to the Blog... | Post Feedback | Author Bio | Printer-Friendly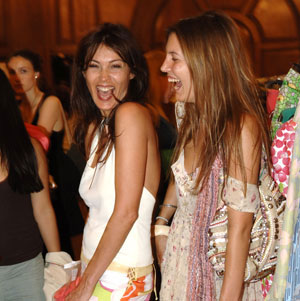 So, are you like us, occasionally having those days when you feel like two cents?  Well, starting tomorrow, Tuesday, (if you are a Platinum of Gold Member of the Club, so to speak), and for the rest of us, STARTING Wednesday and continuing until Thursday, you can feel like a COOL BILLION. 
Billion Dollar Babes is having a fab New York shopping event.  Lots of designer brands (Tocca, Nicole Miller, Cynthia Rowley, to name a few of the names that it's O.K. to name) at very good prices.  Log on to the Web site and RSVP and then just get yourself down to the Altman Building, at 135 W. 18th Street, between Sixth and Seventh Avenues, anytime after twelve noon on the 21st.  You need to RSVP to join in the fun. 
For those who are Gold and Platinum members of the Billion Dollar Babe Club, there will be sushi and Champagne in a private lounge for the early birds, on TUESDAY, courtesy of our good friends at the Brandman Agency.  Just say that you are on the Brandman list, or… Don't they say in those 50s black and white crime-drama movies something like "Lewie sent me?"  
Bring plastic and greenbacks, as you're sure to find things that you want to take home, all at a fraction of their retail prices.  Let us know how you fare; feedback always welcome.
Posted on August 21, 2007 - by
Browse: Sales/Sample Sales

---
Reader Feedback - 198 Replies

Join the discussion... To register, please

click here



---
About the Author: About the Author: Ruth J. Katz is a well-known shopping and service writer based in New York City. She has written about shopping for 25 years for New York magazine; covered the topic on-air at Fox-TV for several years as the Home Services expert; and had her own show on both the USA and Lifetime Cable networks. Katz wrote extensively for The New York Times as well, and contributed periodically to the New York Daily News. She is a passionate shopper, always looking for not merely a good buy, but the best buy, ferreting out a "steal" or discovering up-and-coming designers. She has written five books and is a former contributing editor to Hearst's Redbook, Classic Home, and Colonial Homes; she is currently a Contributing Editor of New York Home, Golf Connoisseur, The Modern Estate, and Promenade magazines. She is also the former Shopping Director for Davler Media's Manhattan Living.

Recent Entries: